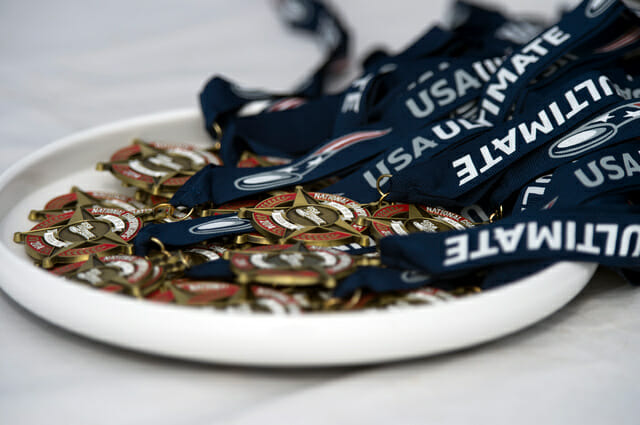 Machine was winless during pool play, and Johnny Bravo was undefeated before their meeting. But in one game, both the negative and positive Thursday results for each team were erased. Machine eventually made the semifinals, and the defending National Champions were eliminated in prequarters. Which team in this situation proves that pool play is irrelevant?
Both.
Chicago lost two close games to start off their Nationals campaign: double game point to both Patrol and Madison Club. Now Machine, deservedly, is faced with Revolver if they want to win a game in pool play. Machine rests their legs for that last game, knowing full well they wee advancing to prequarters.
Johnny Bravo took care of business in their first two games to set themselves up with High Five in a game for the pool. High Five looked at their matchup with Denver and decided that second in the pool was a perfectly good spot in which to finish. Their main goal was to rest their starters, knowing that a loss gave them a Madison Club or Patrol matchup in prequarters rather than Machine. 
Most of the argument made here is not just about results, but more about the feeling of Thursday. Like last year, when Beau Kittredge showed up in his pajama pants. Or this year, when Nick Stuart played only one game of pool play just to rest legs. Teams are content with playing status-quo ultimate in pool play in an attempt to ramp up for bracket play. And while both these teams had their dreams stopped short, it wasn't the pool performance that set them up for the letdown.
Similarly, Rhino and Doublewide faced off in what should have been a tight contest in the last game of pool play. Doublewide sat the majority of their playmakers, leaving most responsibilities to Chase Cunningham and Brandon Malecek. Both teams had their seed locked in, and the game became effectively meaningless. Nationals, then, became the place for trick plays and sideline heckling between two elite level programs.
Even with the Women's Division going almost completely to seed, the signs of pool play irrelevance were still present.
"We started to get our nationals game together as the tournament went on," said DC Scandal coach Alex Ghesquiere. "We started to build our intensity." In other words, pool play served merely as a warm up to greater things. Ghesquiere went on to say that their win against Riot wasn't nearly as important as their mental focus going into the next day. Which sums up the unfortunate situation quite well: pool play gets you comfortable at nationals, and ready for the guaranteed bracket game on Friday.
Nationals has clearly become USA Ultimate's showcase event for the general sports fan. For a group of grade school kids with their teacher, Thursday was their best look at high level ultimate. A local high school teacher had battled with school administration to get a field trip approved for Ultimate Frisbee. The eight or so students that attended watched as much as they could, taking it all in.
Through no fault of their own, the standout stars of the game were resting. Johnny Bansfield played just one point against Johnny Bravo, Nick Stuart played only a single game, and Beau Kittredge played a medium amount of offensive points for Revolver. There shouldn't be an expectation for the high level players to help achieve a higher level of spectator sport for no team or personal gain.
And it's not just the fans on the losing end. The teams here spend the majority of the regular season playing in games that are just "a ramp up towards Nationals." Another day of that at the highest level is cause for unrest amongst the game's best. Players miss work, pay for an extra day, and risk getting hurt for a very uncertain (or non-existent) advantage in bracket play. The games leaders weren't afraid to express their distaste. 
In the Men's Division, every team is capable of an upset. 13 seed Madison Club beat 4 seed High Five in quarters yesterday. And 9 seed Ironside upset finals hopeful Doublewide in the same round. So prequarters matchups are always going to be difficult, regardless of how you finish in pools.
The purpose of the regular season is to prepare you for the Nationals grind through both proven seed and tactical practice. But when the format doesn't require you to win a single pool play game to advance, clearly Thursday doesn't matter. And at the premier Ultimate tournament in the world, why shouldn't every day matter?
A senior USA Ultimate official told Ultiworld that they are well aware of the issues and that they will strongly consider changes to the format for the upcoming 2016 season to create incentives for winning every game. Players will discuss with the Competition Working Committee in the offseason. They could always try this.