The four women's finals featured key games that went down to the wire.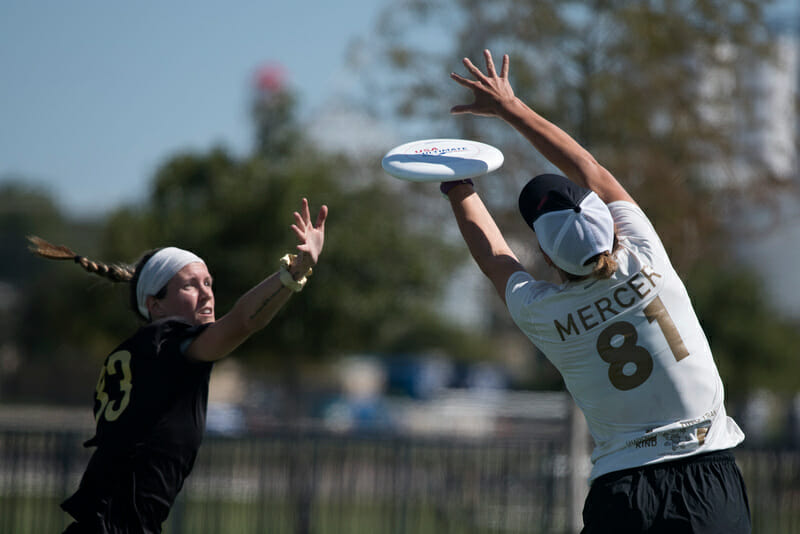 Denver Molly Brown 13-12 Washington D.C. Scandal
In what was maybe the game of the tournament in the women's division, Molly Brown narrowly topped Scandal to advance to the semifinals. See our full recap of the game here.
Boston Brute Squad 15-7 Atlanta Ozone
In one of the two one-sided quarterfinals, Boston Brute Squad (#1, finished A1) played back up to expectations after a slower start to the day. Atlanta Ozone (#7, finished B2) kept it respectable in the first half, but ultimately, Brute had a few more break chances off of unforced errors and took an 8-5 lead into half time. The game quickly got out of reach for Ozone in the second half, as Brute took each of the first six points out of the break. Boston's defense was suffocating, creating pressure on throws and playing strong downfield defense, and Ozone's offense proved incapable of coping. Brute's D-line offense was equally as ruthless, turning it just once on seven break chances over the  first six points of the half. Ozone did get one break back late in the game, but a run to get back in it was never coming. Brute ended the game in fitting fashion – with another break.
The game represented an impressive turnaround for the one seed after being unable to put winless Iris away until the very end of the game. The difference was largely on the defensive side of the disc. In prequarters, Brute's defense saw 14 break chances, while against Ozone, that number was ramped up to 29. Brute's break conversion rate was actually slightly worse in the quarterfinal matchup, converting seven of those 29 opportunities, a 24 percent clip versus the 29 percent posted against Iris. To be sure, Boston will happily take the significantly higher volume of chances over a slightly better conversion rate in the team's semifinal matchup and potential championship game.
As has largely been the case for Boston all tournament, the point scoring responsibilities were spread evenly among the squad with 10 different players recording goals and nine different players providing assists. Kami Groom led the way with her four points (two goals, two assists). Becky Malinowski, a target of extra attention from opposing defenses, was solid and had a couple of assists and a goal, but her stats have reflected the focus teams have been placing on her. Of course, Brute has proven that the entire team is capable up putting up points with this emphatic win.
A matchup with Denver Molly Brown awaits in the first women's semifinal tomorrow. Brute very much looks to have regained its momentum with its quarters performance and Molly looked beatable for the first time of the tournament in its universe win over Washington D.C. Scandal. Boston has to be the favorite to win the macthup and make the team's first championship game appearance since 2009.
San Francisco Fury 15-8 San Francisco Nightlock
The battle for San Francisco superiority ended as expected – with an easy win for perennial powerhouse Fury (#2, finished B1). The teams started fairly evenly, with each grabbing two breaks in the first six points to keep things on serve. When Nightlock (#8, finished A2) broke for the second point in a row to make the score 3-3, the team's sidelines exploded. Though not a traditional rivalry, both teams clearly knew the other's players well and the two seemed to enjoy playing each other. But the break seemed to fill Nightlock with belief of the improbable. Fury promptly went on a five point run to take half, perhaps stomping out some of that spark.
It would be wrong to label Nightlock as a "team happy to be there," even beyond how trite the cliche is on its own. Nightlock was one of the more impressive teams in group play and it won its quartefinal matchup as convincingly as any of the championship contenders. But the Fury run put the gap between the two on full display.
Fury continued its dominance in the second half with another run of four to push the lead to 13-5. Nightlock did get a break back on the game's penultimate point to extend its season for one more point. The game had long been over by the time the final point was scored, but that reflects far more on Fury's ability than Nightlock's. Fury, just as Brute Squad did in the same round, brought the level of play up a significant level from its prequarters performance. The real power of Fury was on display against its crosstown foes, and the team is clearly where it needs to be to compete for the division championship.
In another similarity with Brute, Fury too relied on team talent from top to bottom for scoring. Three players (Claire Desmond, Sarah Carnahan, and Carolyn Finney) scored two goals, but none scored more than that and just one player (Anna Nazarov) tallied as many as two assists.
If one player had to be identified as the standout for Fury in this one it was Claire Desmond. She led the team in points, adding an assist to her two goals. The assist she made came immediately after what was one of the most impressive plays of the whole tournament – a massive layout to snag a huck and flip the field. Immediately popping up from the ground, she found a wide open Sabrina Fong for the score. Desmond has had a strong tournament and has certainly been one of the better players for a team that has cruised through all of its games so far, but Fury does seem like a team that is full of players capable of making big plays when called upon. The team's reliance on the team as a whole and not a few individual stars is certainly one of its strong points heading into the tournament's final two rounds.
Seattle Riot 14-12 Vancouver Traffic
The game that managed to surprise on two separate occasions, the duel between Seattle Riot (#3, finished C1) and Vancouver Traffic (#5, finished D2) proved to be a game of two runs. Both teams played sloppy on offense for most of the first half. Through the first four points of the game, both teams were able to play good enough o-line defense to hold on their offensive points, with Riot being the first time to finally grab a break.
The wind picked up significantly fairly early in the game and it had a very noticeable impact, especially on Riot, who had been so clean with the disc for virtually the entire tournament to that point. But Riot adjusted better to the different conditions initially, deciding to have Qxhna Titcomb chuck bombs of off turns to flip field position until Seattle was able to convert the break chance. The strategy worked and Riot jumped out to a 6-3 lead. A trade of holds and then another Riot break to talk half all of a sudden saw a commanding 8-4 lead for the Seattle club.
When Riot broke again early in the second half to make it 11-5 the game seemed headed for one what certainly would have gone down as the most impressive win of the day, considering the opponent. Traffic, though, was not going to see that happen. After a hold, the Vancouver ladies earned two breaks of their own to get the game back within reach at 11-8. Traffic actually had a couple of chances to make it three straight breaks, but when Riot held, it did feel as though a comeback was officially off the table. But again, Traffic went on a three point run and a game that had been 11-5 was all of a sudden 12-11.
A testament to the Riot's mental fortitude, the Seattle O-line responded with its first clean offensive point since the first point of the half to keep Traffic down a couple of breaks. Traffic countered with a seconds-long O-point of its own to keep them in it. A Fiona McKibben turn gave Traffic an opportunity to equalize and force double game point, but the Vancouver club was unable to do anything with the disc as Titcomb skied a mass of bodies to gain possession back for Riot. Near the goal line, Jaclyn Verzuh received the disc and found Titcomb with a highlight reel breakmark flick to seal the victory.
The win demonstrated two sides of Riot that can arguably both be taken as positives. Obviously, even for a team like Riot, who has played as well as any team in the division this weekend, the run to go up 11-5 on the fifth seed of the tournament was hugely impressive. Teams of Seattle's ability do not often get run on like that in games that matter. While letting the team back in the game was of course not Riot's goal, Traffic's comeback bid did provide the team with an opportunity to test its mental resolve. Sarah Griffith said after the game that Riot expected all along for Traffic to get back into the game.
"In any good game," she said "you know that you're gonna score and they're gonna score. You don't give any goal any more weight than any other goal."
And that mentality did show on the field, with Riot scoring offensive points when they needed them most, and not allowing Traffic's mini runs to affect their game. Riot will play at least one more team that has proven capable of going on long scoring runs and while they will have to minimize those to win, the team's ability to not get shaken by them will have a huge impact on whether they play one more game this season or two.
Titcomb, Griffith, and Verzuh were the standouts for Riot in the round. Titcomb was a warrior on defense, leading the D-line offense afte the turn. She posted the most impressive stat line of any player on the field with three goals, one assist, and two D's. She also pulled for Seattle and often put her defense in strong positions from the start of a point by pinning Vancouver in its own endzone. Griffith has been a standout for Riot all tournament long and while her stat line today did not jump off the page, it did not properly reflect her impact on the game. Playing on both offensive and defensive points, she was an instrumental cutter downfield, catching everything within in sight and constantly getting open for gains downfield. Verzuh had a pair of nasty throws for assists and added a goal, proving to be a menace once Riot gets down near the end zone.
Riot has perhaps relied more on individual performances than the two seeds above it, but it too has a deep roster with players capable of making plays. And Riot will hardly be displeased that its best players are rising on the biggest stage to make the differences in games. That little idiosyncrasy, though, could be an interesting aspect of Riot's semifinals matchup with Fury.