Seattle Riot added a long awaited chapter to their rivalry against San Francisco Fury, defeating them in an impressive semifinal performance.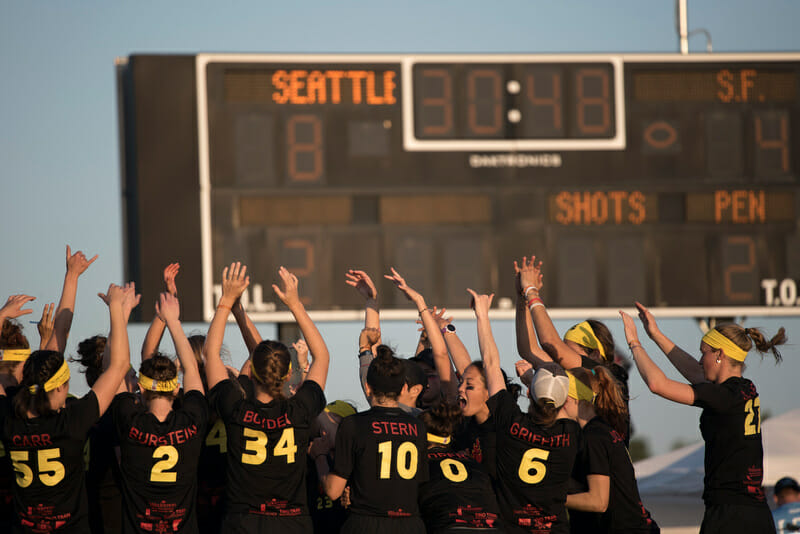 The latest installment of the greatest rivalry in ultimate is in the books. Riot, the team that has historically found itself on the losing side of big games at Nationals, managed to flip the script in convincing fashion in a 15-11 semifinal win over Fury.
Riot, prior to this game, was 2-9 in semifinals or finals against San Francisco Fury and had not defeated its rival in a Nationals elimination game since 2001. Some of those defeats have gone down in ultimate lore as historic defeats, most notably the Riot loss to Fury after leading 10-1 in the final of the 2008 Club Nationals.
That history was far from indicative of how this matchup would transpire. Riot jumped out to an early, three break lead and never looked back. Both teams were a bit sloppy to start, but Riot was better at winning field position battles with its defense on the field, not allowing anything for Fury downfield. Head coach Andy Lovseth after the game was sure to point out that his team did not play "a single speck of zone or junk" and lauded his team's effort, saying "we made [the early lead] for ourselves" by working hard. The person defense that Riot played in the first half was excellent at not only taking away downfield cuts but also preventing the Fury handlers from shifting its defense by completing swings.
On offense, Rohre Titcomb and Gwen Ambler were solid as the team's two main handlers and facilitated an O that clicked effortlessly after its first couple of points. What really stood out for Riot, though, was their ability to effortlessly rotate players into the backfield to keep offensive flow without losing any ability around the disc. Lovseth said that the team aimed to "change the shape of [Fury's] defense."
"[We have] great cutters that can throw," he said. "We let them do their thing."
The Riot players certainly did their thing in what was surely the team's best performance this year in Frisco.
Teenage rookie sensation Jaclyn Verzuh made some monster blocks and skies and had multiple sensational break throws to set up or assist scores. Calise Cardenas was all over the field; Ambler had her most influential game of the tournament, racking up four assists in the process; Sarah Griffith, again, was open for big gains down field time and time again, facilitating the team's movement down field; and Dominque Fontenette, Hana Kawai, and numerous others stepped up in big ways at various points in the game.
Seattle wound up taking an 8-4 half time lead and then broke immediately out of half.
For most games, this scoreline would feel like a game ending one. But with the history between these two and Riot's near squandering of a similar lead in quarters against Vancouver Traffic, a Fury comeback felt inevitable. At 9-5, Fury recorded its first break of the game from an Anna Nazarov footblock and it seemed as though Fury had finally gotten into the game. Instead, the break turned out to actually benefit Riot to an extent, as its O points flipped to being downwind and they never came close to being broken again.
In fact, neither team was able to break again, as Fury was able to successfully attack the break side more and get open for more unders, with Riot seemingly happy to trade downwind holds the rest of the way.
As it was in stretches yesterday, the offensive line was impressively clean after the first few points and when it did turn it, it played excellent defense to get the disc back, often times still on the Fury half of the field.
Down the stretch, especially, Riot's offense looked unstoppable, not turning it once on their final four offensive points. Riot's offense emphatically suffocated any hope of a Fury comeback and played as well in the second half as any team has played all tournament long. When, at 14-11, Ambler hucked to a streaking Griffith for one of Riot's few big throw scores of the game to ice it, it only marked the official end to a game that Riot had ensured would be over for Fury with their first big run.