Seven fantastic players round out our All-Club 1st and 2nd team selections. Who got snubbed?
Check out the All-Club Men's 1st Team here.
With Nationals over and the winners crowned, it is time to take a moment to recognize the top performers in the Men's Division this season. While the talent of the division reaches far beyond short lists, these players put together what we believe to be the best seasons in the Men's game this year.
Players were selected based on both their regular season and postseason performances.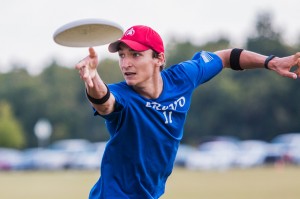 Nick Lance (Denver Johnny Bravo)
Lance has distinguished himself time and time again as one of the best throwers in the division (and the world). His pivot continued to render marks all but useless in 2015, as Denver powered through some roster turnover.
Lance's abilities distinguished him on a team filled with talent. Along with the title of elite thrower, Lance is an enormous defensive talent. The same explosiveness that defines his throwing range powers his ability to get blocks and play shutdown defense. He was also the first player to cross over onto offense when the team needed a hold. More often than not, he delivered.
There aren't too many teams that can get high defensive production out of their best throwers, but Johnny Bravo is can make that claim because of Lance.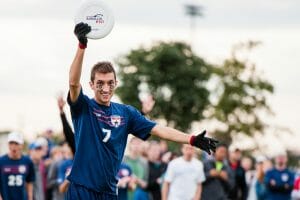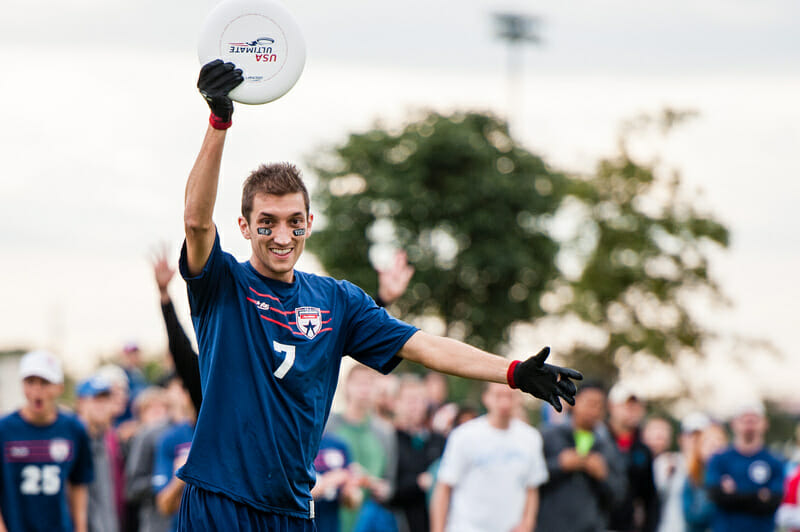 Kurt Gibson (Austin Doublewide)
There's no way around it: Doublewide did not have a great Nationals. Coming in as the two seed, they were absolutely crushed by Ironside in quarterfinals, and they looked terrible doing it. Whether it was a lack of practice, a clash of egos, or some undetermined other factor, it's unclear as to what made Dub's season go further south than Austin.
Kurt Gibson was Doublewide's lone bright spot in a tumultuous season. He was the reason Doublewide advanced to quarters past a tough GOAT team. He also was the undisputed on-field leader of the team that won a South Central Regional title. While we didn't see quite the same dominance from Gibson as we did a year ago, he remains a top-3 player in the world, able to single handedly take control of points and procure breaks.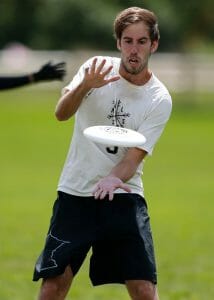 Simon Montague (Minneapolis Sub Zero)
It's a problem for the opposing defense when the guy going every other throw is 6'3" and strong. That's what Simon Montague did, commanding the disc and the offense for Sub Zero in 2015.
With 20 assists in Frisco, Montague was Sub's offense. Obviously there were other standouts (particularly Conor Kline with his tournament-leading 24 goals), but he needed someone to throw to him. Montague is the engine that makes Sub's potent offense go: he's perhaps the most important player of any Nationals-qualifying team.
There isn't much of a defensive answer for a player like Montague. Besides his prodigious on-field skill set, his leadership helped an extremely young team almost knock off a very-good Truck Stop in prequarters, as well as win the team's second consecutive Spirit Award.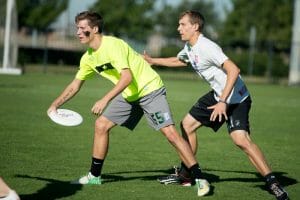 Dylan Freechild (Portland Rhino)
Rhino had high expectations coming into Nationals. This just wasn't the same team we had seen all season, however: their offense wasn't clicking, and their defense wasn't getting breaks. Dylan Freechild, however, was being Freechild.
Freechild's lightning upline move and speed continue to make him one of the most dangerous matchups in the game. His singular abilities powered an already-fast Rhino offense into a history-making Northwest Regional title over archrival Seattle Sockeye. His 11 goals and 12 assists at Nationals were both team highs.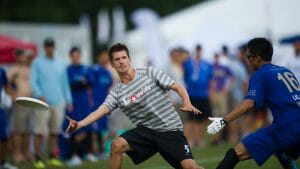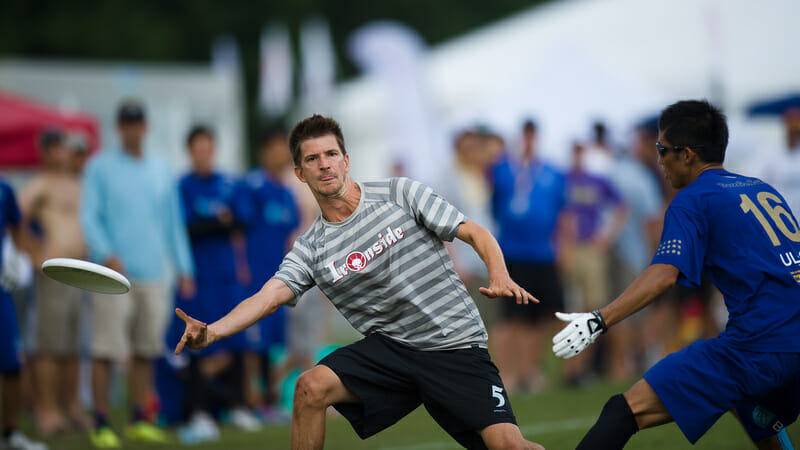 Josh "Cricket" Markette (Boston Ironside)
According to public opinion, it was supposed to be a rebuilding year for Boston Ironside; clearly the team itself had other ideas. By Nationals, Ironside had brought a rash of young players into the fold of its offense, rearranged its reset system, and let Josh Markette loose wherever he needed to be to distribute.
Markette still embodies the in-a-flash kind of speed implied by his nickname. He works around the disc from all angles as a key cog in the Ironside wheel. His decision making is the stuff of ice-cold precision. He was three assists away from a double-double at Nationals. And he's been doing all this for years.
As an offensive lynchpin in the backfield, Markette was again invaluable to Ironside in 2015.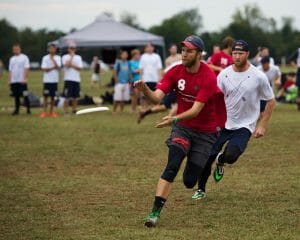 Peter Prial (Washington D.C. Truck Stop)
Washington D.C. Truck Stop has had no shortage of high profile pickups in the past two years and Peter Prial is perhaps the best among them. The former Ironside star has become just as integral for D.C. in all manner of ways. He recorded 14 goals and 10 assists at Nationals, while often drawing the best downfield defenders as his match up.
Prial has keeps a few hucks up his sleeve for every game, but most often spent games in 2015 being an unstoppable initiating force for the Truck Stop vertical stack. He uses his length and speed incredibly well to earn the disc, and has the ability to play fast and loose with excellent field vision and above-average throws.
Where in years past the downfield space was dominated by Truck veterans Jeff Wodatch and Sean Keegan, Prial has quickly taken over the job of first offensive threat for D.C. Acting as a favorite target for Truck teammate and 1st-teamer Alan Kolick, Prial earned his place on the second team as a pace-setting force in the blistering D.C. offense.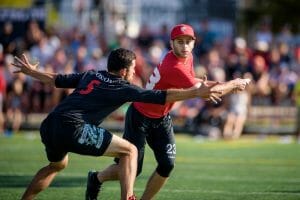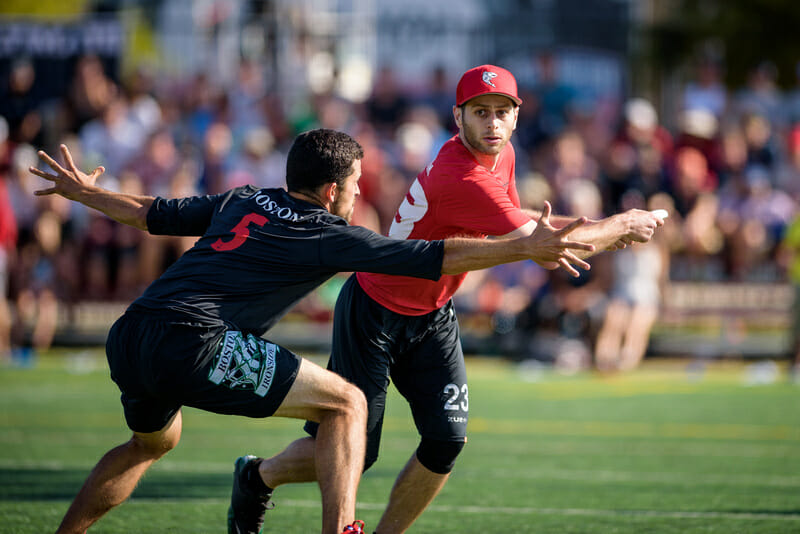 Danny Karlinksy (Seattle Sockeye)
"Field general" doesn't apply to any player more aptly than it does Danny Karlinsky. He is the rock of Sockeye's famous O-line, and one of the great handlers in the game.
The Seattle Sockeye of 2015 is a team that spread around its offense extremely effectively. Only two players tallied double-digit assists or goals, and nobody did both. Karlinsky tallied 12 of the former, breaking the mark and scoobering his way down the field as the captain of the offense.
His indispensable throwing and resetting talents get him his second-straight nod for the 2nd team. As a result of his presence, Sockeye's offense was never stagnant in moments of great duress, even in the final against a red-hot Revolver. He's long been the centerpiece to an offense that has preferred a small-ball style, and in 2015 he reprised his role in equal fashion running the show for Seattle.
Stay tuned for Ultiworld's All-Defense and Breakout teams, coming later this week.