Check out the All-Club Mixed 1st Team here.
With Nationals over and the winners crowned, it is time to take a moment to recognize the top performers in the Mixed Division this season. While the talent of the division reaches far beyond short lists, these players put together what we believe to be the best seasons in the Mixed game this year.
Players were selected based on both their regular season and postseason performances.
(Disclaimer: As only one man tasked with covering an entire division at Nationals, I was only able to see so much. This is my list based on my admittedly very incomplete viewing of as much action as I could see at Nationals and during the regular season.)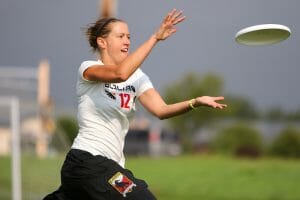 Lauren Casey (San Francisco Blackbird)
As great a pick-up as Mac Taylor was for San Francisco Blackbird last year, this season's acquisition of Lauren Casey may have been just as big, if not bigger.
The kind of impact the former San Francisco Fury baller can have on any game is massive. Watch just about any Blackbird offensive possession this year and you're bound to see Casey touch the disc a handful of times, often going extended stretches of getting every other throw.
Her ability to distribute the disc, consistently break the mark, and get open for the reset at will made her a never-ending nuisance for defenders.
Even on a team stacked with talent where players like fellow Fury alum VY Chow stamped their imprints more noticeably on the stat sheet, it was Casey that commanded the most tenacious defensive assignments from opponents—not that you'd be able to tell much from her play.
Because no matter who drew the short end of the straw and had to figure out how to limit the veteran handler's dynamism, few managed to slow Casey down and even fewer, if any, succeeded in stopping her from serving as the excellent field general she is.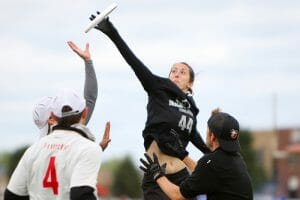 Sarah Meckstroth (Minneapolis Drag'n Thrust)
When your teammates have enough trust to put up ostensible jump balls to you during crucial late-game break opportunities in the national title game, it says something about what kind of player you are. That is, if a team like Minneapolis Drag'n Thrust has enough faith in Sarah Meckstroth to grant her the opportunity to just make a play in the championship game, you know she's routinely proven that she deserves that trust.
For the past few seasons, Meckstroth has been a nightmare for opposing defenders. She's got exceptional speed, serious athleticism, and a surprisingly high ultimate IQ for someone her age. The former U-23 star may only be in her mid-20s, but she plays like a veteran on a veteran team that never stops competing, no matter what the score.
Whatever Drag'n Thrust needed, Meckstroth would deliver, which explains why coach Jake Henderson often reserved her for points where Minneapolis really needed a break.
It was Meckstroth that laid out on an under cut, forcing a drop and leading to Drag'n Thrust's pivotal late upwind break in the title game. Though such a play was common fodder for Meckstroth, who netted an impressive nine blocks at Nationals, the most of anyone on the three-time champions.
That's quite an accomplishment on such a defensive-minded team. Especially for someone who mostly played O-line.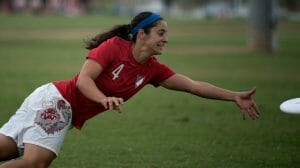 Raha Mozaffari (Philadelphia AMP)
Anybody that's played Mixed at the highest levels in the last decade knows the name Raha Mozaffari. She's been one of the key focal points for Philadelphia AMP's offense for years and for a pretty obvious reason: she can't be stopped.
Sure, sometimes a defender will come along and try her best to make Mozaffari into a handler, or to only give her unders, or to force her only to the break side. But each of those tactics has a common fatal flaw. Namely, that Mozaffari can do it all. So no matter what you try to take away from her, she'll just burn you with everything else that you've foolishly chosen not to deny.
While her modest stats at Nationals would lead you to believe she's more of a role player—and her willingness to let others work the possession if necessary further corroborates this—there's no question that Mozaffari is one of the most dominant cutters in the division.
It's no wonder that Philadelphia has managed to stay among the top programs in the nation for the better part of the last decade or so, even with all of AMP's roster turnover in the last few years. Mozaffari is a big part of the reason why.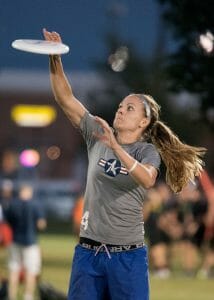 Samantha McClellan (Washington D.C. Ambiguous Grey)
A huge part of Ambiguous Grey's stirring postseason surge—from upsetting Philadelphia AMP in the Mid-Atlantic Regional title game to nearly knocking off Seattle Mixtape in quarters at Nationals—McClellan continually utilized her top-notch athleticism and extensive experience at the highest levels of ultimate to wreak havoc on hapless defenders.
Pretty much any time you looked over to watch Ambiguous Grey play in Frisco, there's a good chance you'd see McClellan chomping up opponents like so much gummy snacks.
Her 18 goals at Nationals alone (2nd overall) illustrate just how dangerous she could be, and that's saying nothing of how often she got open underneath for sizable gainers—frequently because defenders were simply too frightened of giving up so much more.
If she continues to play with Ambiguous Grey, you can expect McClellan to be a name opponents dread to hear for years to come.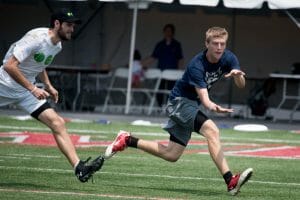 Ryan Tucker (Ames Chad Larson Experience)
Guys like Kevin Seiler and Blake Larson get a lot of the credit for the continued excellence of Ames Chad Larson Experience and for good reason. But over the last few years one name in particular has been an ever-growing menace for opponents: Ryan Tucker.
Just look at his stats from Nationals: 22 goals (first overall), 15 assists (fifth overall), 4 blocks, and only 4 turnovers. That's an overall plus-minus of +37. On the biggest stage of the year. That's just nuts.
But even if his October numbers weren't so blatantly glamorous, everyone from the North Central and any other team that's played CLX a fair amount in the last few years knows just how lethal Tucker can be.
He's one of the toughest match-ups in the division and just never stops working. He only narrowly missed First Team due to the excellence of the other men and partly due to CLX's unfortunate early exit at Nationals.
There's no question, though, that Tucker was simply one of the best in the country this year and truly had a monster season.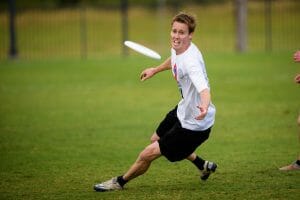 Sean Murray (New York Metro North)
Yet another purely dominant cutter that seemed to always be open, Sean Murray was often the lifeblood of a New York Metro North squad filled with plenty of veterans who know how to ball.
For a team that unashamedly relied a great deal on their deep game, Murray nevertheless reeled in huck after huck all season, seemingly no matter what defenses did.
Thanks likely in part to his recent few years in the MLU, Murray has really grown into a beast on the field. He was the standout player for Metro North when they beat Boston Slow White in the semis of Northeast Regionals and frequently took over points or even whole durations of games at Nationals.
He's a bloodhound of a cutter with exceptional ultimate IQ and a terror to guard coming out of Metro North's vert stack. His 13 goals at Nationals put him in a tie for sixth overall, and he tacked on another seven assists.
All season long, though, Murray made offensive possessions easier for New York by routinely finding open space and commanding enough defensive attention to free up teammates when defenses tried to adjust.
With him at the center of their offense and a solid performance at Nationals this year to give them some solid ground going into next year, look for Metro North to assert themselves as a continuing force to be respected in the increasingly tough Northeast.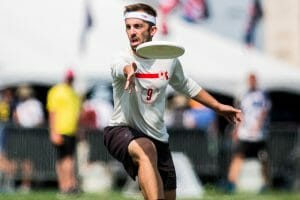 Jeff Smith (Boston Slow White)
It's tough to choose any single player from Boston Slow White, as they play some of the best team ball in the country and made their impressive run to semis doing just that. But without Jeff Smith, that remarkable surge through bracket play likely ends a bit sooner.
A key leader for the perennial Northeast contenders for years, Smith continues to serve as a radiant beacon of inspiring play and elevated spirit for a team that continues to bring the fire every season.
He may not be as flashy as some of the young phenoms around the league and his stats don't always blow you away (though his 13 assists at Nationals put him in a tie for ninth overall), but there's not too many other choices you would want to go with for the heart and soul of your team—and most everyone on Slow White would surely agree.
While Smith is fairly well known in the Northeast, it's high time he got more national recognition for the continued excellence of his play and, most especially, his spirit.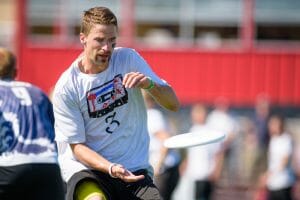 Cam Bailey (Seattle Mixtape)
You would think it'd be pretty tough to ignore a guy who pulls off stunners like this not all that infrequently.
Yet, for some reason Cam Bailey still doesn't seem to have as much big name recognition as he probably deserves. After just his last two seasons on Seattle Mixtape, however, he seems destined to make a huge leap into the talks of the most explosive players in the division pretty soon.
Though for all of Bailey's highlight reel potential (and how often he actualizes that potential), much of what makes him such a great player is how smart and fundamental he tends to play the game—even on a team as unafraid of risk as Mixtape is.
Just take a look at some of Seattle's games and watch what happens when they put up a trust ball to Bailey. In all likelihood, he could probably round a majority of them for a good running jump and still come down with a great percentage thanks to superior athleticism. Instead, as the disc is in the air, Bailey is often busy checking the flightpath, his angle, the location of the defender, and figuring out the best way to put himself in the best position to come down with an easy grab.
And sure enough, that's what happens most of the time. Which is why it comes as little surprise that Bailey is perhaps Mixtape's most reliable contributor, putting up solid numbers at every big name tournament they attend and always doing work.
To top it all off, Bailey is a born competitor. Few can match his unflappable intensity and pure desire to win.
Mixtape is unquestionably a team of friends that likes to have fun, but you don't make the national title game two years in a row if you don't care that much about winning. Bailey is a perfect example of how someone can expertly balance those two mindsets, smiling and hip-bumping all the while.