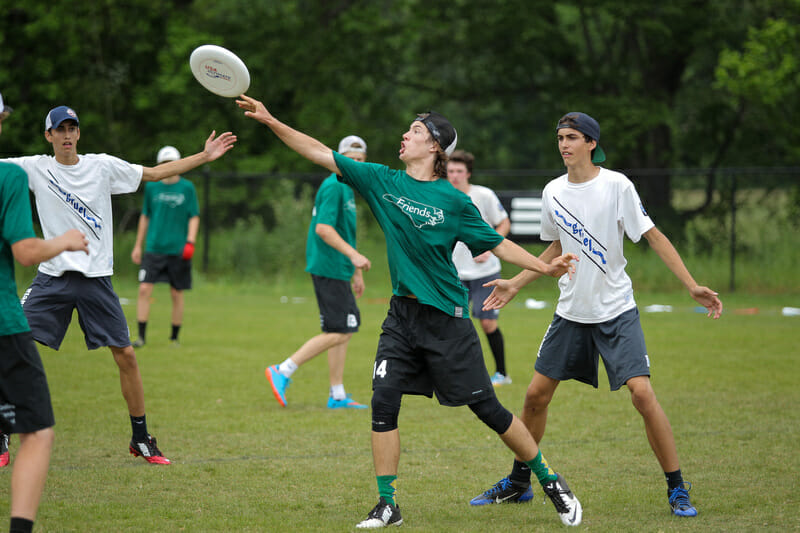 The article is presented by Five Ultimate; all opinions are those of the author. Please support the brands that make Ultiworld possible and shop at Five Ultimate!
New players, coaches, and captains should keep in mind that making the jump from playing casual pick up ultimate to playing in competitive games is a big deal. The game changes drastically. Players unfamiliar with competitive ultimate might be fast or have lots of throws from their pick up days, but there's a difference between having talent and having skill. Dominating casual pick up games only requires the first. Being a solid player at competitive levels requires both.
Becoming a skilled player on the competitive level, however, takes time. Most of the elite Club players have been playing for at least five years. Even the rare players on an elite Club team that have only been playing the sport for a few years have likely spent that time completely immersing themselves in the game.
When trying to learn or teach the skills that will make a newer player a solid contributor on a competitive team, it's important to focus on the trees, instead of the forest. There are tons of tiny details that a talented player needs to learn in order to also become a skilled player. This can be massively imposing for those new to the competitive game. Try to focus on an individual aspect of the game, rather than trying to master all of them at once. This will result in quicker and less frustrating development in the long run.
Here's an example.
If you're a new player, or a captain teaching new players, when going over zone defense for the first time, don't pay attention to all of the positions at once. Captains, you likely already know more or less who is going to play where in a zone based on your personnel. Assign your newer, inexperienced players a specific spot in a zone defense, show them how that particular spot works, and then don't move them until they've gotten comfortable playing there. Captains, if your personnel changes for some reason and someone needs to play out of position in your zone, moving a veteran who already has an understanding of the bigger picture will almost always have better results than moving a less experienced player, even if your veteran doesn't have the traditional skill set for that spot.
If you're a new player, focus on learning everything about that position in the zone. The zone is the forest. Your position is the tree. Odds are, you'll be put in the cup. Learn the best distance to be from the thrower, and from your teammates in the cup. Figure out who's responsible for which gaps in the cup, and learn how to move across the field as a cohesive unit, rather than three scampering maniacs. Learn how to set an effective mark. These all take practice, attention to detail, and lots and lots of endurance. Captains, tell inexperienced players not only what they're supposed to do, but also why. Understanding the why — what specifically your cup intends to take away or how you aim to generate turnovers with your zone — gives players a context for their actions, so they know when they've goofed up.
By honing your attention on only a single aspect of a zone defense — in this case, the cup — you trim off information that you don't need to know, and focus only on what you'll be practicing. In the cup, you can ignore when the "hammer stop" wing should be creeping in to eat up a full field swing pass, or how far the mid-mid should be playing behind the cup, or when the mid-mid should faceguard. This focuses your attention on the tree at hand — your role in the cup.
In a couple of games, you might find yourself getting comfortable in that role, and contributing to your defensive unit. Ask your captain if you can learn a new spot, and work to learn that tree, too.
Take this mindset with you as you learn techniques and develop skills elsewhere, as well. Every team strategy and skill can be broken down into component parts. Try to isolate your tree so you can focus on that, alone, without minding the forest. Want a better scoober? Don't practice in a game setting, where other stuff is going on. Grab a teammate – preferably one who wants to practice catching upside-down throws – and go off to the side during practice or meet up on your own. Throw hundreds of scoobers until you can control the height, pace, shape, and flight path in a variety of conditions and release points.
Start notching off trees, and you'll soon find that you're halfway through the forest.