Could we see a new college mixed championship event in the fall?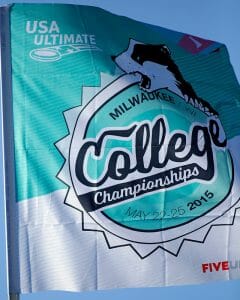 USA Ultimate held its annual Competition Working Group meetings last weekend. The CWG brings together representatives from across the sport to help recommend changes to competition at all levels.
Late last week, USAU announced the modifications to and suggestions for the College Division. Here are some of the major takeaways:
– Nationals seeding will now no longer require higher Regionals finishers to be seeded above lower finishers. This rule, which has been a welcome change for the Club Division, has now been adopted for the College Division. Last year, there was some wild seeding due to upsets at Regionals; the new rule will allow for much more holistic seeding.
– There was significant discussion about a "USA Ultimate championship-level mixed fall playing opportunity." USAU reports "strong interest" from the community about developing a structure for that competition. It is worth noting that USA Flatball held its first annual College Mixed Championships this fall and had decent attendance from teams large and small on the east coast. USAF has stated that they intend on holding regional qualifying events as well as a Mixed Championship again in 2016. A USAU-backed structure could supplant a similar one from USAF.
– The biggest conversations surrounded "strategic and programmatic ideas designed to incentivize and reward college teams that maintain various standards that align with USA Ultimate's mission." The working group plans to create a "formal team incentive program that recognizes college programs for character development, community outreach and competitive excellence." Possible incentives include "a recruiting presence at the Youth Club Championships, priority invitation to a yet-to-be-determined fall mixed playing opportunity, and other public recognition ideas."
RELATED: New USAU College Guidelines Include 'Cincinnati Rule' And 'Tulane Rule'