Excruciating decisions, but three phenomenal rosters.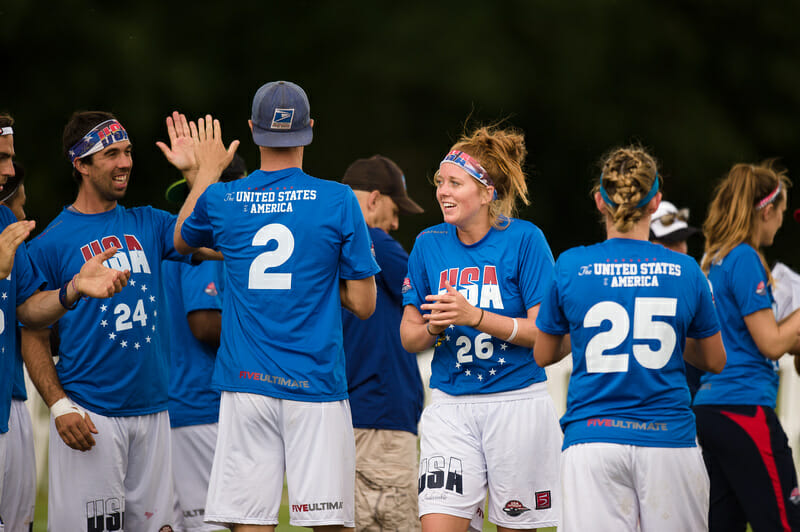 As sports fans, there are few things more fun than speculating on the make-up of dream teams. With the US set to compete in the World Ultimate and Guts Championships this summer in London, USA Ultimate has decided for the first time to build rosters of true National Teams, selecting the best-of-the-best to represent our country in each of the Men's, Mixed, and Women's  divisions.
Naturally, we couldn't resist the opportunity to pick our own teams from the pool of players who participated in the tryout process. So we had Ultiworld's own Charlie Eisenhood, Steve Sullivan, and Keith Raynor collectively select the US delegation as mock Men's, Mixed, and Women's coaches, respectively.
Let's start this off with two huge caveats. First, we at Ultiworld have no knowledge of which players asked to be considered for which teams1. We conducted this exercise under the assumption that all players could be assigned to either team, aware that some of our selections may ultimately have chosen not to be considered for one division. Second, none of the three of us were at either of the tryout weekends, nor have any of us watched much raw footage from the events. To the extent that we are basing decisions off of tryout performance, we are reliant on the accounts of our reporting team of Ian Toner, Daniel Prentice, and Bryan Jones, along with videographers Tim Vothang and Justin Warnecke. In general, our decisions when drafting teams come from years of competing with or against and spectating the players in this pool.
Note that these selections are not designed to serve as predictors of what the National Team coaches will do; this was an exercise for us to act as our own coaching staff and draft our own players.
Steve Sullivan
While I think we all entered this exercise with the shared goal of building a full delegation of teams with the best chance of bringing three gold medals back from London, as the theoretical Mixed coach in this exercise, I came into the process knowing full well that the onus was likely on me to fight Keith and Charlie for the players we both would want. Knowing that, I set myself some goals for building the Mixed squad:
Come away with at least 1-2 world-class superstars that would immediately demonstrate to the rest of the world that the US takes Mixed ultimate seriously and will not accept that it be considered anything less than an equally important pursuit.
Secure a few leaders who would command the respect of everyone else on the team, both as on-field contributors and as spirited ambassadors of the sport.
Build a roster filled with players who have both demonstrated a commitment to or affinity for Mixed ultimate and who I believe would be actively excited to represent the US in a Mixed setting.
With those goals in mind, I started by coming up with my ideal Mixed roster — assuming, of course, that I didn't want to completely compromise our ability to build dominant Men's and Women's teams. Charlie did the same for the Men's team and Keith did the same for the Women's. Then the negotiating started.
My first and – spoiler alert – ultimately fruitless overture was for Jimmy Mickle to lead the Mixed team. As one of the current faces of the sport — both for his undeniable talent and his gregarious personality — I felt there was no one player who would more completely convince the world that the US takes Mixed just as seriously as the single gender divisions. Furthermore, I believe that of all the truly top tier men, his skillset would most seamlessly adapt to the Mixed game. I made my case, offering to Charlie as makeweight the entire rest of the agreed top tier of male talent.
This offer did not work as well as I had – perhaps naively – envisioned.
For all the reasons that I valued Jimmy, Charlie also could not imagine a Men's roster that did not include the singular epitome of the sport in this country. He's not wrong. Jimmy is a generational talent on the field, is by all accounts a spirited competitor – language not-withstanding – and has a growing chemistry with the other top male talents in the country, as he, Beau, Cassidy, and Kurt enhance their bromance in Dallas. Beyond that, he has no history of demonstrated interest in the Mixed game.
In the end, I begrudgingly relented and agreed that leaving Jimmy to the Men's team was best for the delegation. I probably knew that would end up being the case all along.
However, it didn't hurt that Keith stepped up to offer me Opi Payne.
Going into this, I leaned toward Jimmy as the ideal face of the Mixed team, thinking Opi would be completely off the table. She is the female analog to Mickle — a strong leader, dominant athlete, and all-around compelling force —  but perhaps with fewer like-for-like replacements. I assumed that she was an even less feasible pursuit than Jimmy.
Meanwhile, Keith listened to my arguments for wanting Mr. Mickle, largely agreed with my reasoning, and so offered Opi as a compromise for allowing Charlie to have Jimmy. After I picked my jaw up off the floor, I quickly accepted Keith's offer and, in turn, he ended up getting much easier negotiation from me throughout the rest of the discussion, as I truly felt he was working toward a shared goal. Perhaps that was his ploy all along.
By granting me the world-class superstar I sought in Opi, Keith was pretty quickly able to wrestle Rohre Titcomb and Jenny Fey away from my wish list. When I stood firm on Hana Kawai to ensure I had a dominant deep defender, I had to give up Calise Cardenas to do so. But I still got the leader I wanted in Alex Snyder2 and a couple of all-around studs in Georgia Bosscher and Robyn Wiseman — both can do it all and are completely fearless in a Mixed setting, which counts for a lot. I have a number of versatile female players who can play multiple roles as well as a few that I can count on in very specific positions. Landing Jaclyn Verzuh after Keith decided he was too worried about her current injury was the cherry on top for my massively talented female roster. Good luck, world.
I ended up keeping around 70% of the women I had initially hoped for and the series of trades Keith and I negotiated aligned with all of my stated goals, including allowing me to build a roster of ladies who nearly all have experience in Mixed: Nine of 14 who made the cut have competed in the Mixed division for a USAU Club Series while two others have previously competed in Mixed play internationally.
Keith Raynor
OPI PAYNE? ARE YOU INSANE, KEITH?
While I may be insane, I don't think it is because I gave up Opi Payne. It is true that Steve's arguments for Mickle were pretty compelling and made a lot of sense if you swapped the names. When I considered it, it seemed Opi's skillset ported over to Mixed perhaps better than any woman, and men at the tryouts reported playing comfortably with her. She gives the Mixed team an elite defender, but also powerful thrower.
And as we saw, it bought me a lot of leeway to snag a lot of the other women I wanted. Ultimately, I wound up with eight of the top 10 women I hoped to build the team around, including a wealth of incredible handlers I desperately needed but that might have been wasted in the 1-2 female handler sets popular in coed.
My roster was pretty systematically arranged once I locked up my core. Krier laid out the U23 strategems and I was already apt to apply them, approaching the team construction like I would a fantasy football or baseball team. When I needed an elite downfield defender, I looked for Kami Groom. When I needed a frustrating handler cover, I found Kelly Johnson. Terrifying deep threat? Calise Cardenas and Sarah Levinn, you're up!
One thing I considered when constructing both my roster and my vision of the Mixed roster for trading purposes was leadership. I wanted players who could communicate well, could inspire teammates, and help unite them. Opi, Alex Snyder, and Robyn Wiseman were all players I had to pass up in that regard. So I was really pleased to get Anna Nazarov, Claire Chastain, Emily Baecher, Leila Tunnell and Rohre Titcomb. I feel confident that their collective intelligence, familiarity with each other and their teammates, and international experience would help them take the National Team from a roster to a team.
I also wanted a stable of workhorses who wouldn't have a problem putting their nose to the grindstone, even as role players. This helped me decide the final few spots on my roster, which were incredibly tough decisions. At that point, I was essentially cutting players and they were such exceptional individuals that I'd find myself literally gnashing my teeth.
Two of the surprises for my roster were Marisa Mead and Becca Miller. Not because of their talent, but because they both have had extensive Mixed success; Mead hasn't played in the women's division in two seasons. However, both fit needs I had: Mead is an excellent D-line handler who can play great handler defense and Miller is an explosive downfield defender who can cover midrange cutters. Especially after Mead's tryout and Miller's club season, it was tough to turn her away.
Offense: Tunnell, Chastain, Titcomb, Hoffmann, Cardenas, Desmond, Fey, Shofner, Jones, Jorgenson, Bitterman, Kiesow
Defense: Nazarov, Johnson, Baecher, Griffith, Jorgensen, Groom, Ruden, Mead, Finney, Slattery, Sherwood, Sharman, Harris, Davis, Miller, Levinn
In the end, despite giving away perhaps the best woman in the pool of players, I wound up with a team that I think would not only win Gold, but do so without a contest.
Steve
On the men's side, the negotiations between Charlie and I felt far more painful, though they ultimately proved equally successful.
The easiest conversation was around Mac Taylor. Mac has been amongst the class of the Mixed division since joining Blackbird and has stated a preference to play on the Mixed team. Having him as a cornerstone of the Mixed national team was a no brainer for both of us. Similarly, Charlie amicably conceded Robbie Cahill. I like Robbie both as a leader with big game experience at the international level and as I guy who has played Mixed before. The idea of pairing him up on an O line with former Revolver teammate Taylor is tantalizing.
Once I had those two, it made sense to capitalize on chemistry and compliment them with additional Revolver difference-makers — especially since both Lucas Dallman and Simon Higgins started their careers with Polar Bears. I also snagged Nicky Spiva and Dylan Freechild, top end talents whose skills I think translate well in Mixed.
In general, I found that players on the male side of my roster fit more specialized roles than those on the female side, which I don't think is a problem. If the men know exactly what roles they are being asked to fill, it will allows the space for some of our dynamic female talents to truly dominate on the world stage.
Again, I ended up with about 70% of the male players I had initially targeted, though did have to make some painful concessions near the top of my roster. After all our negotiations — some where I felt I won, some where I gave up players I truly wanted for the sake of the delegation — I still felt like I was one male superstar away from an ideal roster. Namely, I felt I was a Jeff Graham short from a nigh unstoppable Mixed team.
Purportedly, Jeff had applied for this tryout and was deemed ineligible due to the fact that he was not on a USAU club roster in 2015. I am not positive on the exact details here, but whatever the circumstances, I hate not having the ability to take the best available players who are interested in competing. While there are some players that have taken themselves out of consideration for their own personal reasons, it is incredibly unfortunate that a guy like Jeff — who is perhaps still among the ten best players in the sport, is widely considered one of the best and most spirited leaders a team could have, and who actively wants to be involved in representing his country — cannot be taken. Looking at my roster, I'm not sure there is a single guy I wouldn't trade straight up for Jeff, given the opportunity. Incredibly frustrating.
I am also pretty disappointed in myself for not selecting more current male Mixed players. Despite it being among my overarching goals at the outset, when it came right down to it, I looked at who I had on my roster and who was going to be left at home not making either national team. I had every intention of using Mixed division experience as a tiebreaker between roughly equivalent players, but there were too many phenomenally talented, supremely spirited, and inspiring leaders from the Men's division that I felt could not be left out of the delegation. Too frequently, adding them to the Mixed team came at the expense of players I was targeting that currently play in the Mixed division. Unlike the female side of my team, only half of the men have Club Series Mixed experience. I wonder — and hope? — if Jake Henderson will find a way to recognize more current Mixed players than I did.
Which leads me to my biggest takeaway here: deciding the final few spots on all of these teams was absolutely brutal. Once we had all settled on what we felt were the core of our teams, we still had a list of about 30 players we felt deserved to be on a roster — yet that list needed to get whittled down basically in half. What a disaster. I have spent many hours staring at this list wondering how I can possibly leave some deserving players at home and I still hate my answers. The only reason you're seeing the list below is because we were at deadline. If the deadline had been hours earlier or hours later, I likely would have had somewhere between 3-5 different players on my roster. I imagine Charlie and Keith feel the same injustice. Just wildly unfair.
I can state without an ounce of exaggeration that the remaining players in our player pool could go to WUGC as USA Mixed 2 and still have a very solid chance to medal. I apologize to any player at the tryouts who ultimately did not end up on any of these lists and I sympathize with the coaches who will have to make similar decisions, with far more real consequences.
Charlie Eisenhood
Steve has already outlined many of the difficult decisions we had to make in bargaining. I felt pretty strongly — and made clear from the start with the discussion about Mickle — that the Men's delegation really needed to have at least 8 of the top 10 players available. The fact is that we know what we are going to get from the countries most capable of winning gold in the Men's Division: the very best those countries have to offer. Canada's men's team is going to be vicious, Great Britain's core on Clapham nearly beat Revolver at WUCC 2014, Japan will be as dangerous as ever, and the list goes on.
You can't afford to go up against these powerhouses without the best. That's why players like Rasmussen, Mickle, Gibson, and Kittredge were off the bargaining table. Once I established that top tier, it became more of a matter of filling positions on the field and making sure to have a good blend of star types and role player types, who will be comfortable fitting into a team without a lot of practice time.
I have a set of handlers ranging from the eccentric brilliance of Brett Matzuka to the elite speed of Alan Kolick. The cutters — like Goose Helton, Peter Prial, Josh Markette, and BJ Sefton — are the best in their various roles. The bigs — Kittredge, Degirolamo, Stuart — are scary.3 The defense was a category of its own, and I couldn't be more pleased with how the team turned out. From lockdown handler covers like Sam Kanner to grinders like Trent Dillon, the D line will be filled with talent. This team's deep defense, featuring David Cranston, Hylke Snieder, Reid Koss, and Nathan White, has to be the best in the world.
I also have a sizable youth contingent; it will be interesting to see if Alex Ghesquiere has a similar selection. Less known players like Abe Coffin, Peter Graffy, Chris Kocher, and John Stubbs flesh out a roster with mostly established names.
One thing is certain: making the final few cuts was tremendously difficult. There were at least five, if not ten, players that I badly wanted to include, but simply could not find room for on the 28 man roster. The talent pool is truly exceptional. This process, in general, was much harder than I initially anticipated, and I think I speak for Steve and Keith as well when I say that we are not envious of the task facing Ghesquiere, Henderson, and Matty Tsang.
Still, we are proud of the rosters we created and do feel that each of these teams could compete effectively for a World Championship. Without further ado, here are the teams:
Men's Roster
Abe Coffin
David Cranston
Tyler Degirolamo
Trent Dillon
Ryan Farrell
Christian Foster
Kurt Gibson
Peter Graffy
Jonathan "Goose" Helton
Ashlin Joye
Sam Kanner
Danny Karlinsky
Beau Kittredge
Chris Kocher
Alan Kolick
Henry Konker
Reid Koss
Josh Markette
Brett Matzuka
Jimmy Mickle
Peter Prial
Cassidy Rasmussen
Joel Schlachet
BJ Sefton
Hylke Snieder
Nick Stuart
John Stubbs
Nathan White
Mixed Roster
Sarah Anciaux
Georgia Bosscher
Robbie Cahill
Lucas Dallmann
Khalif El-Salaam
Dylan Freechild
Jack Hatchett
Simon Higgins
Sarah Itoh
Hana Kawai
Sally Lambert
Magon Liu
Becky Malinowski
Sarah Meckstroth
Simon Montague
Jonathan Nethercutt
Opi Payne
Lisa Pitcaithley
Matt Rehder
Amber Sinicrope
Alex Snyder
Nicky Spiva
Mac Taylor
Jaclyn Verzuh
Russell Wallack
Asa Wilson
Robyn Wiseman
Russell Wynne
Women's Roster
Emily Baecher
Laura Bitterman
Calise Cardenas
Claire Chastain
Crystal Davis
Claire Desmond
Jenny Fey
Carolyn Finney
Sarah Griffith
Kami Groom
Meg Harris
Lien Hoffmann
Kelly Johnson
Jessi Jones
Kaela Jorgenson
Sandy Jorgensen
Courtney Kiesow
Sarah Levinn
Marisa Mead
Becca Miller
Anna Nazarov
Maggie Ruden
Claire Sharman
Julia Sherwood
Jesse Shofner
Dena Slattery
Rohre Titcomb
Leila Tunnell
So how did we do? We acknowledge that there are any number of other players who could have made these rosters — and apologize that we could not recognize everyone who is talented enough to represent the country in London — so if you're going to quibble with our choices, don't just name snubs, but discuss who could be replaced and how that swap would improve the make-up of these rosters.
---
In their applications, players were given the option of trying out for the Men's, Women's, or Mixed team distinctly, or could leave the option up to the coaches' choice ↩

I believe Alex to be among the best leaders and ambassadors for ultimate this country has and know from experience how critical it is in Mixed to have a rock solid female handler who you can confidently center the disc to. ↩

I did have to give up Matt Rehder to Steve, but he seems like the best fit for the Mixed team at the deep position. ↩