Some insight into how the WUGC coaches will pick their teams.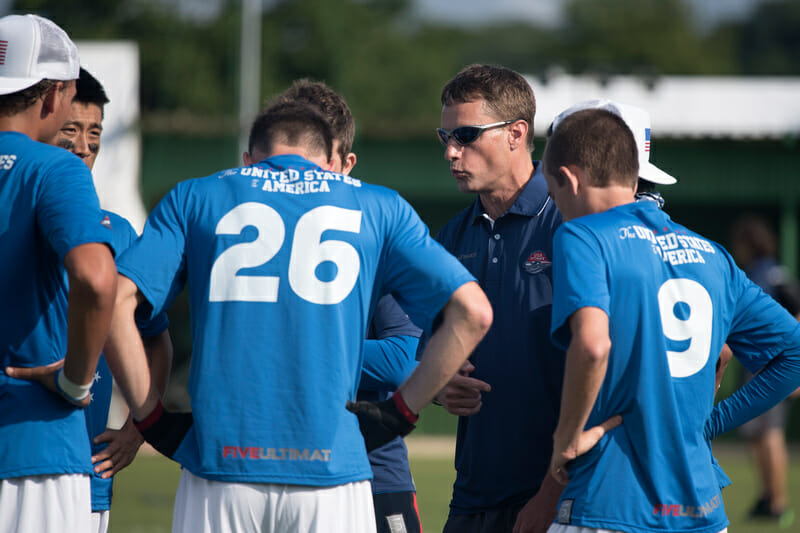 Following an enlightening comment from 2013 and 2015 U23 Women's coach Mike Whitaker on the selection process the coaches went through after U23 tryouts, I reached out to U23 Men's coach Bob Krier for his thoughts on the process. After an email exchange, he agreed to allow Ultiworld to share his thoughts.
CE: I'm wondering if you would be willing to talk about what it was like to do roster selection for the Under-23 teams. I've been thinking a lot about the overpowered U23 mixed team and what that might suggest could happen for WUGC coming up.
How was the negotiation process for picking players to the U23 rosters? Did you feel there was good guidance from USA Ultimate on how to select teams? Other thoughts?
BK: First, there was very little guidance from USAU. As I've described to others, in 2013 they said, 'The goal is 3 gold medals,' and the only other mandate was that we were to consider all three teams as equals — no team was more important than the others. We were very deliberate about making sure that all the coaches were creating an environment that expressed 'we're one delegation, and making one of these teams is a great honor' and not that making one would be better than the others.
And that was essentially the extent of their input on how we were to decide rosters. And the onus was on the three head coaches to convert that 'vision' into an implementation. We decided on a first rule: that all three teams needed to have an 'elite' starting 7, on each side of the ball. And we started with a top, elite, tier of players and made sure Mixed had at least four of them. And more because they needed elite offense and defense, which isn't always the same. So each year they got 5-6 of the top 15 male players.
In the U23 applications, players were able to select their team preference: single gender only, mixed only, or coaches' preference. If they chose one of the first two, there was no consideration for the other team. If they chose the third, then they were assigned based on the goal of creating three championship caliber teams. Another factor was personality, and the mixed team was less interested in certain men that they didn't think would fit their desired team culture. And in both years there was one male player would combined a tremendous attitude/spirit, fantastic leadership and excellent on-field ability who was desired by both teams that eventually went to mixed because of how much more valuable we felt he would be on that team.
Beyond the elite starting 7, we also tried to make sure that both the men's and mixed team had all of the specific roles covered. They needed a central handler who could walk a bricked pull up and break a mark or take a deep shot. They needed a shutdown handler, deep defender, and a variety of other roles.
Another concern we had was that some country might stack their mixed team in an effort at gold. Consider a country that could put together the 5th best men's team and the 5th best women's team. Neither would probably make semis, and so they would go home without any medals. But what if they put all of their eggs in the mixed basket — couldn't they combine those two teams to get a top 3 mixed team, and possibly beat a US team that didn't get elite players? I don't know of any country that's tried this yet, but it would feel awful to get caught by that kind of unexpected strategy. So, yes, the mixed team was better than it needed to be for the competition. But they weren't just put together to beat those teams. They were built to beat all of the best potential teams the other countries could put together. And in 2015 I think the mixed team might have won gold against a Canadian team comprised of only Open and Women's players.
The women's team didn't lose to Japan because they didn't have the players to win — they won easily in pool play. They lost because Japan adapted well and played an incredible game.
We (Mike Whitaker, Martin Aguilera, and I) built a framework for making these decisions, and USAU let us know back in 2013 that this was coming for the WUGC teams and that they wanted this from us. As far as I know, they didn't explicitly ask any of us for input on the 2016 process, so I don't know what the current coaches have planned out. But I think we built a solid road-map for future three division tryouts/team selections.
But the mixed team will probably have several players who are talented enough to star on the men's team.