UCF has the buzz, but there were lots of other impressive teams in North Carolina.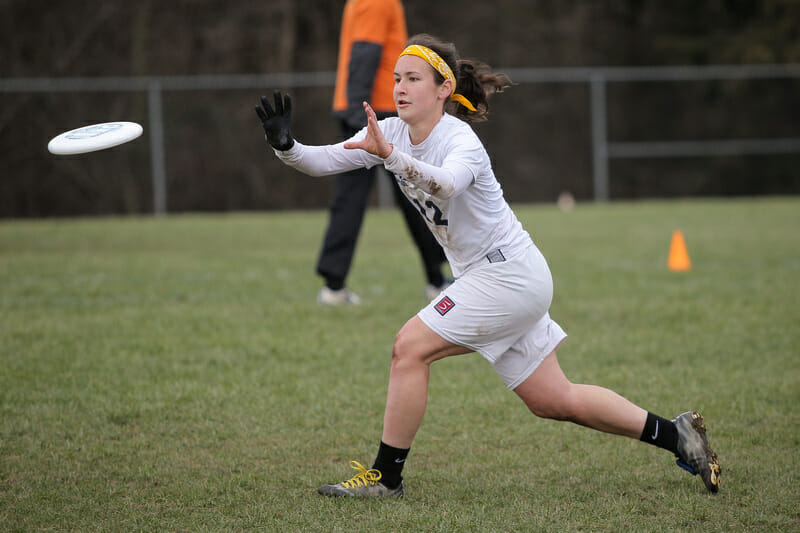 CHARLOTTE — The college women's season really got started this weekend at the Queen City Tune-Up. Central Florida was the class of the division and has the results to back it up, winning going away. However, with such a deep and talented field of potential Nationals teams, there was a lot to see and take in during the course of play.
Pittsburgh's Second Place Strong Start
Charlotte hosted Pittsburgh Danger's coming out party. Expectations were for a pretty strong season for Danger in which they could finally win the Ohio Valley region, after a high water mark in 2015's national appearance and a returner-filled roster. They have a bonafide star in Carolyn Normile, who was just off the radar last year, but raised her profile after turns with Team USA U23 and the All Star Ultimate tour.
A 7-1 record, including wins over #11 Michigan and #12 Minnesota, and a 2nd place finish are fine trophies to take home from a good weekend. Pitt helped even out what looked like a handler heavy attack in 2015 by shifting Normile downfield more often, where she and Linda Morse could really go to work. That duo, along with Vaughan Skinker, highlight the team's top talent, but they got plenty of contributions across the board.
"We trust each other fully," said new coach Ben Banyas. "Everybody's on board because of that level of trust."
Now with pole position in the Ohio Valley – which now looks like a two bid lock – Pitt has forced their way into the national conversation. They'll be next in action at Commonwealth Cup and close out the regular season with Northwest Challenge.
A Tale of Three Struggles: Dartmouth, Virginia, Carleton
The sky is practically falling when it comes to #9 Dartmouth. After being touted as a potential champion, they stumbled to 2-4 (two forfeits), getting thumped by both ranked teams they faced and narrowly edging Northwestern and Georgia. But this was hardly the Princess Layout team expected to make their way to the late rounds in Raleigh. No Jaclyn Verzuh (injury) or Julianna Werffeli is one thing; take away Angela Zhu (injury, didn't play Sunday), Carolyn Susman (injury), Lily Eisner, Sophia Schwartz, and Sarah Heybourne and you'r essentially talking Dartmouth minus their starting line. Reserve judgment, but this weekend does point out a potential lack of depth that could prove troublesome for Dartmouth in the long run.
Another team that had people talking – in the wrong ways – this past weekend was #16 Virginia. With a hefty number of skilled returners, Virginia was expected to move pieces around but mostly replicate their recent success. They still look like they are figuring it out. They've been able to benefit from an elite thrower and cutter for the past few seasons and lost quite a bit. The system was still in place, but it was clearly still being tweaked. Coach David Allison didn't seem happy with their performance, but he also didn't seem overly concerned. But we did learn Virginia has further to go to get back to quarters than originally anticipated.
The third power team that got off to a rocky start is Carleton. Just three seasons removed from making the championship game, the Carleton program has perhaps seen their pipeline of talent dry up. They were without Katie Ciaglo and others this weekend, but the overall talent level of the team didn't look like it stood up to their past efforts. With the North Central looking more competitive, Syzygy has a lot of figure out over these next few months.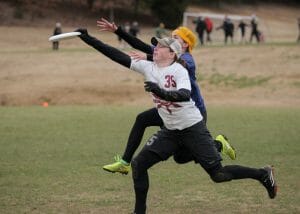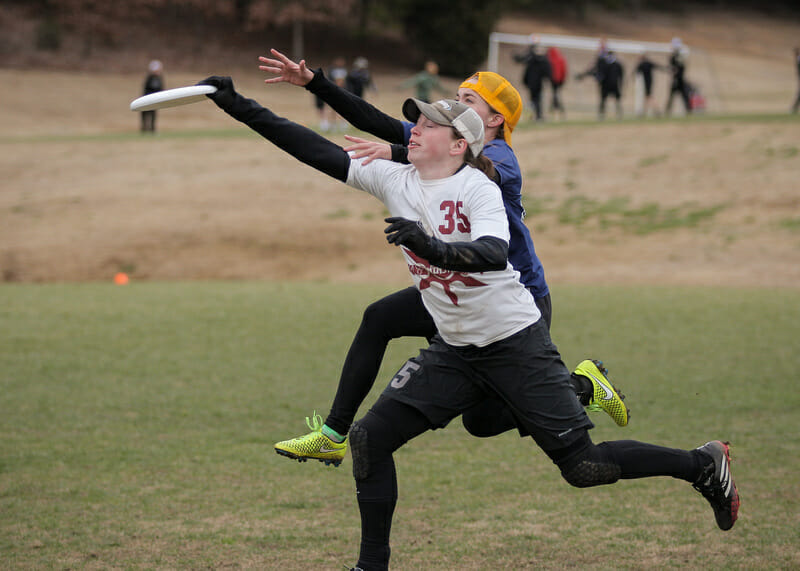 Minnesota Justifies The Preseason Hype
Speaking of the North Central, #12 Minnesota was the third most impressive team in Charlotte. After being pegged in the offseason to take a big step forward on the wonderful combination of good recruiting and strong veterans, Minnesota backed up the preseason hoopla. Sarah Anciaux has been a monster, but is due for a higher profile as a top flight cutter. Greta Regan, Kajsa Beatty, and Alyssa Belsito held down the backfield well, allowing Anciaux, Louise Beck, and Kayla Blanek to shine in the lanes.
The Ninjas also gave off the sense that they have a lot of room to growth. They were tentative in spots they didn't need to be, and with numerous young players in key roles, that's something that should get better. Their defense is likely to improve over the course of the season. Pittsburgh put them to the test with a late half comeback, and even though Minnesota gave away that lead and ultimately the game, those learning experiences with battle-test a developing team.
The Next Tier
Third and fourth place went to #11 Michigan and #14 Ohio State, respectively. Both teams showed some real flashes, but are obviously also works in progress. While strong handlers lead each team – Michigan leans on Tracey Lo and Hannah Henkin while Ohio State looks to Sadie Jezierski and Stevie Miller – it were the growing cutters that brought these teams to the next level. Mary Turner stepped up for Fever, with Katie Backus and Alaine Wetli touching the disc more, and gave them a strong defender and cutter after the turn. Leah Bar-On Simmons was an eye-opening threat for Flywheel, tearing up defenses for big gains and showing skill with the disc once it was in her hands.
#15 Notre Dame also showed that last season was no fluke. This team makes no bones about what they do well – attack and out-athlete. They rack up run through Ds and big skies for goals. They pick up the trash, apply pressure, and get loud. WOMB's energy can intimidate opponents and push teammates. They'll offer a stiff test to most opponents they line up against and certainly seem capable of nabbing a second bid for the Great Lakes.
The under the radar surprise performer at QCTU was #20 UNC-Wilmington. They knocked off Virginia and #23 Tufts on the way to a quarterfinals appearance and their 4-4 weekend features mostly close losses to good teams. Klara Calderon-Guthe and Emily Judd looked patient and intelligent in their backfield, setting the tone for one of the best executing offenses at the tournament. Their zone would force turns and their offense would methodically go the other way. Those characteristics are not the kind that fade away later in the season.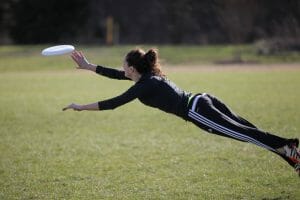 Jury's Still Out
This crop of teams weren't exactly consistent, but showed some flashes of notable potential.
#18 Wisconsin scored wins over UNCW, Tufts, and #22 Florida State. Anna "Robot" Hrovat-Staedter was an unflinching thrower and vocal leader, but they got good contributions from their athletes. They didn't, however, benefit from the services of Brittney Kokinos, who won't be joining the team this spring. They really could have used another strong and confident thrower.
Florida State had to play shorthanded, missing some of their key veterans, and that showed. They looked pretty gassed after their first few games, having to rely heavily on Skylar Taggart, Lisa Fitton, and Kristen Lloyd. With reinforcements, this team will certainly get better, but their mental mistakes shot them in the foot and could cap their ceiling.
#25 Kansas's 4-4 record is tenuous at best, featuring two one point wins; they really looked out of sorts. Historically, they have really asked a lot of their top end players, and both Caitlin Fitzgerald and Clare Frantz are still recovering from injuries. That showed, especially on defense. The team was great in the air, but will need to work on some of their other defensive elements to compete in the crowded South Central.
Tufts looked pretty solid, still riding out a lot of the same core that surrounded Qxhna Titcomb last season. They are still driven by a strong handling corps and will need their cutters to continue to develop to get to their next level. Ewo seems to be missing some of the explosive athletes they've had in past years and that could prove a challenge for even their skilled and intelligent squad.
#21 Colorado College finished up the first half of their back-to-back — they travel to Prez Day this coming weekend — with a 5-3 record. They are athletic and it is interesting to see how their handlers use their legs to advance the offense. Chloe Rowse and Patricia Weicht are a handful and capable of racking up blocks, but the offense's execution leave something to be desired.
#BidWatch: Winners and Losers
Winner: North Central may have had their flagship squad, Carleton, fall flat off of the blocks, but Wisconsin and Minnesota both made strides towards a potential second bid. Neither team took a bad loss and claimed some pretty solid wins. Three bids seems ambitious, but a pair is well within reach.
Loser: New England was expected to struggle to get two bids, but Dartmouth's ranking swan dive is not going to do the region any favors. It isn't time to panic: Dartmouth could do some real work at the Northwest Challenge and Tufts could continue to play well. But there's a very real chance the region will go back to sending just one team to Nationals.
Winner: Great Lakes put on quite a show with two of the strongest teams at the tournament. Notre Dame's victories don't blow you away, but their resume is solid, and more importantly, they certainly look good enough to add more wins down the road. Michigan is much the same: a superior record dragged down by a loss to Penn State, but clearly with enough pieces to be successful during the regular season. Great Lakes, Great Times, Two Bids.
Loser: Southeast teams went 8-15 if you don't count UCF's results, and almost half of that comes Georgia Tech's 3-1 Sunday run through the squads that failed to make the bracket. Opportunities will be available at Centex, but it looks like an uphill battle for the region to get out of Central Florida's expanding shadow with a second ticket to Raleigh.