A look at the early contenders in Division III.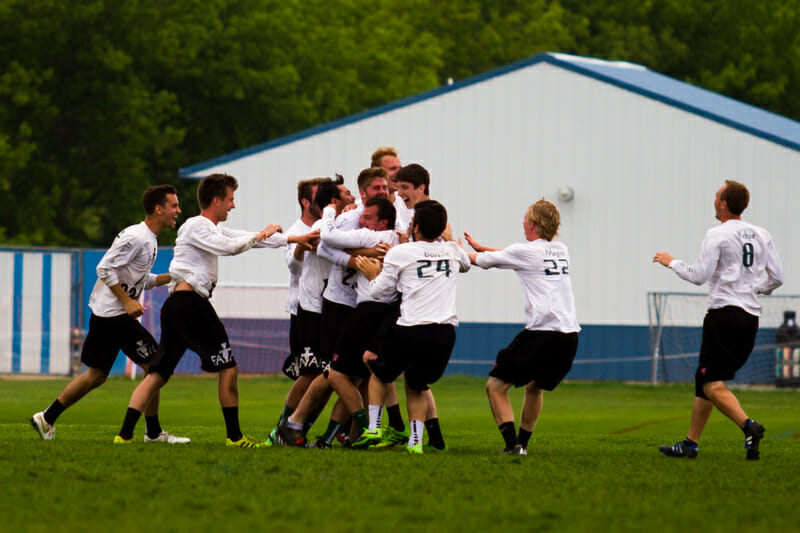 With DIII Warmup now in the books, we've put together our first edition of the DIII Men's Power Rankings! Here is a look at the teams.
Franciscan: The reigning D-III champions were dominant last season, finishing 31-0. Until they're challenged this year, they have a firm grip on the #1 spot. With a young team and a Holy Family Catholic pipeline, this team is gaining both experience and talent every year. They might win another title going away.
Brandeis: Finished second in USAU rankings and were the runners-up at Nationals last year. All indications point to another strong year.
Bryant: Coming off of a semi-finals appearance at Nationals, they returned most of their core and went undefeated in the fall. Great momentum going into the spring season.
Georgia College: Quarterfinals exit at Nationals last year to a strong Bryant team. Safe to assume they'll be near the top until we see them play this spring.
Claremont: A quarterfinals appearance at Nationals last year and a solid performance at D-III Warm Up this past weekend keep them near the top.
Carleton-GOP: Historically strong; they ran into an undefeated Franciscan team on Sunday at Nationals last year. They didn't impress at D-III Warm Up last weekend, but are notorious for gaining steam as the spring goes on.
Davidson: Lost in the quarterfinals to second-place Brandeis at Nationals last year. Played well against big D-I teams at QCTU this past weekend, notching wins over Iowa, Virginia, and Wisconsin-Milwaukee in pool play. Looking impressive so far.
Middlebury: The 2013 D-III champions underperformed at Nationals last year, failing to make the championship bracket on Sunday. Will they bounce back?
Bowdoin: Lost in prequarters to GOP last year at Nationals. Should be a solid team looking to secure another spot at Nationals in a deep New England region.
John Brown: Made it to the championship bracket at Nationals, but lost in pre-quarters to Bryant. In their first tournament this spring, they played well against mid-level D-I competition at Big D in Little D, making it to the semi-finals before losing to TCU.
St. Olaf: They played well in consolation on Sunday last year at Nationals, tying for ninth place. They'll look to continue improving this year.
Truman State: Like St. Olaf, Truman State played well in consolation at Nationals last year, tying for ninth. In a South Central region with Rice and John Brown, they'll be competing for another bid to Nationals come April.
Air Force: Right now, they're the darkhorse team of the season. Didn't make it to Regionals last year after school restrictions limited their series roster, but they impressed at D-III Warm Up this past weekend with wins over GOP, Lewis & Clark and Whitman.
Lewis & Clark: Fell to Davidson in prequarters last year at Nationals. Played well at D-III Warm Up this past weekend, winning their pool over GOP.
Elon: Two years ago, they made it to the championship game at Nationals. The program fell off a bit and finished last at Nationals this past year. They had a solid fall, but will have to climb to be relevant at the top-level of D-III this spring.
Amherst: The odd team out last year in a New England region with four bids to Nationals. They were also surprisingly mediocre at D-III Warm Up, losing once to Claremont and twice to Occidental.
Rice: Fell in the game-to-go to Nationals last year. Made it to the semi-finals at Big D in Little D this spring, looking to redeem themselves in the series.
Occidental: Couldn't get past Claremont to make Nationals last year, but played well last weekend at D-III Warm Up, notching two wins over Amherst.
Messiah: A strong team in an Ohio Valley region with one bid to Nationals that expectedly went to Franciscan. If the region can earn another bid, they should be in contention to take it.
UNC-Asheville: Represented D-III well at QCTU last weekend along with Davidson, winning games against Ohio and Luther while playing close with Michigan and UNC Wilmington.
Richmond: Clearly the second best team in the Atlantic Coast region, they are consistently solid but will need to take a step forward to earn a bid to Nationals.
SUNY-Geneseo: A semifinals team at Nationals last year, they lost a huge portion of their top-end talent as well as coach Brian Jones. This could be a rebuilding year for the team.
North Park: Reportedly struggling to get enough players to attend tournaments this past fall, they will need to prove themselves in the spring if they want to continue to be a Nationals contender.
Williams: Right behind Amherst last year at Regionals, they were competitive with every team last year in New England. They need to take a step forward as a program to earn a bid to Nationals.
Portland: They failed to make Nationals last year in a region dominated by Lewis & Clark. However, making it to the finals of D-III Warm Up last weekend earns them a spot in the Top 25.