The club season hot stove starts cooking...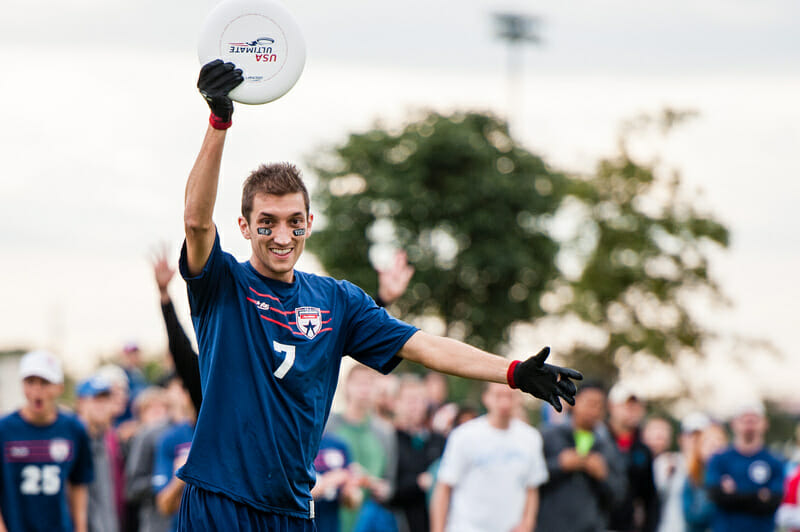 Kurt Gibson will be joining Boston Ironside in the upcoming 2016 club season, Gibson confirmed with Ultiworld today after rumors swirled in recent weeks.
A multiple-time gold medalist on the college, club, and international stage, Gibson is widely considered one of the best players in the world. He won a National Championship with Denver Johnny Bravo in 2014 and Austin Doublewide in 2012. He was recently selected for the 2016 USA Men's team competing at the World Championships in London and has been an Ultiworld All-Club selection every year since the award's inception in 2013.
"I'm pretty excited," said Ironside head coach Josh McCarthy. "Kurt's a transformational player. He's one of the best in the game. We'll figure out what role makes the most sense for him but I'm sure it will be a big one and he'll be incredibly valuable both on and off the field this year."
Gibson already has a connection to the Boston area: he played for Boston Ultimate — the elite team in the city for the year between the DoG and Ironside eras — back in 2007, before becoming a Doublewide mainstay.
Gibson will continue living in Dallas during the season, as his plans to move to Boston fell through when a relationship ended. But Gibson, who had already spoken to Jacob Luria and Josh Markette about joining the team back at Club Nationals in 2015, decided to stick it out with Ironside. "I told them I was going to play and I'm a man of my word," he said.
He's no stranger to commuting to play ultimate. In 2013, he played for Doublewide but relocated to Denver during the season. Then he played with Johnny Bravo in 2014, but moved back to Texas during that season. He's also played in the AUDL in San Jose (2014) and San Diego (2015), flying in for games.
Both Gibson and McCarthy were clear that he would do more than show up for the Series. "It's not going to be a 'come in for tournaments and a practice or two,'" said McCarthy. "He really wants to be a part of the team."
Gibson has long been a staple on the defensive line, serving as one of the game's most dangerous offensive weapons after a turnover. His exact position on Ironside has not yet been determined.
"It's obviously a team game and you need role players to do everything," said Gibson. "I'm hoping I can fill into a role that will help them win."
Now eyes turn to other possible roster spots on a team that has made eight straight semifinals but has never won a title. There are strong rumors that Jeff Graham may rejoin the team this year. Russell Wallack is planning to play again this season. Jay Clark is living in Boston now.
With defending National champion San Francisco Revolver shaping up to be stronger than ever and adding former Ironside captain George Stubbs, they'll need all hands on deck.
An earlier version of this article said that Gibson had spoken to Jake Taylor about joining the team. That was incorrect. He spoke to Jacob Luria.