Wisconsin Hodags took home on of their biggest wins in recent history after a 15-13 final in the Stanford Invite finals.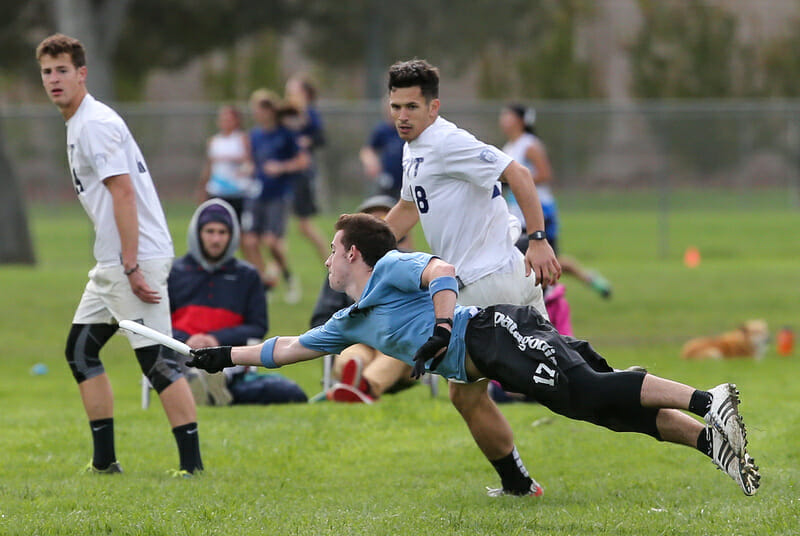 At a tournament marred by shifting and unpredictable weather conditions, the Wisconsin Hodags rose above the pack, notching a gritty 15-13 finals win over Pittsburgh En Sabah Nur. It continued an impressive start of the 2016 season for the Hodags, following their semifinals appearance at Warm Up last month, and puts them in the conversation of teams with National semifinal level potential.
Pittsburgh drew first blood in the finals, scoring a break on the first point of the game following a layout D from standout freshman Mike Ing. After they added a second one a few points later, Pitt's two-break first half lead seemed like a comfortable margin during the first third of the game.
But while Pitt was hot early, Wisconsin was deeper and tougher over the course of the game. In particular, the Hodags showed mental strength. They fought back from deficits twice — including one late run that put Pitt back up a break — and won most of the game's 50-50 aerial battles.
Pittsburgh's mental game, on the other hand, will pose questions for the team moving forward. With the game on the line and Pitt needing an upwind break, Trent Dillon skied a pack of Hodag defenders, set up a pivot ten yards outside the end zone, and immediately called a time out. Only one problem: Pitt was out of them. The crowd's oohs and awws following the sky quickly turned into audible gasps and shock as the observers signaled turnover against the Pitt star. The best player on the field had committed one of sport's most marked mistakes.
"It was a bit of a roller coaster [play]," said Wisconsin coach Eric Alexander, leading the team with head coach Hector Valdivia absent this weekend. "Pretty wild.  An 'Oh thank God' moment — your heart goes out, because that's a brutal way to have a turnover and [Trent] is one of their absolute great players."
After the game, Dillon said he remembered Pitt's coaching staff telling them they were out of timeouts, but blanked a bit about whether that directive had come during the semifinals against UMass or in the finals.  "I burned the T but then thought to myself . . . well, that doesn't feel totally right . . . and [heard assistant coach David Hogan saying] it was a turn. So it goes. Now, we gotta fight for the D."
But the mistakes from Pittsburgh weren't just Dillon. A few Pittsburgh role players had chances to make plays late in the game — on both sides of the disc — and came up short. One key break chance was missed late when an endzone pass was misread, and some of Pitt's rotation cutters stopped gaining meaningful continuation cutting yards as the second half wore on. Pittsburgh's big three of Dillon, Max Thorne, and Pat Earles — feel free to add Jack Slevin to that group following an impressive weekend as Pitt's center handler — will need more help from the rest of their roster if they want to win in May. At times, the playing time load shouldered by Pitt's top players manifested itself in what looked like mental fatigue; Dillon's timeout might be one example, but there were also slower marks from Earles, and uncharacteristic miscommunications in the reset system.
Wisconsin showed an impressive level of maturity, looking like a team that knows its strengths, can adapt to trying conditions, and put away inferior teams. The finals win will get most of the attention but more impressive was the Hodag's 15-7 semifinal shellacking of Harvard — one of the tournament's surprise teams.  Harvard kept it even at 4-4 to start the semi, with Red Line's John Stubbs impressively involved in three of the goals. The Hodag's offense was riding equally excellent play from offensive focal points Ross Barker and Aaron Speiss. But then Wisconsin dug in, locking down on Harvard handlers and baiting desperate throws that were quickly converted for breaks. It was half at 8-5 Wisconsin in almost a blink, and Wisconsin blew it open in the second to win by eight.
Driving the big wins was a Hodag offense that has noticeably more disc skills than they did in 2015, despite the fact that (or maybe because) they return lots of the same key pieces. At times the offensive approach is a bit reliant on winning huck battles, and it will be interesting to see how other teams adjust to take away those strengths moving forward. In the finals, Pitt didn't really show junky or zone looks designed to confuse Wisconsin. Pittsburgh coach Nick Kaczmarek alluded to that very problem after the game. "Right now we have zero other things to throw other than man [right now] . . . and we need to be bring other looks at teams," he said.
Against those man defense looks, Wisconsin was able to use their size advantage without telegraphing the deep game; their offense was patient enough to swing and move the disc before letting shots rip. Alexander added after the game that he was "incredibly pleased" with his team's offensive lines performance on the weekend and in the final.
Unlike Pittsburgh, whose star players are easily identified and dominate possession, Wisconsin had lots of contributions from across the roster. Speiss scored often for them in the finals, with Nick Vogt also shining offensively. Defensively, the entire Hodag team had an especially impressive second half; Sterling Knoche and Chris Wilen took most of the biggest assignments, while Eric von Kampen showed leadership before and after the turn for their D unit.
The conditions at the Invite were varying and at times miserable, while nonetheless somehow exceeding expectations. Players had to adjust throws and coaches had to change game plans round-by-round, and sometimes point-by-point. Saturday round one was beautiful, while Saturday round five (prequarters for the Men) was a dismal, swampish affair. Sunday morning was sunny and actually pleasant! — but the final, especially the second half, saw a strong upwind/downwind element that affected even the best throwers. In the trying conditions, each team was forced to play their top players and most experienced throwers heavy, almost Nationals-level point loads, in order to compete.
As for the final, Kaczmarek said his team failed to make the necessary adjustments to win the game. "Both the UMass semi and Wisconsin final required someone specific adjustments of individual players and of our team," he said. "We talked about them, but talking is very different from executing it." While the final (and the play that defined it) will certainly be memorable for those who saw, it's still hard to bet against Pitt making those adjustments and rising a bit higher next time.
Simon Pollock and Charlie Eisenhood contributed reporting.