A timely layout D sparked a strong second half run from Kansas.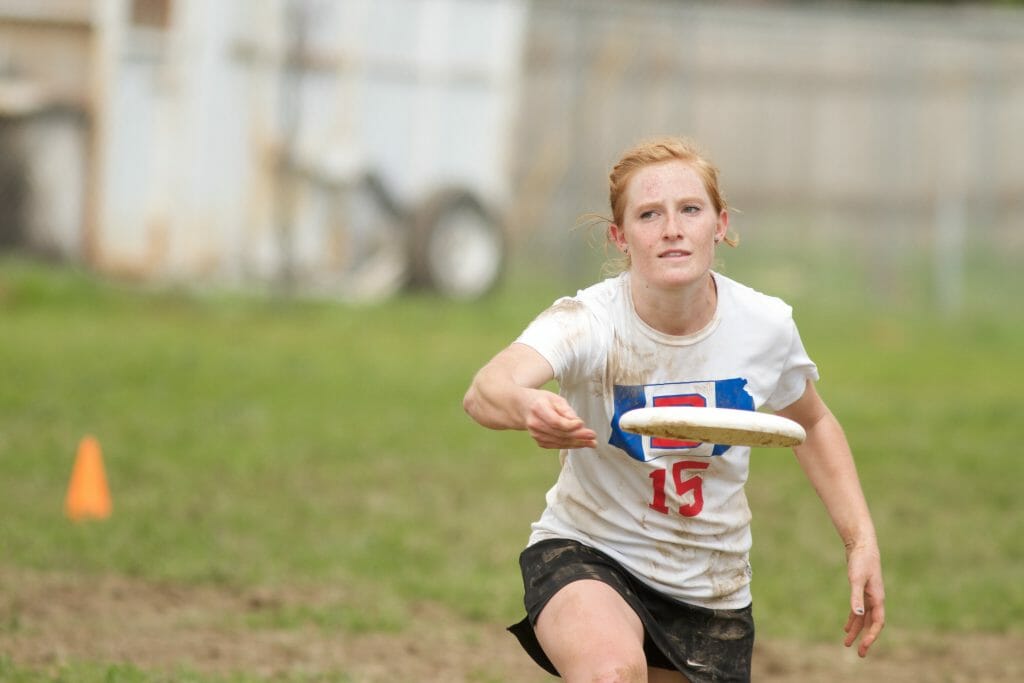 Kansas won the battle for momentum in the Midwest Throwdown final, besting Wisconsin Bella Donna 12-9.
Nobody was surprised that Wisconsin and Kansas met in the finals: the 1- and 2-seed teams had been dominant all weekend, outscoring their opponents 156-62. Looking at their records, Wisconsin seemed like the easy pick: Wisconsin had already taken Kansas down at Queen City Tune-Up 11-6. On Sunday, Bella Donna had only let eight points get past them in their march to the finals, while teams had scored 18 on Kansas.
But if there's one thing Kansas knows how to do, it's work. Their opening salvo for the finals was two quick breaks on Wisconsin, both scored by junior Grace Roth.
Most teams had been setting zones in the 15-20 mph Midwestern wind, but after an early zone look from Kansas, both teams settled into individual matchups that would these two athletic teams.
The Incredible Flying Guerin
Lorraine Guerin (Heist, North Central All-Region) was a superhero for Wisconsin: she would deny a Kansas deep look in the endzone and then launch an assist from midfield moments later. She could start Bella Donna's offensive flow with an easy under and finish the same point streaking deep. During the first half she neutralized Kansas' biggest downfield threat, Kelsey Akin, and in the second half she took on Clare Frantz.
It's a promising sign for Wisconsin that they never needed Guerin. Make no mistake, she's a huge part of the team's engine; but she's not the only piece propelling them forward. Bella Donna is younger, smarter, and deeper than they've been in seasons, and players throughout their roster stepped up.
Wisconsin and Kansas traded holds until 5-4, with Kansas on serve. A too-low throw from Betty gave Wisconsin their chance: Guerin broke away and Anna "Robot" Hrovat-Staedter (2015 U23X, Heist) hit her deep in stride. Guerin found Jenna Lynne with ease, and Bella Donna stole a much-needed break.
Suddenly the finals changed. The game had been gritty before, but both teams had been playing with quiet determination. With their break, the Wisconsin sidelines exploded, and you knew: they were getting another. Moments later, Bella Donna converted a Kansas overthrow into a lead, 6-5. Wisconsin got joyously louder, and Kansas buckled down.
The finals were a montage of athletic matchups: Clare Frantz (2015 U23X) challenging Guerin's unders, and Robot dancing with Caitlin Fitzgerald (2015 SC POTY, All-Star Tour) in the backfield. These four stars were breathing different air than the rest of the players; at least two of them were on the field during any point of the finals, yet nobody seemed to tire.
Wisconsin broke for half 8-7, and despite the close score, the game seemed over. Bella Donna charged into their halftime dancing, laughing, and cheering. Kansas sat among their bags. They ate snacks and refueled quietly.
Kansas Rallies
At that point, nobody expected the stretching layout D from Kansas' Grace Roth on Guerin during the first point out of half. But in a game built on momentum, energy, and grit, it was what Kansas needed.
"I was kind of  worried about our energy at half," admitted Fitzgerald after the game. "But Grace's layout D at the endzone is what brought it up."
Kansas held, and then broke twice to pull ahead 10-8. Wisconsin stayed in the Kansas handlers' pockets, pushing Fitzgerald to get creative with her reset cuts and pressuring crafty throws from Frantz and Fitzgerald alike. But Kansas made defensive adjustments of their own, pushing to cover Wisconsin's deep space more and limiting their longer options.
Watching them battle, you would never guess that Wisconsin only scored one point in the second half. Wisconsin rookie Caitlyn Murphy was particularly impressive when matched up against Fitzgerald.
Kansas continued to exploit their own longer passes, chewing up easy yards on long looks to Roth and Frantz. Kansas gave Bella Donna fewer second chances to convert, and they marched the score to 12-9 to win in cap and claim revenge for Queen City Tune-Up.
Only Going Up 
Kansas' finals win is another entry in their thick portfolio of close, grinding wins. They didn't display the signature takeover offense of years past, but there were also more new faces on the field than Kansas usually puts in rotation.
"We're just going up, every single game," said Frantz after their win. "We're building to a team chemistry, where we can rely on everyone. We're trying to have a deep team by May. We alway peak in May."
Kansas' win brought them back into Ultiworld's College Power Rankings at #22, and Wisconsin's loss nudged them down five spots to #23. These teams will have a chance at a third date when they both travel to Austin in two weeks for Centex1.
---
#Bidpocalypse2016 ↩