Could a wild team win a wild season?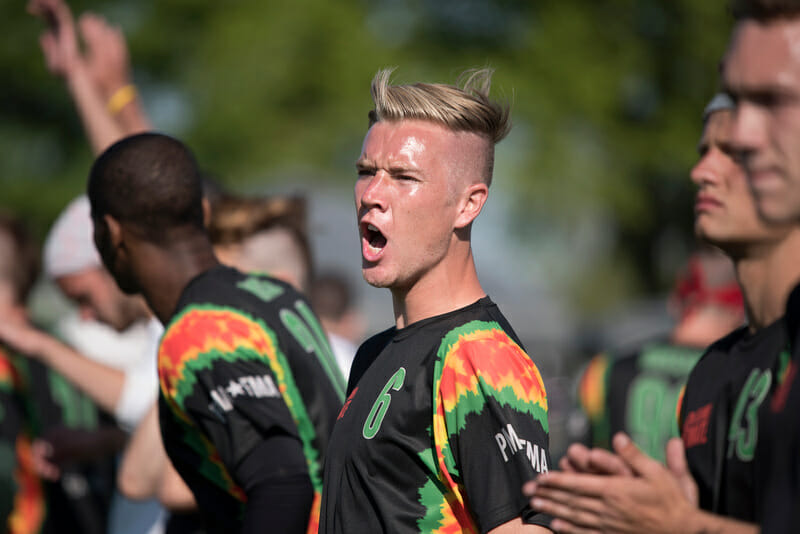 Let's try some word association.
I'm going to name a college ultimate program, and you tell me the first piece of construction equipment that comes to mind.
Wisconsin? Probably a hammer. Pittsburgh? Maybe a tape measure or a bubble level.
Those might be debatable, but for UNC Wilmington, there is really only one answer: buzzsaw.
It just seems right, doesn't it? Stylistically, Wilmington teams have an unbending, uncaring, edge to them, ready to blindly obliterate any obstacle regardless of color or creed. Wilmington plays with the same swaggering, devil-may-care attitude no matter the opponent or the stakes. The Seamen are going to do their thing, and it's up to you to have the mettle to deal with it.
In a recent interview, North Carolina Darkside captain J.D. Hastings talked about "running into the Wilmington buzzsaw," something that happens to teams when they play the Seamen on the wrong day. In a whirlwind of impossibly precise hucks, giant bids, and smothering confidence, Wilmington have put together some of the most impressive performances we've seen from a college team over the past few years.
Of course, there is the other side of the coin. There are days when the saw just isn't cutting it, but barrels on ahead with plan A anyways because there is no plan B. Just as we have seen the spectacular successes of this UNCW team, we have also seen their spectacular failures, when things aren't working and the only remedy to the problem that they can come up with is to go down swinging.
*
For a team that plays with such abandon, Wilmington's results at Nationals the past few years have been predictably all over the map: quarters in 2013, semis in 2014, and prequarters last year. 2015 may have been most emblematic of Wilmington's recent rollercoaster history, as they ripped off a 29 game win streak before losing in the final of Easterns to Pitt. From that high point, the season took a decided turn for the worse1, ending in a now infamous flame out at Nationals.
After barely squeaking into prequarters with a white knuckle win over a mediocre UCSB squad, they finished their bottoming out against rival Pittsburgh in prequarters, and a team that only weeks earlier had been among the top contenders to win a national championship was done before the sun set on the second day of the tournament.
Any conversation about Wilmington's recent successes and failures has to include their rivalry with Pittsburgh, as the bouts between the two teams have defined so many of the key moments in Wilmington's recent past. Between the 2013 near brawl, 2014's game of the tournament at Nationals, the 2015 Easterns final and subsequent prequarters rematch, the two teams have played some outstanding, or at least infamous, games over the past three years.
Similar to the way that Carleton and Wisconsin's programs are defined in opposition to each other, Wilmington and Pittsburgh are portrayed as opposite ends of a spectrum and identified as rivals not just because of their propensity for playing each other in meaningful games, but because of stylistic differences.
Pittsburgh is the professional program, a cerebral group that does things "the right way." They play near flawless offense, but have a reputation for not wanting to get those crisp white jerseys dirty. Meanwhile, Wilmington is everything Pittsburgh isn't. A raucous gang, out for scalps, looking to crush their opposition on the back of sheer talent, fearlessness, and verve, with a rebel yell thrown in for good measure. What they lack in polished offense they make up for with belief, and any turnover they make is only an intrepid shoulder-high bid away from being another chance to score.
These stereotypes are obviously reductive. Pitt has plenty of guys who are loose screws and Wilmington's offense can run as smoothly as anyone's in the country when they are on their game. But there is a truth here that hides beneath layers of narrative, and we've seen it exposed in the crucible of high pressure games. When put to the sword, Wilmington seem to fall back on their identity as the gun slinging renegades who will shoot their way out of any corner or die trying. This has been their undoing at times in the past, but with a fresh chance at a title approaching, perhaps this will finally be the year the gunslingers ride off into the sunset with a title.
The Basics
Coaching Staff: Greg Vassar, Brian Casey
Captains: Jack Williams, Jake Gallagher, Austin McGrayne
2015 Results: 9th at Nationals, 2nd at Atlantic Coast Regionals; QCTU, EQ, & Centex champs
Back For More
Wilmington brings back most of the key players from their topsy-turvy run a year ago, including the big three of Xavier Maxstadt, Jack Williams, and Charlie Lian. The most notable absence from last season is flame-throwing offensive handler Luke Hancock, who combined with Maxstadt to make up 2015's most dangerous hucking duo.
While Wilmington will miss Hancock's vision and booming deep throws, their offense has run smoothly this season with Lian's presence on the O-line and the emergence of Williams as one of the finest players in the college game. Already one of the most feared deep cutters in the country last season, Williams has become more than just a deep threat. Hard work on his disc skills and thrower's acumen have paid off to make him a versatile threat, now just as comfortable with the disc in his hands as he is commanding the air space downfield. With Maxstadt moonlighting on defense this season, the keys to Wilmington's offense are in Williams' hands.
In addition to Hancock, Wilmington suffered the losses of some important role players which has served to shorten their depth, particularly on the D-line. Cale Ward was a key piece for the Seamen late in the season last year, but did not return to school in the fall. Defensive sparkplugs Wilkin Hanaway and Jason Alexander will be missed, particularly on a team that loves to play high energy, up tempo ultimate.
These absences have provided the opportunity for new faces to step up, and one player who has really answered the call this year is senior Matt Mason. The big cutter certainly has the frame to fit the bill for Wilmington's physical style, but it's his deceptive athleticism that makes him so dangerous, exhibited here by this ridiculous block from QCTU. A role player in previous seasons, Mason is a product of the Wilmington B team, and his improvement over the years has earned him a starring role in 2016, as well as a roster spot on the Raleigh Flyers.  He will be a crucial piece for Wilmington this year and provides Maxstadt and Lian another big target downfield.
Line Change
The departure of Luke Hancock has triggered a series of positional dominoes that may actually prove to be a blessing in disguise. The coaching staff has moved 5th year handler Charlie Lian from his usual spot on the D-line over to the offense to make up for Hancock's absence. While not quite the thrower that Hancock was, Lian is a superior athlete, and as we saw from his tournament winning hammer on double game point against UMass at QCTU, he has the capability to make some tremendous throws of his own.
The real benefit of the Lian-for-Hancock switch comes after a turnover. For a team that plays as aggressively as Wilmington does, having a player on the field like Hancock who was something of a defense liability was problematic. Last season we saw smart teams attacking Hancock's matchup for breaks, particularly at Nationals. With Lian on the field, one of the college game's premier handler covers and an all-around defensive animal, the Wilmington O-line is noticeably stouter on defense, and much more capable of getting back turnovers.
With Lian on offense, Wilmington's 2015 Callahan nominee Xavier Maxstadt is able to play significantly more defensive points this season. While many of Wilmington's studs will play both ways during crunch time, on standard D points Maxstadt is often allowed to run the show. With a rotating cast of less experienced players who are on the field to be physical, get blocks, and then cut for Maxstadt's bombs, he is able to put the full range of his throwing abilities on display. In situations where "X" is given more or less free reign to pull the trigger, the Wilmington D-line is exciting to watch.
With Maxstadt on the D-Line most points, Wilmington's offense runs through their stable of veteran cutters, featuring speedsters Eric Esposto and Austin McGrayne, as well the incendiary Williams. While Williams generally gets most of the attention from opposing defenses, McGrayne and Esposto are the ones industriously propelling the Wilmington offense forward. Both cutters are excellent at reading defenses and always seem to just appear in open pockets of space. Their ability to consistently get open out of stagnation and isolation keeps the Wilmington horizontal stack humming, and as soon as the defense lapses for a second, it's a wide open deep shot to Williams and another point on the board for the Seamen.
Brains & Brawn
On defense, Wilmington brings a deadly combo of brains and brawn. They play traditional hard-nosed Carolina defense, throwing their bodies around. But to think of this team as a purely physical team sells them short. The coaching staff, led by Greg Vassar and chief assistant Brian Casey, concocts some of the most devilish trap and sag zones in ultimate, and any opponents will surely testify to the sophistication of Wilmington's defensive looks.
They were one of the first teams to champion the "sideline trap roller pull" that has become more popular across the country, and almost no one has better defensive sets to throw at opponents once the sideline trap has been sprung.
Already this year, Wilmington has unveiled a sideline trapping 2-3-2 zone that makes downfield throws all but impossible, even when teams are able to successfully switch the field. The wings and deeps are able to position themselves in a way that no matter where the disc is, they are five defenders around the thrower and the only lanes available are perfect cross field blades to the sideline, or short gainers up the middle of the field with no easy continuation options available.
This sort of defense can often only be beaten by a patient, "as many throws as it takes" approach, and even then it is on the offense to successfully execute a tremendous amount of throws against some rangy, aggressive defenders. Anytime an opponent tries to bite off a little bit more than they can chew with a throw, the bellicose Wilmington defense is swarming to the disc and causing turns.
Once the zone generates a turnover, the Seamen are off to the races. Wilmington thrives on the edge of chaos and control, and their transition offense out of zone captures that mentality perfectly. While the opposing offense is scrambling around, looking to pick up matchups, Maxstadt is rushing to pick up the disc and deliver a strike to a streaking cutter who was lost in the shuffle for an easy goal. It is part of what makes this team so entertaining, they excel in the moments when their opponents and the rest of the world think it's safe to collect themselves. Their performances can be literally breathtaking to behold.
Likely Ceiling: National Champion
The pieces are all there this year for Wilmington to end their 22 year title drought. They are loaded with talented 5th years and seniors who are battle hardened by both victory and defeat. They have two players who are both legitimate POTY candidates in Williams and Maxstadt, and one of the best coaching staffs in the country. In a wild, wide open season, it sort of makes sense that the wildest team of the bunch would walk away with the crown.
Likely Floor: Pool Play at Nationals
Having said all of that, this team has a history of self-destruction, and their mercurial nature means that a run of bad performances is an ever present possibility. Because of their talent, pedigree, and program, it wouldn't be a surprise if they won it all this year, but because of their volatile playing style, it wouldn't be a complete shock if they bottomed out at Nationals either.
---
for both teams in that game ↩