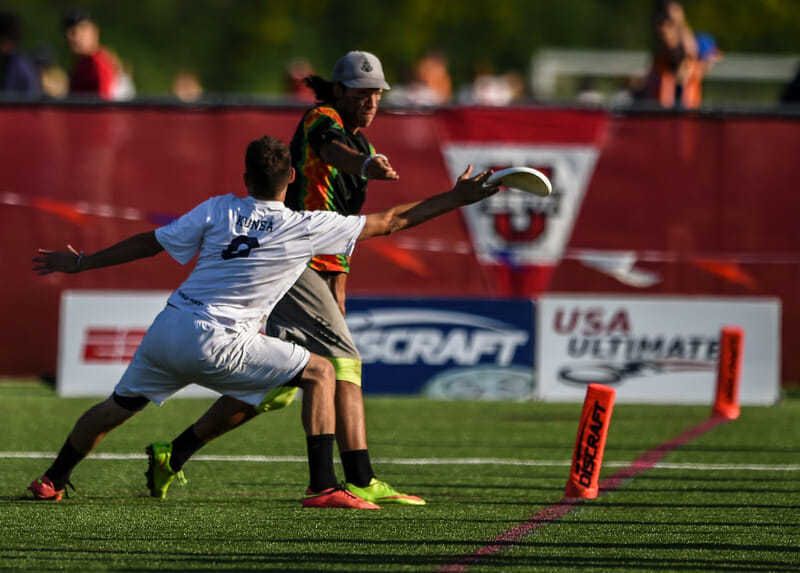 It wasn't supposed to happen like this.
Going into Regionals, Pittsburgh and UNC Wilmington were the top two teams in the country, and since Easterns it has seemed that these two teams were destined to clash at Nationals, but not on the second day of play in prequarters. Wilmington's spotty play and Pitt running into Texas's buzzsaw on Friday afternoon put the top two teams in Ultiworld's power rankings in a win-or-go home game much earlier than either team could have anticipated.
The recent history between these two teams is legendary, from the skirmish at 2013 Nationals to last year's insane quarterfinal matchup; when Wilmington and Pittsburgh meet, something incredible is bound to happen.
"We have been talking all year about finding forms of motivation that are sustainable, not caring about the opponent," said Pittsburgh's assistant coach David Hogan. "This game we trashed that. The opponent we played mattered, for the first time all year, I think."
Mental focus and composure would play a big part in the game, and both teams knew they needed to be on top of their mental game if they were going to come out ahead. For Wilmington, that meant not being intimidated.
"We knew coming here we were going to play good teams, and I don't think anybody had a specific reaction [to playing Pitt]," Wilmington's coach Greg Vassar claimed. "It was just 'okay, we have another good team we have to play.'"
For Pittsburgh, they would need to rebound mentally from a loss, which was not something they had much experience with this year. Pittsburgh had not lost a game since January, and the team appeared visibly shaken after their defeat at the hands of Texas.
The game started off at a fever pitch, with a long first point in which each team took several early stall hucks. Pittsburgh O-line, which had been unflappable all season long, missed on multiple open looks on the first point alone. On the third point of the game, Pitt's O-line got broken after a throwaway from Pat Earles after a miscommunication. For a team that had been so solid on offense all year, this really looked out of character.
Pitt would get their break back two points later, as Marcus Ranii-Dropcho got a block on a big shot from Cale Ward and Sam van Dusen gave Trent Dillon a chance to make a play. He made a spectacular catch, coming down in between two Wilmington defenders, then quickly dishing a give and go for the score.
Both offenses started to calm down and covert once they got their feet under them.
At 5-4, good dump defense by Pittsburgh's D-line forced a turnover on a swing, but Pittsburgh's D-line could not convert. They would pay the price for their profligacy, as on the next point it was Wilmington's turn to get a chance to break. Max Thorne tried to squeeze an around flick down the sideline but it didn't have enough underneath it. Off the reset, Xavier Maxtstadt went upline and delivered a monstrous I/O flick huck that found its mark for the break.
Wilmington would get another break to take half when Saul Graves of En Sabah Nur turfed a centering pass off the pull. It was 8-6 Wilmington at the intermission.
Mental strength and composure has been a big part of Pittsburgh's focus this year, and entering halftime down a pair to their fiercest rival would be as big of a mental test as a physical one.
Pitt assistant coach Dave Hogan said that during the break with the team in danger of losing their mental and emotional composure, 5th year captain Tyler Kunsa told the team a story about playing in high school against Ranii-Dropcho in which he stalled out Marcus when he was lying on the ground injured. The story lightened the mood and got the team geared up to play the second half. "Ty has a great understanding of the attitudes we need to have to succeed," said Hogan. "It was the right thing to say at the time."
Coming out of half Pitt threw out their kill line, their top seven defensive players. They managed to get the disc after an errant huck went just too far for Austin McGrayne and then score on a huck of their own to Trent Dillon for a critical break.
The teams would trade holds for the next several points, until Ranii-Dropcho got the best of Jack Williams in the endzone on a huck from Hancock, and a few throws later Trent Dillon came down with an incredible grab in the back of the endzone off a Pat Earles huck to even the game at 10-10.
The next two points ended up as holds, but each involved multiple layout D's, huge hucks, hotly contested calls, and ever mounting tension. At 11-11 Pitt came down on D with a force middle look that forced a turnover on a swing. Sophomore captain Jonah Wisch picked up the disc and launched a flick to Christian Pitts, who boxed out his defender and came down with the disc in the back of the endzone.
Wilmington responded to the break by shooting deep again; this time it was Jack Williams putting up the huck. Ranii-Dropcho was helping deep and snuffed out the throw, then scored on a dish from Trent Dillon that gave Pitt another break and the 13-11 lead.
Wilmington had melted. A miscommunication led to a quick turn as Maxstadt threw to an in-cut that was in the process of going deep. A moment later, Dillon was delivering a perfect around backhand to Dylan Best who caught the winning goal and left Wilmington stunned.
It was a game with the intensity, narrative, and emotional stakes of a final, and just because it happened in the prequarters doesn't diminish that one bit. These two teams were headed for an epic showdown all season, and we got exactly that, just a bit earlier than expected.