Harvard gets a big upset.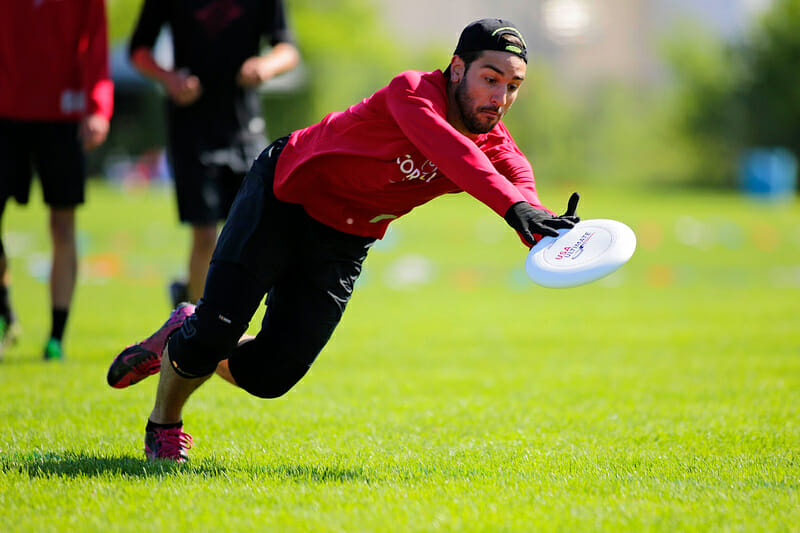 This year, we are hosting a new feature on Ultiworld: a bite-sized weekly recap of the action across the College Division. This will serve as a supplement to our standard tournament reporting and will offer a high-level look at the latest happenings and the biggest stories of the week.
Let us know how we can make this more useful by commenting below or emailing [email protected].
Men's
Cornell Smokes Thin Field At Atlantic City 6
UConn may be the buzzy team in the Metro East this year, but Cornell has a way of stamping out buzz when it counts at Regionals. The Buds got a comfortable victory at the Atlantic City 6, taking down Vermont 13-4 in the final. Not much to see here, but you certainly cannot count out Cornell in the Metro East.
Iowa, Wisconsin-Whitewater Crush At Windy City Whammy
Like Cornell, top seeded Iowa and four seed Wisconsin-Whitewater romped through a field of weaker teams to finish as co-champions after the final was canceled. Neither team faced a tough game.
Elsewhere
…Nevada-Reno took home the San Jose State title with a 15-4 win over Las Positas in the final…Wisconsin-Milwaukee edged out Georgia College 7-5 in the Riptide final…Dayton won Boogienights over a Miami alumni team…
Power Rankings
No new rankings this week, and no changes expected to next week's rankings after a quiet weekend.
Looking Ahead
This Weekend: Easterns is here! Perhaps 2016's deepest and most impressive field will take the field in Myrtle Beach, with four of the country's top five teams (and a majority of the top 25) battling for bids and Nationals seeding. Southerns, Trouble In Vegas, and the Music City Tune Up also offer some quality games, with many other tournaments on the docket.
Next Weekend: The Northwest Challenge highlights top west coast teams.
Women's
Harvard Topples #16 Notre Dame at Mash-Up
After a tough start to their season after flying to California, Mash-Up showed Harvard Quasar has not gone away with the graduation of star India Stubbs. They went 5-1 on the way to winning Mash-Up, with their lone loss coming by a single point to start the weekend vs. Notre Dame in power pool play. They conquered the same ND squad in the final, 11-9, after jumping out to a 5-1 lead.
The weekend was filled with narrow margins, including Quasar's double game point finish against Florida in semifinals. Mia Bladin tallied the final two goals, including a block of the final point, which Harvard ended with a break to send them to the final.
Notre Dame was attempting to win back to back tournaments after winning Tally Classic last weekend. Their scores have become increasingly close as of late despite not playing a lot of teams with Nationals-level acumen. After a solid showing at Queen City Tune Up, Womb has potentially played themselves out of bid contention and may leave the Great Lakes with just a single bid.
Elsewhere…
Wisconsin-Milwaukee went undefeated at Riptide, running through the 6th team field despite playing the second half of back to back weekends…While SUNY-Binghamton took down Metro East power Cornell in pool play on double game point, it was the Roses who had Atlantic City's last laugh, winning the final 10-6…4th seeded Akron, playing the second half of a back to back, had a dominant weekend at Windy City Whammy, playing a single close game on the way to the title, giving them a 15-3 record on the year…
Power Rankings
No new rankings, but obviously Notre Dame is likely to fall.
Looking Ahead
This Weekend: A collection of bid contenders will flock to Texas for the annual Women's College Centex war of the regions. But that's far from the only action, as an insane 12 different women tournaments fire off, including JMU Bonanza, College Easterns, and College Southerns.
Next Weekend: The final weekend of ultimate's March madness features nine tournaments, including Spring Awakening, Jersey Devil, I-85 Rodeo, and Chi-Town Throwdown. But they are overshadowed by Northwest Challenge, one of the year's biggest elite events.