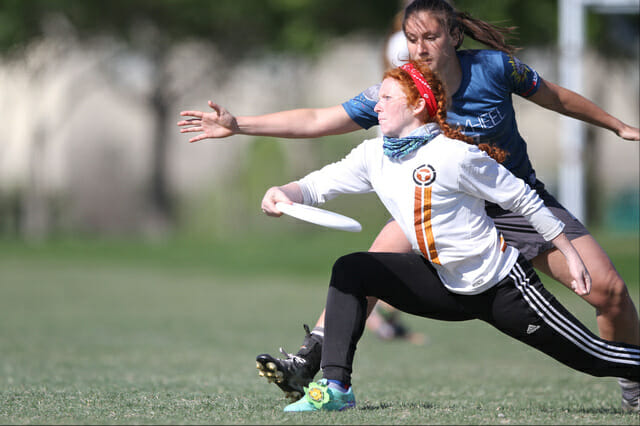 The article is presented by Nike Ultimate Camps; all opinions are those of the author. Please support the brands that make Ultiworld possible and participate in Nike Ultimate Camps!
Throughout this Centex weekend, I would find myself reminiscing with older players and coaches: remember Centex 2010, when we all had sunburns? Remember when our weather concerns were "heat exhaustion" and which barbeque joint to hit up later?
How times have changed. Last year's mud pit was just the appetizer for 2016's wind tunnel. With all fields facing the same direction, every team faced the same upwind challenge, and only a few teams emerged from the weekend without significant scratches.
Still, the Centex final was one of the best games I've seen in a long time; Michigan Flywheel and Texas Melee were evenly-matched and both were champions in the wind. Check out the recap of the final here.
Let's Talk About Central Florida
The question of the weekend: what happened to UCF? Not only had they been good this season, they were the No. 1 ranked team in the division. But they didn't look like their ranking this weekend, windy or not.
The first day was a windy nightmare for UCF, who lost two games on the flip to California and Ohio State. UCF won their play-in game Sunday morning against Vermont, but they didn't grab a hold of the quarterfinal against Texas like they've taken control over so many games this season. They walked onto the Pflugerville fields in 1st place, and they left in 6th.
Their struggles to move the disc upwind were visceral: you could see it in their faces, hear it in Coach Tilley's voice as he shouted above the wind. Later in the day they would look tired, but early they just looked sad.
Perhaps the absence of Gentry Maddox this weekend stalled their downfield too much, or they're unused to this kind of wind. Or, perhaps they're unused to the challenge.
"We don't always have that focus," remarked UCF coach Joe Tilley at the end of the first day. "It's partly because we've had a lot of success this year; we always think we're going to just come back. And we've got to realize, these other guys want to beat us, they're not just out here to have fun."
Central Florida doesn't have to worry about bids, or really their ranking. But they do have to worry about Raleigh. This team has big plans, and some work to do.
Ohio State Gets The Job Done
Want to know the secret to earning another bid? Outlast a 3-bid region in the first round of pool play, and then win the flip against a struggling #1 seed. Ohio State Fever won the games they needed to in order to bring the Ohio Valley another bid.
This isn't your mom's Ohio State team. Fever doesn't look like the team that took home 2014 gold. For one, the team doesn't play at the iconic pace championed by Swafford and Soper. Instead their style highlights new fixtures like Sadie Jezierski (2015 U23), Katie Backus, and Alaine Wetli. But this year's Ohio State still exudes the same relentless energy as their predecessors, and it earned them key late-game breaks on Saturday.
California Girls Are Unforgettable
The Southwest could walk out of this season with a record four bids, and, at Centex, UCLA and the California Pie Queens made compelling cases for two of them. Both teams reached the semifinals through consistent plays and strong fundamentals.
When other teams collapsed into nervous knots around the disc, UCLA and California were disciplined in their spacing. UCLA maintained almost mechanical spacing: if Kristen Pojunis cut behind the cup, nearby cutters automatically shifted into new spaces. If Han Chen exploded deep, the rest of BLU reset to attack the next opening. This constant didn't spare UCLA a few stray hucks, but it did grant them composure in the tangible panic of Saturday.
UC Berkeley sophomore Jackelyne "Kobe" Nguyen's chest-high layout grab to save a swing was the coolest thing I saw this weekend, and I saw three Callahans and a Greatest. It was also representative of the Pie Queens' weekend. From winning the dance-off (back-to-back champs) to winning Pool A, this team bought into the weekend 100%, and it paid off.
Marisa Rafter gets plenty of word count for her disc skills, but this weekend's wins belonged to junior Alison Griffith who supplied much of California's defensive spark and boosted their endzone conversions.
Need more reasons to root for the Pie Queens to reach nationals? Here you go. 
Wind Reveals What "Roster Depth" Really Means 
The thing about wind is that it brutally exposes your team's weaknesses. Can't throw a flick? Struggle with your touch? Don't worry: the wind will show the world. If you're a top-heavy team, windy conditions quickly reveal just how far down the roster your throws extend.
This weekend, we found out which teams actually have the depth that every team boasts of. Michigan, Texas, and UCLA stood apart because of their cutters' confidence with the disc. Players like Susan Gilbert (Texas), Breanna Dirkse (UCLA), and Nina Janjic (Michigan) showed the importance of a midfield in ultimate this weekend. None of these teams were perfect — trust me, there were a lot of fly balls in Pflugerville. But their stars didn't have to be on the line for these teams to earn breaks, and it made all the difference. 
High Expectations & Middling Results 
The Minnesota Ninjas went 1-1 in windy pool play with a 14-15 loss to Florida State, and they were outmatched in their crossover by a tall, fiesty Northeastern team. The Ninjas won all their Sunday games, but as a Top 20 team they had surely hoped to see the bracket this weekend.
Colorado College Strata followed a parallel and equally disappointing path. They had 1-1 pool results and lost their crossover to Tufts 10-13. They dropped from the 9th seed to 14th, losing to Minnesota 13-10. The Strata stars were able to put together some solid points, but when the disc wasn't in their hands the team looked younger than their ranking.
Kansas Betty was missing 2/3 of their power triumvirate, and it really showed. Betty had a lot of new players pushed into big roles this weekend, which is great for their development but harder for winning in windy conditions. Kansas dropped to 22nd, a far fall for a team with big ambitions.
Notes
Florida State pushed the hardest in the play-in games when they nearly derailed Virginia. Florida State returns some familiar faces from the team that made Nationals last year – think Kristin Lloyd, Skylar Taggart – but they play an aggressive game that couldn't survive the Sunday winds.
Wisconsin had a rough Saturday: they lost the flip to both Northwestern and Tufts and were unable to recover. They figured out their upwind strategy in their crossover against Penn State, but the pool play losses meant they didn't have access to the bigger games they needed.
The New England teams came ready to play. Both Tufts and Northeastern broke seed: Tufts through their disc skills and Northeastern through physical force of will. Their combined victories won't bring home a strength bid – especially with NW Challenge around the corner – but they will certainly make Regionals more interesting.