The DC Breeze were close to shutting their doors in 2014.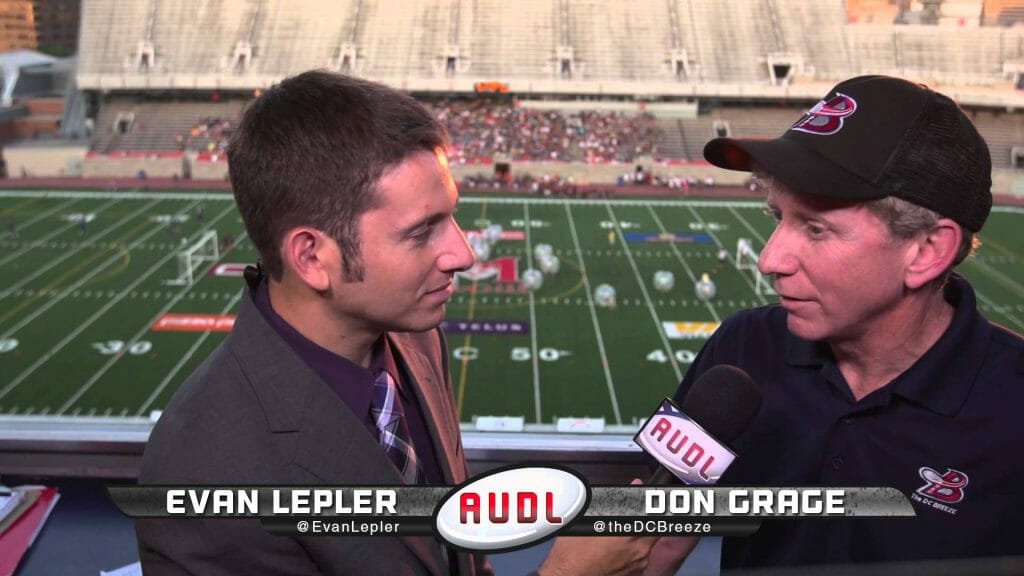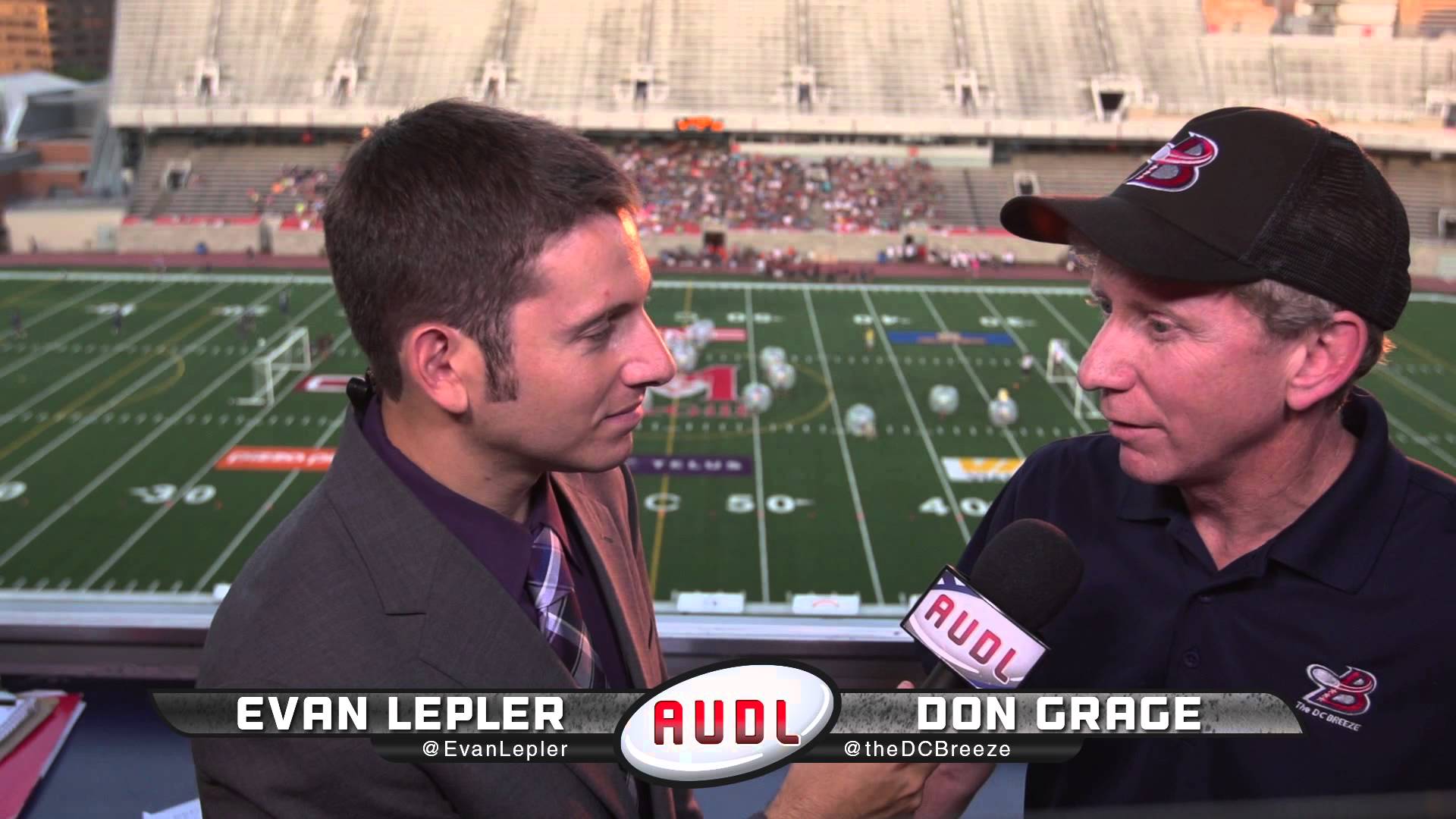 The players on the team didn't know how to respond. The DC Breeze were playing in one of their first games as a franchise in 2013, and the referees that were officiating their game had never seen a game of ultimate before. They were football referees and didn't have any background in ultimate.
One Breeze player spent his halftime break explaining what a pick was and how it was against the rules, since he had seen a few picks leading to scores. "And then in the second half, everything was a pick," Jon Pressimone, four-year Breeze veteran recalls. "They never stopped calling them."
Unfortunately for the Breeze, the issues the team faced in its inaugural season went far beyond novice referees. Before the season even started the players grew so upset with the coach that he had to be dismissed. Drawing fans to games was very difficult for a team that was clearly not the hottest ultimate ticket in town compared to the DC Current of the MLU. The practice space for the team wasn't even the size of a USAU field, let alone an AUDL field. And to top it all off, the Breeze went 4-12. Things could have gone better.
After the season ended it looked doubtful that the Breeze would return at all. Then-Breeze owner Aaron Foreman's financing partner had withdrawn from the team, and Foreman didn't have the money to put on a 2014 season on his own.
That offseason, Foreman kept the door open to bringing the team back, though, and kept in contact with Pressimone and Liam Shramko as the team's player representatives. They discussed a couple options. The first was that maybe a new investor would come in and make the 2014 season a viable option without other measures needed. The second was to have each individual player purchase an ownership stake of the team.
The practical result of having the players own the team was that they would be responsible for costs. Not only jerseys and travel, but also renting a venue and doing the logistical work needed to host home games. "There was virtually zero chance that the player-ownership model would have garnered any support," said Shramko, who after two years with the Breeze now plays with the Minnesota Wind Chill. "Asking players to spend even more money than they would on a regular club season was a disastrous idea." It never came to that, though, because in November 2013, Don Grage found out about the AUDL.
Grage has spent his whole life as an entrepreneur, having involved himself in about 20 businesses over the years and either started or helped start ten different companies, most IT-related. He was first exposed to ultimate on his downhill ski team in college as a way to stay in shape. He continued to play later in life, participating in the Washington Area Frisbee Club rec league and organizing his own local pickup games.
In a league where different approaches and styles of leadership and ownership can vary greatly team to team, one can't help but wonder what drives someone to own an AUDL team? Why would someone invest so much in semi-professional ultimate, a new idea that on its surface seems so fragile?
For Grage, the answers are fairly simple, and they may be unexpected. "Anybody that's looking for their business opportunity and decides on sports is not being very smart," he said. "Sports don't make for great businesses as a general rule, though they can make for a great passion for people in business."
Grage had often thought about someday owning a minor league baseball team, but when he saw an opportunity to own an ultimate team, it piqued his interest even more. "The fact that I could grow the sport along with the team, instead of just picking up a team in a sport that already had its place in the world, made it a far more exciting opportunity for me," he said.
The timeline to get everything lined up was not ideal. Grage found out about the opportunity to buy into the Breeze in November 2013, and the window was closing fast. If he didn't reach a decision in the next three weeks, the Breeze wouldn't come back in 2014.
For someone used to taking months or more before coming to a decision on an investment, it was a stressful time. Grage talked to other owners, met with Foreman a few times, and did some of independent research on his own. But his most important meeting may have been the one thing he viewed as absolutely necessary before buying into the team: meeting the players on the team.
So that's what happened. Grage met with Foreman along with Pressimone and Shramko. "At the time, I was pretty sure I wouldn't be putting on a Breeze jersey again, not after how 2013 went. But I agreed to meet this new investor because there was free dinner and beer," said Shramko. "Don's enthusiasm blew me away, and helped reignite my passion for making the team work. After talking with him for an hour I was 100% back in."
Once Don bought into the team things needed to move quickly. Rather than taking the time to look at the long term business plan for the Breeze and how to apply the lessons learned from 2013 to 2014, the Breeze had to move quickly just to get the basics (coach, players, venue) secured for 2014.
In many ways this is what Grage was built for. He'd been working on startups for most of his life. "I've been through situations with different companies where we needed to figure out the 10 worst things that needed to be fixed just so we could continue to run the business," said Grage. "So while that offseason wasn't totally breaking new ground for me, it certainly wasn't a methodical, planned out approach."
Signing great players to play for an AUDL team located in DC seems like it wouldn't be that difficult, but the DC Current, the MLU team in town, was undoubtedly a complicating factor. By December 2013, Alan Kolick, Tom Doi, Jeff Wodatch, David Cranston, and Sean Keegan had already re-signed with the Current. Though Grage met with other local elite players from Truck Stop, it soon became apparent that the team would have to get a little creative to bring more talent onto the team. 
So Grage did what he's used to doing. He sat down with the people he had come to trust, Pressimone and Shramko, and asked for their ideas and help. At the time Tyler DeGirolamo and Alex Thorne were both "free agents" — if such a thing exists in semi-pro ultimate — seeing as there was not yet a team in Pittsburgh and they had graduated college the year prior.
Numerous teams had reached out to the pair, including the Philadelphia Phoenix, New York Empire, and the Philadelphia Spinners of the MLU. DeGirolamo and Thorne ended up signing with the Breeze, and cited Grage as the kind of person they were comfortable playing for. "Don never took a break. I would get emails from him at two or three in the morning, and I would think 'man, this guy never stops.' Signing the Pitt duo was the culmination of a lot of hard work that Don put in," said Shramko. "It was huge and was the first sign that Don got results."
While DeGirolamo and Thorne added some serious on field talent to the Breeze, the biggest signing the team made was yet to come. "I remember suggesting as a joke at a meeting with Don and Liam that Dutchy could coach us, so why not ask him?" said Pressimone. "And Don took it seriously and made it happen."
Alex Ghesquiere, better known as Dutchy, is one of the best, most respected coaches in ultimate. It's easy to see why Pressimone didn't think bringing him on was a realistic goal, seeing as coaching the 4-12 DC Breeze was unlikely to be seen as a prestigious job. Dutchy was coming off a season coaching DC Scandal, the women's club team, to a USAU championship in 2013 and had coached Revolver to multiple championships before that.
Bringing Dutchy on board so early in his ownership was by far the most substantial thing that Grage did that first offseason as owner. "As an entrepreneur you have to learn very early in your life what you're good at, what you want to dive into and have your hands on, and what other people should do rather than you," said Grage.  "It's better to spend my time convincing someone like Dutchy to join our organization, and then defer to him on player and coaching decisions." Having Dutchy on board gave the Breeze the kind of valuable credibility that the team didn't have before.
With the coach on board Grage was able to focus on venue and game day preparations, while Dutchy was now able to act as the recruiter for the Breeze. And it would have been difficult to find anyone more effective in that role. Not only did more people come to try out for the Breeze to play for their head coach, he brought in Brett Matzuka to play for their team, having coached him at the World Games in 2013. In turn Matzuka was instrumental in bringing aboard players like Josh Norris and Jon Stone, who proved to be very reliable handlers for the Breeze in 2014.
In 2014 the Breeze nearly won their home opener against the Toronto Rush, and finished 10-4 overall. While the team was easily beaten by Toronto in the playoffs, the Breeze had completed the first season of a remarkable turnaround. "Players responded to Don. When you see a guy pour that much time and energy into the team, it forces you do the same thing," said Shramko. "If the owner never takes any breaks from his responsibilities, then surely the players have time for a late night track workout or a throwing session.  We wanted to win for Don. He had an enormous effect on the team's culture." But much of the on field progress was driven by out of town talent. One of the main goals that offseason for Grage was to change that.
Grage thought that if he could knock a couple of key dominoes over the rest would fall. The player he focused most on was Alan Kolick, who was coming off a championship season in the MLU with the DC Current. Grage had four sit down dinners with Kolick that offseason. The idea was that if Kolick came over, others would follow. "To be honest, I really wasn't expecting much other than a free meal from the evening," said Kolick.  "But I walked away wanting to be part of what he was trying to create."
It didn't happen. In January, Kolick and Markham Shofner re-signed with the Current. "In the end it was too difficult to turn my back on the Current, especially after winning the championship and having such a fun season," said Kolick. Grage stayed in touch with Kolick and other players on the Current, though. "There was no bitterness and he always seemed truly interested in how we were doing," added Kolick.
"I knew that all that effort, even though it was unsuccessful, that's the kind of thing I did when I was recruiting high end IT talent, especially in the 90s during the internet boom," said Grage. "It took time, I had to build relationships."
One of the dominoes that did fall was Dutchy coming back for the 2015 season, which helped bring back a few key players despite all the other departures. And during the offseason Grage was finally able to do the kind of planning for the coming year that he didn't have the time for the previous offseason.
That meant working on a marketing sponsorship plan, rather than the more haphazard approach taken right before the 2014 season started. He focuses on getting exposure more than cash out of sponsorships, eschewing the standard 'X dollars for Y mentions over the loudspeaker' that are more common practice. While Grage values getting some money from sponsors, he sees far more value in raising awareness about the team, given that he doesn't have the budget for TV or radio ads.
The recent partnership with Papa John's is a great example of what Grage has been trying to accomplish. He knows that people won't necessarily come to the game because they saw a picture on their pizza box, but if their neighbor mentions that they have a kid that plays ultimate they can mention they saw there's an ultimate team in town they can go watch. It's just one of the multiple exposure points that Grage is trying to create.
Of course, even with Dutchy on board and being better prepared for the season, the outlook wasn't great for the Breeze in 2015. All that out-of-town talent was gone, and most analysts (including this one) assumed the Breeze would have a losing season, and not a small one. Players and ownership had a different outlook.
"In 2014 we lost a sense of centrality with all the out of town players," according to Pressimone. "We knew that if we invested in the community and the players here, the community would invest in us."
And in 2015 the Breeze surpassed expectations, going 7-7. DC missed the playoffs but saw about a 25% increase in attendance, despite considerably worse weather. In fair weather games their attendance increased by over 50% on average in 2015. The Breeze continued to invest in the community as well. Players like Pressimone, Brad Scott, and Ben Feng increased the number of youth clinics the Breeze conducted in 2015, introducing the sport to inner city DC schools with free tickets always in hand.
After the 2015 season, Don went back to work almost immediately. All the work he had done the offseason before in trying to get Alan Kolick and Markham Shofner on board had paid off. The two of them signed on with the Breeze even before the 2015 AUDL playoffs had ended. "I can't speak highly enough about Don," said Kolick.  "He was one of the major reasons that Markham and I signed so early this year."
Once Kolick and Shofner were on board, Grage was confident Dutchy would return as well, and he did, once again playing an active recruiting role and utilizing his relationships with different players to sign them. More players from Truck Stop came on board. The icing on the cake was probably when Jonathan Helton, Bob Liu, and Brett Matzuka decided to join the team. Matzuka has credited his relationship with Grage as playing a role in that decision.
When Grage thinks about the future, there's the short term and long term. "Winning is overrated from a business standpoint," he said. "A team that has a chance to win every game is only marginally different from a team that wins a championship in terms of fan base."
Despite knowing the economics of it, Grage has undoubtedly helped assemble a championship contender. "But as a lifelong sports fan I am dying for our team to win a championship," he said.
Unsurprisingly it's something his players want as well. What separates the Breeze from some other AUDL teams is that part of the motivation in winning a championship would be winning one for Grage. "He wants the best and he trusts us to give the best," said Pressimone. "And when we have that trust we want to do the best."
That kind of player buy-in to the franchise is something that isn't present on every AUDL team, though the league is doing better in that regard than when Grage first bought the Breeze. The AUDL has seen a number of teams that were very talented on paper not buy into the idea of the team, and fall short of expectations. With Grage on board, it seems unlikely that will happen to the Breeze this year.
It's easy to think about money as the number one priority for all the owners in the AUDL. After all, at the end of the day they are running a business. But lost in that is that many of these owners are either current or former ultimate players themselves. They're doing this because it's their passion.
Undoubtedly there are other owners that are thinking about profit margins first, and how soon the team will start making more money than it loses, but Grage isn't one of them. "I don't want to lose a ton of money every year. It would be nice to be closer to breaking even," said Grage. "But my real measure of success is the day that I can have players that can make a living out of this, that's my dream. I want to get them to that point."
Given the wider range of latitude the AUDL gives compared to the MLU, the ownership model is a perfect fit for Grage. It allows him engage with the players and come up with various plans for tackling different problems. It helps foster that player buy-in that is so present on the Breeze. There are AUDL franchises where greater oversight and control from the league would be beneficial for the team, but DC isn't one of them.
When DC hosts dominant Eastern Division power Toronto on Saturday night, it will be their best chance to take down the Rush yet. The Breeze look better than ever. But keep in mind how they got there. There's a saying that applies to the AUDL, every major professional sports league, and the business world that Don Grage came from: talent follows talent. When Grage bought the Breeze the players recognized he was a talented guy that they wanted to help succeed. Dutchy knew that Grage was somebody he could work with. Dutchy's presence helped Alan Kolick and Markham Shofner realize this was a franchise that they would like to play for. All the other pieces fell into place too. Looking back, it almost seems inevitable.