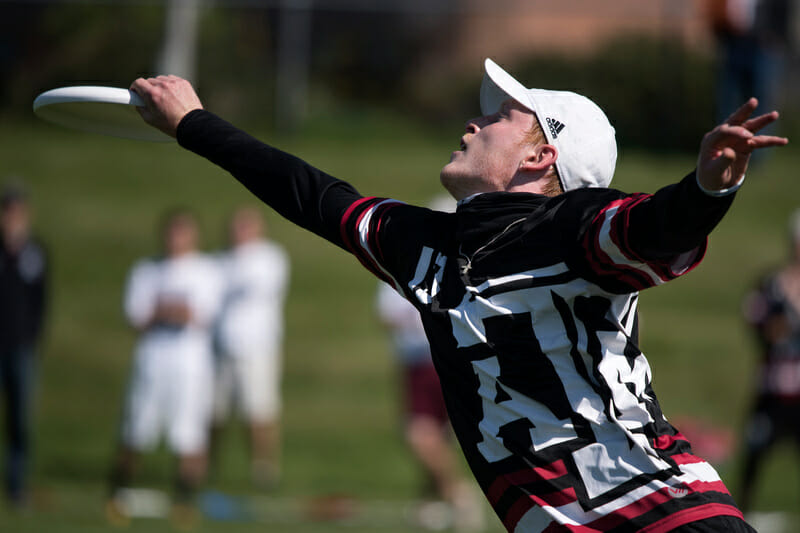 While these regions may not be quite as exciting as the thrillers, they still offer plenty of interesting stories and potential upsets. Don't be shocked if we see some surprises.
South Central
Tournament Profile
The South Central has been accustomed to bringing home three bids for the last couple of seasons, but dropping down to two this year adds a layer of intrigue to a deep region.
Texas, Texas (A&M)…Yee-Haw!
The favorites to take home the two bids to Nationals this year are the two powerhouses from the great state of Texas: Texas and Texas A&M.
Texas comes into the tournament as the two seed after besting A&M at Conferences two weeks ago. Joel Clutton and Dillon Larberg stand out on a roster stacked with the usual Texas fare: big, tall athletes. Texas always seems to do a nice job of peaking in the Series as well. They should probably be considered the moneyline favorite this weekend.
Texas A&M will look to follow up a great Regionals performance last year with another win. Dalton Smith has been huge for the team on offense and his proclivity to take some points off shouldn't be an issue in elimination games. They may not have quite the ceiling they did last year, but they've been developing the newer players on their roster all season; don't be shocked if they pull away for another win this year. There are lots of quality players on this year's roster: Ben Lewis, Carson Smith, Zack Marbach, and more. If they play to their potential, they have the highest ceiling in the region.
Colorado On The Brink?
Colorado is the program. The legacy team. The one seed. But are they on the outside looking in?
There's no question that they'll have a big boost from being the one seed. They're likely to see Colorado State in the semis while Texas and A&M duke it on the other side of the bracket.
Still, Colorado has just not been quite right this season. The system is there as is the pedigree. But the team has been banged up — players like Pawel Janas are just now getting healthy. And basically no player has shown the ability to step up and take over a game. If they get the Texas teams' best games, it will be tough sledding for Mamabird.
The Challengers
There are plenty of teams that, in a three bid year, would have a healthy shot at earning a bid. But with two? The odds get a lot longer. But Kansas, Missouri, and Colorado State will be in the mix. The Kansas Horrorzontals had a hot Conferences weekend and beat Missouri. Trent Kuhl has been a beast.
Mizzou has showed flashes of excellence this year behind the play of Jay Froude and Jesse White. But they have been mighty inconsistent, including a four point loss to Penn State at Huck Finn and a one point loss to Kansas at Conferences. Still, Missouri might be the scariest draw behind the big three; Texas A&M will likely have a tough quarterfinal against them.
Colorado State has been in and out of the top 25 this year, but the continued inability to beat big brother Colorado leaves a hole in their Nationals argument. Luke Doyle (the team's Callahan nominee) and Cody Spicer have been standouts. Can they find enough offensive consistency to fight through the bracket?
Southwest
Tournament Profile
You'd think that with three top 25 teams and just one bid, the Southwest should have made the thrillers list. And it's totally reasonable to argue that it should be there. But the fact is that if Stanford plays up to their potential, they should win the region comfortably. But the team's history of underperforming at Regionals in the last couple of seasons should keep things interesting.
Stanford: The Clear Favorite
With a strong crop of returners and a great rookie class highlighted by one of the country's best in Nick Hirning, Stanford is the deserved favorite heading into Regionals. The team's defense remains its calling card, but a strong offense led by Elliott Chartock has made Bloodthirsty very competitive this season.
No Southwest team has as much high level playing experience as Stanford, who played at both their home tournament and Easterns in the regular season. They've cut their teeth against many of the best teams, in contrast to most of their opponents who stay out west for the regular season.
Should there be concern about Stanford after they dropped a game at Conferences to Chico State? Doubtful. They turned around and beat them 15-2 (!) in the final.
Stanford is the best team in the Southwest, period. All of their losses (save the Chico one) have come against top 10 teams. If they don't win the region, it will be because they vastly underperformed.
Who Could Make A Run?
Stanford may be the best team, but there's a reason this region isn't in our 'chalk' lineup. There are too many high quality teams that could throw a wrench into Stanford's plans (and we've seen that happen plenty of times in the last few seasons).
You have to look first to UC Santa Barbara and Cal Poly SLO. UCSB was the qualifier out of the Southwest a year ago, and, despite not bringing back some key pieces, has remained competitive and finished at #15 in the Ultiworld Power Rankings at the end of the regular season. They edged out SLO 14-13 in a great SoCal Conference final.
Will Turner has been huge for UCSB and they have remained very strong despite the loss of Hunter Corbett. They will not be an easy out and are likely to make the final against Stanford.
SLO has tons of upside and some of the best athletes in the region. Nate Pettyjohn has been a star of the team's highlight reels. It's a swagger-ific team, too — if they get rolling, they can be hard to stop. But they need the weather conditions to cooperate. They'll be looking to huck early and often. Bonus for them: they'll be playing at home in San Luis Obispo.
Other teams to keep an eye on include UC San Diego and Arizona State.
Northwest
Tournament Profile
While BYU's bid got shifted over to the Southeast, the Northwest will still enjoy a big year with three bids. While Oregon is, as always, the big favorite, there are just enough quality teams to make the last bid pretty interesting.
Oregon Mostly Untested, But Dominant Against NW Foes
Oregon hasn't had a lot of reps against top 10 teams this season after they missed most of the top contenders at Stanford Invite and didn't travel east this regular season. Still, they have been totally dominant against all of the teams that they will face this weekend. Ego has multiple wins over both Washington and UBC this season and has not lost to a Northwest team.
Right now, the team is unfortunately pretty banged up and will be playing with multiple top players either out or limited this weekend. But that may not be much of a problem for a deep Ego team. Expect them to bounce back after a disappointing Regionals performance last season and get back on top.
Who Takes Second?
The battle for second place is likely to come down to Washington and UBC.
UBC finished fourth at Conferences after a surprise loss to Oregon State, but they have showed off the ability to play up against the best teams in the region when it counts. Peter Yu has been a no-doubt first team All-Region player this season and he'll look to carry the Thunderbirds back to Nationals.
Washington, like Oregon, has struggled with injuries this year. That's meant they've lacked some consistency. At times, they look great; at others, they are pedestrian. And it's hard to shake the sense that they get a little nervy at Regionals after last year's debacle after a great regular season.
Khalif El-Salaam is the big name, of course, and they'll need a great weekend from him. But they'll also need steady performances from Tomas Delgado and Steven Benaloh. The team is itching to get to Nationals and with three bids should be expected to do so.
Dark Horses
There are a number of teams that could mix things up at Regionals, though. Western Washington took third at Conferences (finishing ahead of UBC) and made it to the show last season. Victoria and Oregon State are no slouches.
It should be a fun weekend in the Pacific Northwest.
Metro East
Tournament Profile
The conversation about the Metro East really starts and stops with Connecticut and Cornell. Those two should almost certainly face off in the final. The rest of the region is really not pretty. The three seed is RIT. While one of the most exciting parts of playing in the Metro East is always feeling like you've got a realistic chance to make a run, it's hard to see anyone other than UConn or Cornell taking the bid.
Cornell Or The Challenger?
That's the question you have to ask every year in the Metro East. Cornell is a stalwart in the finals. But this may be their biggest challenge yet. UConn has been a quality team all year, even better than the Rutgers team that stopped Cornell in its tracks two years ago at Regionals.
UConn is led by John Wodatch, the best player in the Metro East this season. UConn has also benefited tremendously from the addition of new head coach Bryan Jones, who coaches New York PoNY and led SUNY Geneseo deep at the DIII College Championships a year ago. UConn has always had great talent, but has often felt like they've lacked in the leadership and mental toughness department. They could bury that legacy with a strong performance this weekend.
Cornell is no pushover, though. Joe Thompson continues to be an excellent on-field leader for them and they always surprise teams with their defensive tenacity. UConn will need to be prepared to waltz through the bracket and potentially face just one or two tough games.
UConn's ceiling is undoubtedly higher than Cornell's, but Cornell's wealth of experience in elimination games gives them a big mental edge. Can UConn power through it?
NYU may be the only other team with a shot at the crown. The four seed will have to handle business in pool play to have a shot at UConn in semis; they'll need their top players like Jaime Perez to be as fresh as possible.