In our first entry in a series of Regionals 2016 Previews for the Women's division, we take a look at four intriguing tournaments: Atlantic Coast, Great Lakes, Metro East, and South Central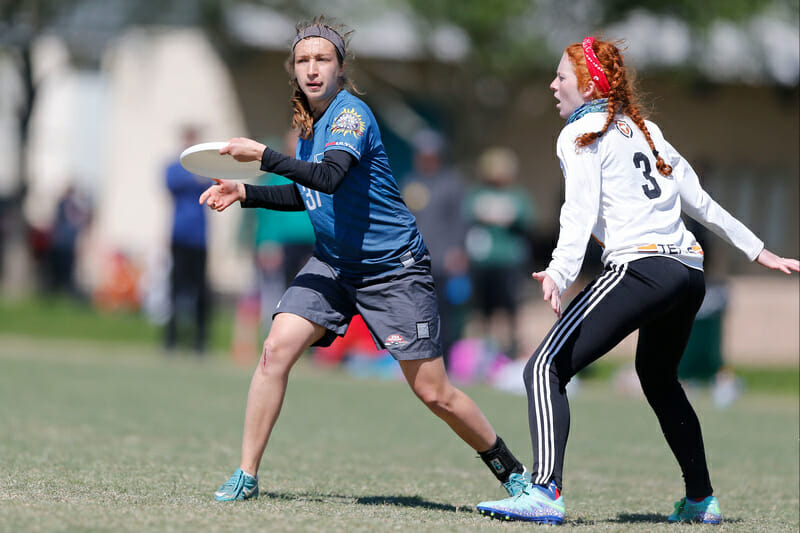 In the collection of this year's Women's College D-I Regionals, four tournaments with big favorites still have us interested. Whether it is the battle for the last bid or some unpredictable matchups, these regions each have the potential to be great if someone falters or steps up.
Atlantic Coast
Tournament Profile
Stop me if you've heard this before – Virginia Hydra is the top seed at Atlantic Coast Regionals and is expected to win it. Again. If they pull it off, it'll be five straight seasons that UVA has worn the crown and will extend their Nationals streak to six. They've surrendered fewer than five points a game on average at Regionals during their winning streak. That is pure, unadulterated dominance.
This year's field, however, looks more littered with potential landmines than over these past few seasons. Without their graduated generational POTY, Virginia looks more exposed to opponents. Even if UVA keeps things rolling, it won't be easy. The usual suspects — #21 North Carolina, UNC-Wilmington, Maryland — lay in wait, along with potential spoilers like James Madison and Delaware.
The Favorite: Virginia Hydra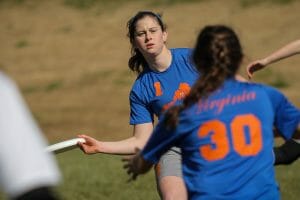 The year has been somewhat tumultuous for the reigning AC champion, certainly where the scoreboard is concerned. They underwhelmed with a 4-4 showing at QCTU before bouncing back and dropping only one game at Commonwealth Cup. Hydra followed that up by netting just a single victory at Centex.
Yet now the College Series has arrived, and here Virginia is, steamrolling their Conference and with a #1 next to their name the same as ever. Years have passed since Hydra lost a game in their first few rounds of the Series and they charged undefeated through last year's tournaments until the quarterfinals at Nationals. With losses to both UNC and UNC-Wilmington on their record already in 2016, that trend could be in jeopardy.
UVA's flawed season certainly levels their veneer of invincibility and leaves room for doubt. The talents are there — Rebecca Meeker, Janie Mockrish, Keila Strick — and they are still deep. Hydra is built around their system, as much as ever, but they do not let up. Ultimately, it will come down to execution.
Top Challenger: North Carolina Pleiades
It used to be that this part of the country belonged to the Carolina schools and UNC was a national powerhouse. The landscape may have shifted, but this year's Pleiades team would love to get back to Nationals, especially in the year it is hosted just down the road in Raleigh. They haven't qualified for the Championships since 2012.
Since the departure of the last generation of UNC stars, there has been a youth movement in Chapel Hill. That movement could finally be ready to pay dividends. Led by junior cutter Jenny Wei, who now has years of elite Club experience and generates a healthy number of blocks, North Carolina's young stars are blossoming. Elisabeth Parker and Vany Nguyen spark the team's best runs, along with captain Jocelyn Keung. They can attack deep or under with their throwing skill when they have offensive momentum.
Their resume makes them look like a legitimate foil for Virginia. They are 8-0 against the region, with a 7-5 win over Virginia (when UVA looked rough at QCTU) and a 12-11 W in the Carolina Conference final against UNC-Wilmington. Along the way, they've also accrued wins over Michigan and Maryland.
In Contention: UNC-Wilmington, Delaware, Maryland
It stays complicated getting into the field.
UNC-Wilmington beat Virginia at QCTU. Then they lost to Maryland — twice — at Commonwealth Cup, and both North Carolina and NC State at Conferences. Maryland lost to Delaware at Conferences, after beating them repeatedly during the regular season. Try to keep up!
Wilmington has the most impressive resume in the group: they've beaten Virginia and Tufts and crushed good teams like Georgia Tech often. Klara Calderon-Guthe is a force, and with Emily Judd and Lyla Stanland, Seaweed gets a lot out of their confident and cohesive core unit. Meanwhile, Maryland has a veteran group of their own with Sarah Lord, Maria Pascale, and Jackie Weiss; Kat Ritzmann leads a strong Delaware team.
If there's ever been a year for a team to jump out of the crowd in the AC and into Nationals, this is it.
Great Lakes
Tournament Profile
Another year, another lone bid. The story line rarely changes, and when it does, it feels like a revolution in the Great Lakes. You don't often get backdoor games in the Great Lakes, a reality Michigan has rarely faced. In 2013, Northwestern stole the game out from under Michigan's dynasty, and last year, Notre Dame did the same.
The Favorite: Michigan Flywheel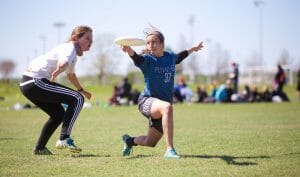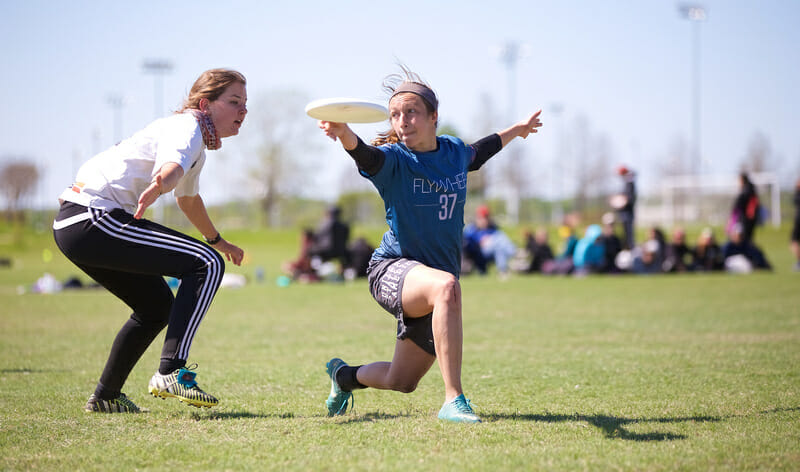 Michigan is done with surprises. They didn't reinvent their system after last year's loss — they just made the system better. Flywheel still lives and dies on their throws, which are impeccable (see: Centex finals). They still don't play physical — they play smart.
The face of this Flywheel program — a different program than it was in the years of Malinowski and Seville — has to be Hannah Henkin. Henkin is simply the smallest person I have seen make such a large impact on the game: her breaks open Michigan's field and her defense is fierce. Paired with Tracey Lo's tenacious handling, these handlers have created a possession-based offense that's still dangerous deep.
In the Great Lakes region, Flywheel's challenge isn't reaching the finals. The challenge is who they face, who can fight to reach 15 first.
Top Challenger: Notre Dame Womb
Womb has done everything in their power to create excitement and change in a perennial solo-bid region. Last year, they partied their way to Nationals, where they tied for 17th.
This year, their record looks similar headed into Regionals: a lot healthy wins against mid-range teams, no wins against top-tier National contenders. Their team hasn't changed much, either, even with the absence of Kelsey Fink. Mara Jurkovic has stepped into a bigger handling role, joined by Heather Fredrickson. Downfield, last year's breakout phenoms Julia Butterfield, Sarah Lipscomb, and Mary "MK" Anderson have continued to come into their own. Butterfield's field sense comes more naturally, and she's not afraid to step behind the disc on a turn.
Notre Dame is a program that develops intensity and layout Ds the way other teams develop forehands. It's bred into their team: Womb players lose their sleeves for their first layout Ds, and they don't stop when they're sleeveless.
They lost to Michigan in the final game of Conferences, 8-11. For any other team, I would think that was a bad omen. For Womb, it's probably just fuel. A team's biggest mistake is underestimating these women.
In Contention: Northwestern, Illinois
Behind Notre Dame and Michigan, the field drops off. Teams like Northwestern and Illinois are good, the best they've been in several seasons. Maybe they can knock out one of the top two teams… but not both.
Northwestern found its footing these season. GungHo looked comfortable in their own plays this year, and they seemed confident in the system their coaches have set in place. Alex Hu and Kelsey Dennis have come into their own, and new additions like Jessica Axelrod have built depth into their roster. This season, GungHo is a true 3-seed: they can hold teams below them at bay, but they'll need more firepower next season if they want to join Michigan and Notre Dame's echelon.
This Regionals isn't for the Illinois team of 2016: sorry, seniors. With such a young and promising team, close and competitive games this weekend will better serve the Illinois Menace of 2018. Players like Cora Wessman, Kelsey Thompson, and Amy Copper are already fundamental to their game, and they're all sophomores. What this year's Illinois team needs is more experience. They need the tough losses, the comeback wins, and the all-out battles. If they can a few of those at Regionals this weekend, then they've already won.
Metro East
Tournament Profile
The Metro East seems like the last region you'd want to put money on. With the infamous single coveted spot to Nationals and a different team taking that spot for each of the past three seasons, every year it seems like all bets are off.
Ottawa will likely be the first seed at Regionals1, with an undefeated regular season and the Western NY Conference title, but the Gee Gees lost to both Rochester and Cornell on the way to said title. Princeton, the team that went to Nationals last year, beat Cornell early in the season, but lost to Columbia and SUNY Stony Brook at Conferences to fall to a 5th place finish. The UConn Huskies, finalists last year, were the best in their conference but have yet to face off against the powerful teams from Western NY. Rochester has almost exclusively played competitive, out-of-region teams with the most success, but are plagued by injuries. Columbia is perhaps the best they've ever been. Place your bets, if you dare.
The Favorite: Ottawa Lady Gee Gees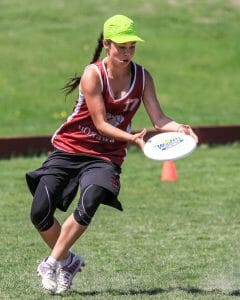 Ottawa is hungry. The Lady Gee Gees have historically dominated the Metro East, making the trip to Nationals every year but one from 2008-2013. However, in the past two years, Ottawa hasn't even made it to a game-to-go. It's an understatement to say these ladies have something to prove.
The team is coming off a strong regular season. The Gee Gees notched early season wins over #17 Dartmouth and #20 Tufts, with their only regular season loss suffered at the hands of a Club team, Montreal Storm. They won the regional Jersey Devil tournament, giving up just eleven points the entire weekend. However, Conferences was a tale of two very different days. Without key players and low on subs, they went 2-2 on Saturday, losing close games to Rochester and Cornell. However, Sunday saw the return of Junior Worlds star Camille Bédard, and with it, an emphatic 15-2 revenge victory over Cornell and a 15-10 "dogfight of a game" against Rochester to take the Western NY Conference title.
Bédard and her sister, Isabelle, lead the Gee Gees this year as captains, along with Maude Carrier-Laforte. Facing up against Cornell and UConn — teams who kept them from the game-to-go in 2014 and 2015 respectively — Ottawa will have it all to play for.
Top Challenger: Connecticut Huskies
They say in order to win big games, first you have to lose big games. Hoping this holds true more than any other team might be the UConn Huskies, the Eastern Metro East champs. They lost to Princeton in the Regional final last year by two, just missing out on that coveted spot to Nationals.
Boasting a deep roster of fast, athletic players, this team has improved exponentially year-by-year and has proven time and again that its players can compete on any stage. Early in the season, the Huskies proved themselves against out-of-region teams like #23 Vermont and Delaware. They had a dominant weekend at Conferences, going undefeated and allowing just twelve points in seven games.
Led by new head coach Jenny Gobin and captains Montana Bertoli, Stephanie Hubli, and Marissa Aldieri, this team will be hoping to rely on their chilly decision making as much as their athleticism as they seek to redeem themselves from last season and qualify for their first College Championship.
In Contention: Princeton, Rochester
Princeton only graduated a few seniors from the team that went to Nationals last year, and still have three 2015 All-Region players. Given that, their meager returns this season are a bit baffling. They can be confident about their early season wins against Cornell and out-of-region teams like South Florida and Maryland. But Clockwork's performance at Conferences was one of their weakest of the season, and they struggled against higher-seeded teams. Coach Kristen Franke will be hoping to refocus her team in time to return to the big show.
Perhaps the team with the most exciting regular season is Rochester. The EZs showed their stuff early in the season at tournaments like Commonwealth Cup and Centex, where they played several Top 25 teams. They've had more than their share of injuries, but wins against Nationals-level teams like Kansas and high finishes in big tournaments have given these women the confidence and the skills they need to finish strong when it matters most. The EZs beat Ottawa on Saturday at Conferences and gave the Canadians one of their toughest games of the season in the final. If they can put the pieces together in Colts Neck on Sunday, they have a great chance at taking the trophy home with them.
South Central
Tournament Profile
The growing excellence of the South Central has been one of the best narratives in college ultimate over the past 4-5 years. Teams aren't just getting good; they're becoming consistently good. This season, they once again have the bids to prove it, with two strength bids tacked onto their auto bid. The top names are familiar: Colorado, Kansas, Colorado College, and Texas. But the deck has been shuffled.
The Favorite: Texas Melee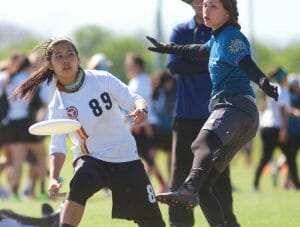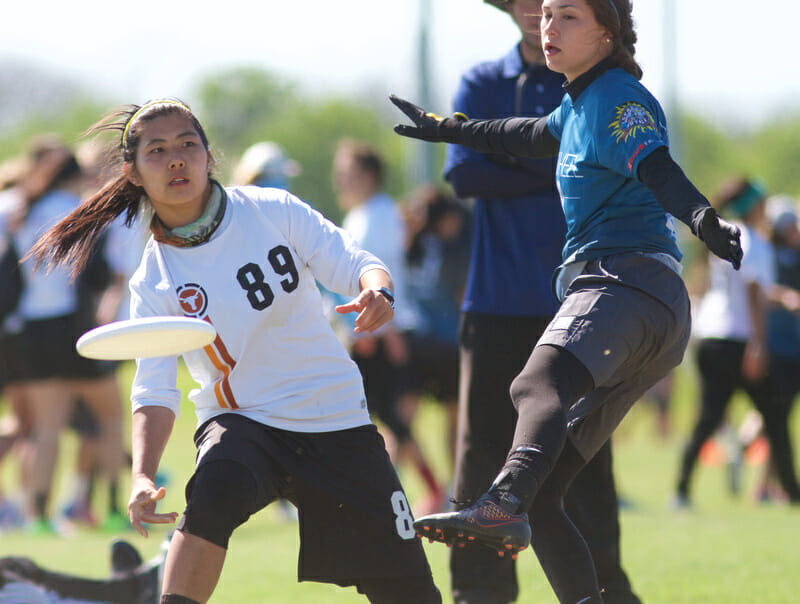 Texas qualified for nationals last year by the seat of their pants. This year, they could make semifinals.
Melee is good, Melee is athletic, Melee is tough, sure… but behind these platitudes, the truth is Melee is just fun to watch, and they seem to be having fun, too. Their strategy for winning includes loud cheers and posterizing plays. Texas plays big ultimate with the skills and field sense to make small adjustments.
Part of what makes Texas so lethal this year is that these big plays don't come just from a handful of stars. Teams like Colorado can put their best handler defenders on Domenica Sutherland and Shiru Liu, but they still have to worry about down-fielders like Julia Schmaltz, Susan Gilbert, and Laura Gerencser.
Texas isn't at risk of not making Nationals. With three bids to choose from and wins against the field, this weekend will be a victory lap. Melee 2016 has done a lot of building over the past year; they've earned it.
Top Challenger: Colorado Kali 
Colorado has had a tough fight through the middle of the division this season. With 3-4 weekends at President's Day and Stanford Invite and a 4-3 weekend at Centex, their record epitomizes a mixed bag. Kali is a solid team with a high ceiling, but they haven't been able to push past their current plateau.
Kali's system is not designed to rely on their stars: the full seven on the field usually get touches during a point. This approach wins on long weekends or during drawn-out slug-fests, but it also means that the power of players like Kirstin Johnson and Megan Ives is dampened. On another team, Johnson would take over; on Kali, she's the best role player on the field. You could argue that spreading the responsibility throughout your roster builds depth and trust — but sometimes a team needs a player like Johnson to say, "Enough of this — we're closing this game out."
Despite their mixed regular season record, Colorado and Johnson will likely have more chances to take over in Raleigh. With ample strength bids, their job at Regionals is simple: don't lose to Kansas on Saturday. A loss to Kansas would drop Kali to 2nd seed: they would face Texas in the semifinals and a much tougher road through the backdoor to Nationals.
In Contention: Kansas, Colorado College
Expect the same recipe from Kansas Betty this weekend. They will run tight, experienced lines, and big plays will come from their handlers. They don't plan to change a strategy that has taken them to Nationals for the past two years, especially since they still have the twin forces of Caitlin Fitzgerald and Clare Frantz in the backfield, and Kelsey Akin downfield.
But like every year, their Jenga tower tends to crumble when you remove one of these three players. Fitzgerald couldn't attend Centex and Akin was limited by injury, and their absences showed. Akin will be out this weekend with a torn ACL. Grace Roth and Janie Reiter have both played bigger roles in Kansas' game this year, but Betty will need their full roster of stars to fight for the coveted third South Central bid.
Once more, Colorado College walks into Regionals as the underdogs. Hype built early this season around their top recruit, Frances Gellert, and their season has featured a few statement wins — Dartmouth at QCTU, Colorado at President's Day — but Colorado College faces a challenge this weekend. If they hold seed, then they have to beat Colorado in the semifinal, a team who beat them 11-5 at Conferences. Lose that game, and their only hope is the long, ignoble climb to the backdoor finals.
Strata has the deepest bench they've had in years. Instead of one star (Lisi Lohre), they have several: Chloe Rowse, Annie Brewster, Robin Fassett-Carman, Corey Baron, and Frances Gellert will all get touches. But against fast-paced, physical teams like Texas and Kansas, Colorado College will have to play their hearts out to steal the coveted third bid.
---
At time of publishing, seeding is not yet public. ↩