Just two bids for New England this year.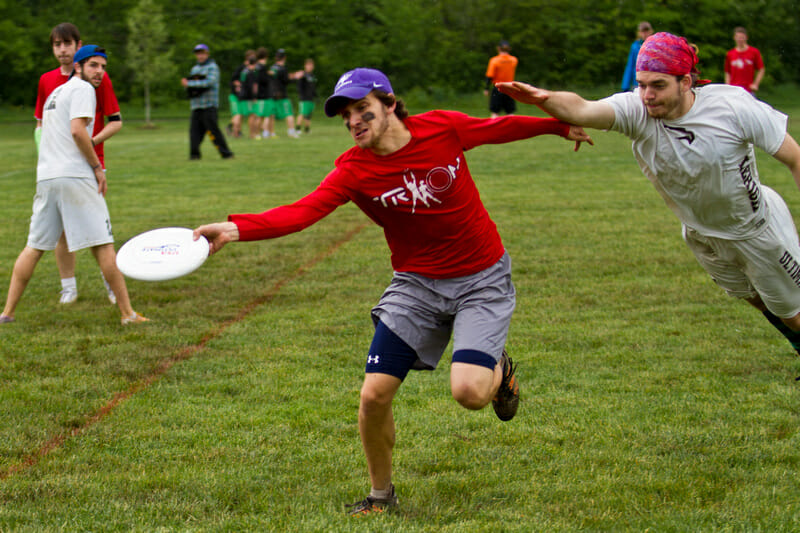 The New England DIII men's regional tournament holds just two bids to the DIII College Championships this year, the fewest amount of bids in the region since 2012. Like in years past, the tournament this year features more qualified teams than bids available.
Here's a look at the field.
THE FAVORITES
Brandeis (Ultiworld #3, USAU #6)
TRON holds a 16-5 overall record heading into Regionals and has been a consistent force in DIII this season. They placed second at both of their regular season tournaments, Layout Pigout and DIII Easterns, where they were able to gain experience playing top DIII teams from around the country.
One key to Brandeis' success this season has been their depth as they have nine seniors and one graduate student on their roster. Graduate student Noah Newberger and senior Hansen Yang have led the team on both offense and defense this year but juniors Brian Gzemski and Mike Humbert have stepped up into a larger roles this season too.
Senior Max Zaslove said the team has yet to reach its full potential.
"We're looking to really come into our own at regionals," Zaslove said. "We were pleased with a solid outing at Conferences but the crux of the season is upon us and we have a challenging road ahead of us. As ever, we value process over outcome and throughout the season the results have come, so now we are trusting ourselves to execute and get the job done."
Bryant (UW #6)
Craze is one of the top DIII teams in the country, but they haven't had many opportunities to prove that this season.
Many teams in the DIII New England region were expecting Bryant to earn a bid this year. Craze expected that as well, but scheduling conflicts disrupted that plan. Following a week at High Tide, Bryant planned on attending what they thought was a sanctioned tournament at Worcester Polytech Institute in March. Bryant was informed three days before the tournament that the tournament had not been sanctioned in time, meaning they would not be able to play the 10 sanctioned games required for earning a bid.
Bryant still heads into Regionals as one of the favorites. Key players Jacob Garfinkel and John-Paul Saggal lead the squad, though they will be without captain Michael Bighinatti at Regionals who is still rehabbing from a torn ACL in the fall.
Saggal noted the team focused on developing a deeper bench this season.
"We realized this year was going to come down to our subs, so we took a different approach this semester and tried growing our talent of our younger teammates, compared to just going out and trying to win every game," Saggal said.
As the host school, Bryant should also have a home-field advantage of sorts.
Williams (UW #17, USAU #10)
WUFO, in their second year of competing at the DIII level, heads into Regionals sporting an 18-7 overall record. The only DIII team Williams has lost to this season has been Brandeis at Layout Pigout.
This year Williams took a step up from last season, thanks in large part to their new coaches. Alumni Conor Dowling and Victor Luo run the offensive and defensive lines, respectively. Williams has shown the ability to run both zone and person-to-person defenses effectively as well as traditional and side vertical stack offenses.
Junior Emmett Blau is the focal point of the team's offense and defense and has the ability to dominate games. He is not alone, however, as seniors Hartley Greenwald, Doug Wassarman and Harrison Gatlin have proven they have the talent to lead Williams late in tournaments.
Blau said that playing well on Saturday would propel the team into Sunday's games.
"Our biggest challenge will be taking care of business on Saturday. If we can control games early and establish a consistent margin of victory, we will have the legs to compete through Sunday," Blau said.
THE CONTENDERS
Bates (UW #23, USAU #26)
Orange Whip has flown mostly under the radar this season, but at 19-4 has notched some quality wins this season, including going 7-0 to win their conference. Seniors Chris Fox and Emmet Shipway lead Bates' offense while junior Alex Brown and sophomore Ben Wilson have anchored the defensive line.
Bates has succeeded using high risk, high reward plays this season, according to Fox. But Fox noted the team would be trying to limit those plays this weekend.
"We know that we can make big plays, but those big plays aren't always the safest option. I think we, as a team, need to work on making safer decisions with the disc, but still not be afraid to go for the big plays at the right times," Fox said.
Fox also emphasized the importance of the team playing with an intensity that does not go too far.
"If we get a bid to Nationals, it will be because we were playing in just that right mix of intensity and fun, where we can easily dust off mistakes and get back in the game," he said.
Bowdoin (USAU #31)
Bowdoin has not experienced the same success this year as they did last year, but are nonetheless a threat to upset a top-seeded team. Clown is 14-12 on the season, but has picked up wins over such teams as Amherst, Middlebury and Wentworth.
Bowdoin graduated a number of key players from last year's Nationals team including Denis Maguire and Evan Hoyt and junior Aidan Penn is abroad this season. Senior Tim Boit has become the center of team's offense and defense this season as a result.
Bowdoin has played a number of teams in the region throughout the regular season, which could give them an advantage heading into this weekend.
Wentworth (USAU #37)
Concrete Jungle is another team looking to upset the top seeds. Their play has improved throughout the season. They went 3-5 at their first tournament, Spring Awakening, but have gone 11-2 since.
Senior Zack Smith leads the team offensively and defensively and sophomore Andrew Clement has helped by playing steady handler offense. Mikey Carando has also contributed to Wentworth in a large way this season both through his on-field play and off-field workout regiments.
Smith said the team is focusing on staying healthy and positive throughout the weekend.
"Our biggest strength this season is partly how well we can adapt to other teams' strategies, but mostly our love of the game," Smith said. "We've put an emphasis on playing a spirited game and keeping the vibes positive. We play our best games when we're having fun and playing ultimate as friends."
Middlebury (USAU #25)
The Pranksters are in an unfamiliar position this year: underdogs. The 2013 DIII champions have had mixed results this year and hold an 11-10 overall record.
Sam Hage, who has shown the ability to play nearly every point for the team, runs Middlebury's offense. But Middlebury's depth is not what it has been in years past. This has meant tight lines for the Pranksters throughout tournaments.
Middlebury has experience playing against some top DIII teams at DIII Easterns, but went 3-4 at that tournament. Still, their upperclassmen have experience playing in big games during the series, which could translate into some key wins this weekend.
Amherst (USAU #35)
Army of Darkness lost a number of talented players to graduation last season and had to re-form their team identity this year. As a result, they split into A and B teams in February rather than in the fall like most teams.
This season Amherst has prided themselves on being a "faceless army," according to senior Andrew Chang. Still, players like cutters Bob Neel and Borun Sun have stood out this season with their consistent play.
One question mark for the team this weekend, according to Chang, will be defeating experienced programs without any star power. Change believes the team's chemistry will help with that though.
"Our biggest strength this season has been our cohesion as a team during highs and lows over the course of the season. We have put away teams that we should put away and got into dogfights with teams that we could challenge. Given a relative lack of star power we've relied upon depth, even with a small roster, to carry the day," Chang said.
Bentley (USAU #34)
Icehouse has shown flashes of greatness this season, but they have also shown flashes of inconsistency. Bentley defeated Brandeis at Conferences after having just lost to Merrimack and Wentworth.
Bentley's program is a stalwart in DIII New England, thanks in part to the coaching of Ben Davis and Henry Brecher, so a trip to Nationals this year is certainly within reach. Andrew Zaccardi leads the offensive line, Kyle Saroka leads the defense and Peter Jacobs has shown the ability to play both sides.
Bentley will succeed this weekend, according to Zaccardi, if they focus on the controllable aspects of the game like catching and decision-making.
"We have the formula of skill and athleticism coupled with an effective system to match up against teams in this region. The internal battle represents the hump for us. We feel that by focusing our energy and effort into that fight, that we will provide ourselves the best opportunity to earn a bid to nationals," Zaccardi said.
THE REST
Merrimack has a number of athletes that can make plays. They will try to use their zone defense to disrupt the offenses of opponents and have had success when playing in poor weather and when teams try to force throws into tight windows.
Stonehill (USAU #50) has shown the ability to generate turns and will look to play spoiler this weekend.
Emerson (USAU #83) is a new program that will look to get its first taste of Regionals this year.