What did we learn about the two North American powerhouses in their first meeting of 2016?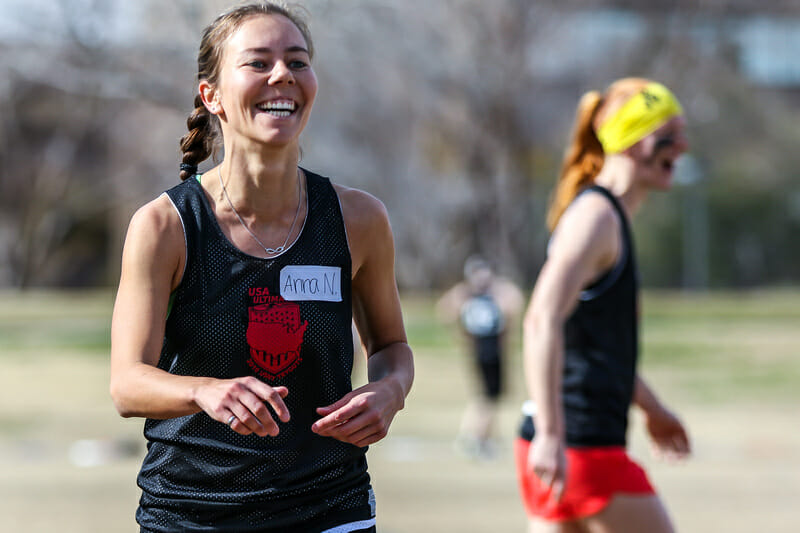 The Canada and USA Women's National teams heading to WUGC in London next month matched up recently for a friendly in Burlington, WA. While the US took away a 15-12 victory, we wanted to dig a little deeper on what we could glean about each team from this game. Here's the lowdown from what we saw in the video footage.
Key Takeaways
Canada were very dangerous while they were able to maintain flow, but struggled when the defense clamped down
USA's team defense is still a work in progress
USA's offense was initially reliant — maybe overly so — on winning one-on-one match-ups; when they started moving the disc more quickly, they improved rapidly
Canada was generally able to match USA's athleticism
USA won by three — converting five breaks to Canada's three — but the final score could have been closer and a rematch might be
Canadian Chemistry
Canada got off to a rough start in this game, going down 4-1 inside the first seven minutes of gameplay courtesy of a series of miscommunications and sloppy execution errors that the US patiently converted into three defensive breaks. Still, even early on, it was clear that Canada would be able to rely on good team chemistry — 16 players compete together regularly with Vancouver Traffic — and strong throwers to take advantage of defensive lapses or poaches.
On pull plays especially, Canada took advantage of the US's poaches to push the disc up the field in just a few throws. Here, on the fourth point of the game, we see Kathryn Pohran abusing a poach off the pull to collect an easy under before hitting Kate Werry in-stride going deep.
Similarly, here's a 13-second score just a couple points later with Canada catching the US in a defensive lapse, allowing for a quick-strike goal from Catherine Hui to Sanya Pleshakov.
It was a similar story of good chemistry against zone, with the disc moving at blistering speed
Once their offense settled in a little bit after the opening struggles, Canada showed some slick movement from both vertical stack and horizontal sets, with their well-drilled offense able to work it up the open side, even against a generally taller and quicker US squad.
At times, it was difficult to tell whether Canada's success was a result of poor person defense from the US or just their ability to move the disc quickly and abuse any poaches. What is particularly impressive about Canada is their throwers' ability to quickly identify the most dangerous place to throw to. Here, the Canadian offense quickly moves the disc across the width of the field, but notice how Hui just spots the space deep and throws it without the receiver either being ready or even facing the right direction. She places the disc perfectly out to space, with enough sit for Sophie Dagenais to make an easy catch, but out of the reach of the US help defense. Canada makes it look easy.
And with a world-class thrower like Danielle Fortin shooting to receivers like Sarah Bobak, things look good for Canada's Worlds campaign.
US Defense A Work In Progress
But this was just as much a story of USA's poor switching and lack of help defense as it was about Canada's chemistry.
As we saw in a number of clips about, the US poach sets were completely ineffective against Canada, who took what was given to them by the American poaches, showing an ability to not only hit short gainers but also continue them to deep shots. When your opponent can break marks and throw accurate, leading hucks to poached receivers, you'll give up a number of clap catch goals and it's clear that you need to go back to the drawing board on defense.
US deep defenders are often seen flat-footed and looking at the disc, frequently caught unawares until after the disc is in the air. Here a lack of communication between Georgia Bosscher and Jenny Fey leaves Yayuk Joffres open for an easy deep strike; this type of indecision cost the USA repeatedly.
When the US did play tighter person defense, they were more able to dictate, and were able to slow down Team Canada and generate turns through pressure. In this way, the US forced the Canadians into tight throws and drops, both on cuts towards the disc and on jump balls, where Canada were consistently bested in the air by USA. Here we see tight coverage from the US defenders forcing a throw to a small window and a drop under pressure.
The US zone was also somewhat effective; while Canada were able to move the disc, they struggled to escape the cup near the sideline and were forced into riskier throws. Here, Snyder gets a block in the cup, then immediately throws deep to Desmond for a break.
This was a theme, with USA's D line opting to fast break repeatedly — especially when Payne was playing. Although they occasionally turned the disc back over almost immediately, in general Canada was incapable of recovering quickly enough to stop the score. If USA can tighten up some of the mistakes that resulted from this rather loose style, they will be able to quickly and consistently punish their opponent's errors.
US Demonstrates Patience On Offense
USA operated predominately out of either a side stack and a horizontal stack on offense — they clearly wanted to isolate their strong cutters in big spaces, looking to win one-on-one matchups to attack upfield. At the same time, their offense spent much of the first half playing incredibly conservatively and willing to patiently work the disc laterally among handlers rather than take chances up the field.
Here we see an example of both of these concepts from USA's D line. After a Katey Forth block, Sarah Griffith gets open deep in an isolated lane and is found by a Dena Slattery huck. Griffin then looks off two relatively open throws on the force side, preferring to dump and swing instead.
Throughout the early stages of the game, US receivers would take one very quick look up field and then pivot back to look at their dump. Playing with this conservative style meant veterans like Alex Snyder needed to be active in order to move the disc and generate upfield flow.
As the game wore on, USA's confidence grew and they more aggressively attacked with their cutters, like this great team effort resulting in a perfect deep shot from Claire Desmond to Sarah Griffith.
Or this beautiful throw from Opi Payne to get USA on the doorstep
It wasn't always smooth, as lack of familiarity between teammates from different club teams resulted in some awkward miscommunications. This happened multiple times with Fury to Riot connections, for example here, where Alex Snyder and Hana Kawai are not quite on the same page with a first cut.
Still, by the end, we started to see the kind of offense that will make the US a strong contender at WUGC. They moved the disc quickly around the field and then let individual brilliance take over. Claire Desmond in particular was more than Canada could handle, got open at will all game, and was a major factor in the USA's victory.
Canada Smart And Strong On D
While many see the US's team size and speed as their biggest advantage, it certainly wasn't all one-way traffic in this game. Canada proved that they could hang with the Americans athletically and make big defensive plays too, like this huge layout block from Jessie Grignon-Thomas
Canada also proved they can play good heads-up defense, making plays like this one which shows an example of USA's chemistry issues1 while also highlighting Canada's ability to clean up deep shots with help defense.
Here's another example where USA's tendency to rely on individual matchups rather than team cohesion results in a cut that is anticipated by the Canadian help defense for an easy block. Take a closer look and you'll see the Canadian sideline spot the cutter and call in the help; a great example of how sideline plays a vital role in team defence.
A Closer Rematch?
Aside from Canada going down three breaks early, the teams were extremely even in this exhibition. Both showed moments of individual brilliance and team cohesion, but also execution errors and miscommunication.
In the end, the three-point cushion the Canadians spotted the US at the outset basically decided the game, with Canada never able to fully fight back and tie or regain a lead. But given how the Canadians were able to bring the game within one point on three separate occasions, it would be naive to think this victory is indicative a clear three-point talent gap between these two teams.
Had Canada not started the game with a number of sloppy execution errors — as is more likely to be the case deep into the tournament in London — they would not have to spend all game just trying to claw their way back. Had the US not benefited from such strong games from some of their stars, they may have been forced into just a couple more tight turnovers. Either way, I think a rematch could easily go either way.
Editor's Note: For another take on this game, check out the excellent work Mike Lawler has been doing on his blog to recap what he noticed.
---
Another Fury to Riot stutter-step miscue. ↩