British Columbia recovers from disastrous Friday to earn their berth in quarterfinals.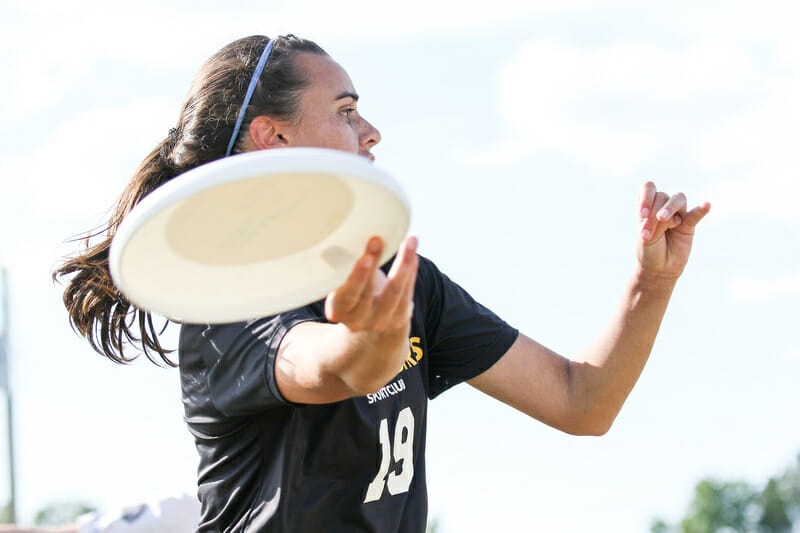 This article is presented by Spin Ultimate; all opinions are those of the author. Please support the brands that make Ultiworld possible and shop at Spin Ultimate!
UBC has advanced to the quarterfinals with a dominant victory over Michigan in prequarters. The 15-9 victory capped off an impressive 3-0 Day Two of Nationals after a winless Friday in games against Dartmouth and UCLA.
The game actually started in Michigan's favor; Flywheel came down in a zone, which drew two questionable throws, both for turns. On the second opportunity, Michigan was able to capitalize from about 10 yards out for the score.
By the next point, though, UBC had figured out the Flywheel zone. Mira Donaldson went over the top with a scoober to open up the field. The Thunderbirds quickly worked it down the field and Donaldson eventually found Ellen Au-Yeung for the tying score.
On UBC's first defensive point, they came out hungry to get the break back. They played tremendous person defense, taking away any and all downfield looks and making resets very difficult. The pressure led to a turn and the Thunderbirds quickly capitalized to get things back on serve.
The teams traded to a 4-3 UBC lead, when the Thunderbirds took a one break lead. The teams exchanged five turns before Au-Yeung reeled in her second goal of the game. Michigan held on the following point, but did not score again for the rest of the half.
The Thunderbirds again ramped up their defensive pressure and reeled off three straight breaks to take a commanding 8-4 half time lead. The teams traded holds again to 10-6 when a Michigan turn in their own red zone gave UBC an easy break.
Michigan tried to ramp up their intensity to get back in the game, but the Flywheel defense was unable to put enough pressure on Donaldson and the rest of the UBC offense. Throughout the entire game, it was clear that Donaldson was in her own class on the field, finishing with six assists when no one else for either team had more than two.
UBC coach Jeff Cruickshank had high praise for his lead handler after the game. "She's probably worth three or four points a game just on her ability to create, whether it's deep, or a scoober, or a bail out throw, or something. There's a handful of teams that are fortunate to have throwers kind of in the same category but we're lucky to have one of them and yeah, she's as good as it gets."
UBC ended the game on a 4-3 run, getting one more break and staying solid on offense, getting broken just once down the stretch at 14-8. It was an impressive win and performance against a Michigan team that had a really solid tournament to that point.
Familiar Foes Renew Rivalry In Quarterfinals
The Thunderbirds now look ahead to their quarterfinal matchup with Whitman. The teams have met three times already this season, with UBC holding a 2-1 head-to-head advantage. It's a matchup from two of the best teams all year long and one that many likely would have expected to see a round or two later in the tournament. At the very least, though, the UBC v Whitman matchup will feature two teams that know each other well.
"They're probably the fastest team in college," said Cruickshank. "They use that speed well, their system is built to use that speed. So our strategy… will be to take that away, try to make them throw more passes than they want to."
Cruickshank also says that his team's poor start to the tournament has had no effect on what their goals are. "I expect to win. I always expect to win." He also is not especially bothered by the team's quarter matchup that has come as an indirect result of the team's relatively poor standing in their pool. "At the end of the day, you have to beat everybody to win," he said.
"If you draw a tough quarter, quote-unquote, you were going probably have to beat a similarly talented team anyway, so you just play who's in front of you."
For UBC, that team is an incredibly talented Whitman team, which has put together one of the most impressive tournaments in the field so far. The game will feature some of the best throwers, most impressive athletes, and most experienced players in the division. In a tournament that has already been filled with thrills, Whitman vs UBC promises to be one of the best of the bunch.