Oregon, UCLA to meet in epic quarterfinal.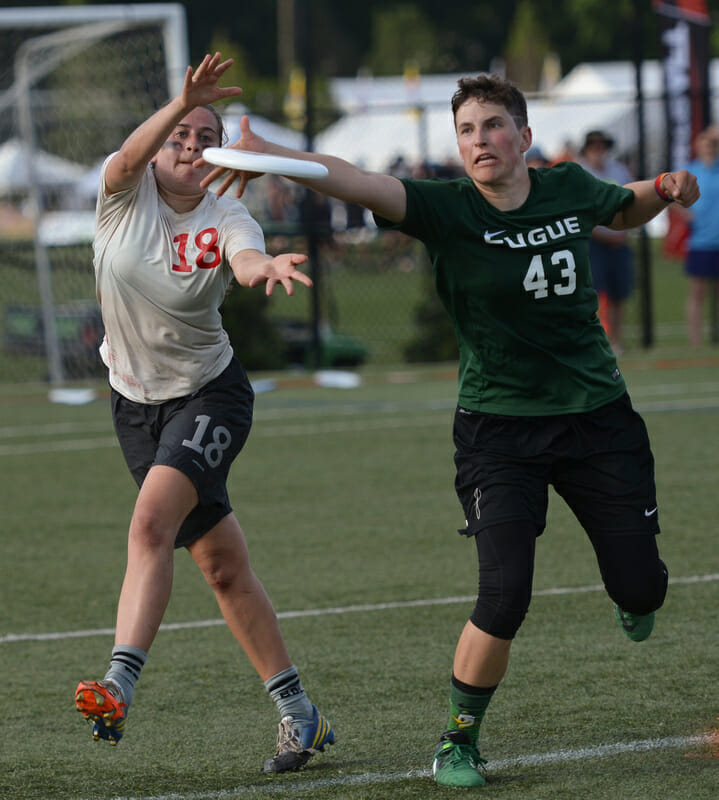 This article is presented by Spin Ultimate; all opinions are those of the author. Please support the brands that make Ultiworld possible and shop at Spin Ultimate!
Following their 16-14 upset at the hands of Virginia Hydra, Oregon Fugue found themselves in a prequarter game for the first time since 2012. Their opponent was Wisconsin Belladonna fresh off a double game point win that sent the Central Florida Sirens early in Pool D. If that narrative might have led you to think the Belladonna would have a shot at sending Fugue packing early, think again. The game started off with the teams trading hold to 3-2, but from that point on Fugue seized control of the match and never relinquished it.
At 3-2, Oregon came down in a clam set that sent the Wisconsin down field cutters into confusion. They quickly got the turn on a Bethany Kaylor block who dished, sliced into the endzone, and caught the score. The next point was more of the same, with Fugue in a clam-like set. This time, it was Alex Ode with a hand block on the second throw followed by a quick score from Ella Hansen to Kaylor. A third point of junk followed. More of the same, as Olivia Bartruff got an early block down field and streaked for the fast-break goal.
Oregon changed it up the next point, throwing a three man cup, but got the same result. Morgan Caldwell got a second-throw block and Fugue punched in the short-field turn. On the final point of the half, Fugue threw the same zone. This time it was Rachel Hershey generating two blocks in the cup, one on a hand block and one on a catch D, and finishing off the point catching the short field break for an 8-2 halftime lead.
Fugue finished out the game on cruise control, closing it out with another five breaks in the second half for a final count of 15-4.
Tomorrow morning in the quarterfinals, Oregon will take on UCLA Blu, the winner of Pool B. The powerful matchup between the perennial finalist Fugue against the red-hot Blu is an unfortunately premature meeting of two great squads, but should be an exciting game. Fugue doesn't lose often and UCLA was one of four teams this year to hand them a loss (14-15 in the semifinals of Pres Day).
It will again bring together a contrast of styles, with Oregon's deep roster of high-end talent (Shofner, Wahlroos, Ode, Kaylor, Hansen, and Bartruff, among others) against the two-woman super pair of Han Chen and Kristen Pojunis. Blu will surely try to muck up Oregon's aggressive offense with their zone look, while Oregon will try to apply a high level of pressure across all seven matchups to earn turnovers from UCLA.
As has been clear in the past, quarterfinal matches—the first game of the day, and the first real elimination game for pool winners like UCLA—are as much about mental focus as physical talent. A team that comes out strong and establishes itself with confidence and swagger can bury a team that is mentally hesitant and anxious. While the advantage of having been in this type of position before clearly lies with the experience of Fugue, UCLA has been on fire at Nationals, and know full well that they are capable of defeating the Oregon juggernaut.