Higher seeds prevail across women's division in Round 2.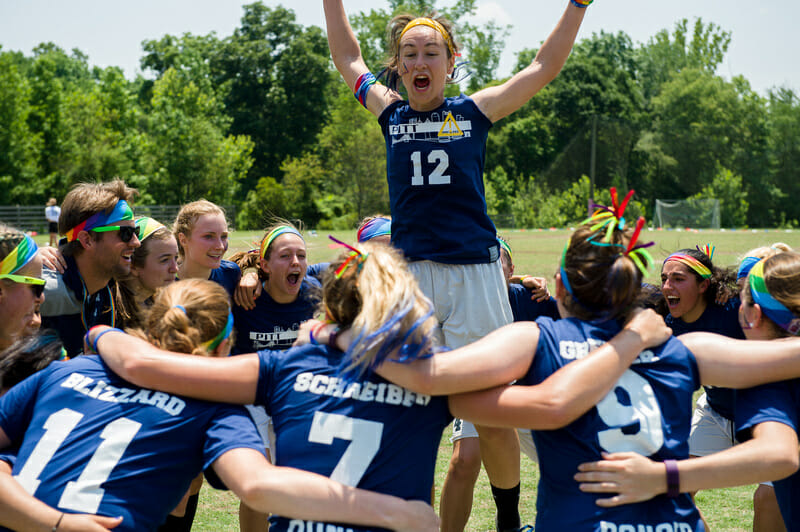 This article is presented by Spin Ultimate; all opinions are those of the author. Please support the brands that make Ultiworld possible and shop at Spin Ultimate!
Ultiworld is happy to provide all of our written and video coverage of the 2016 College Championships free of charge. However, if you are enjoying our work and want to contribute to our site, please consider making a donation to our completely optional tip jar.
Pool B
British Columbia 15-9 Pittsburgh
After an 0-2 Friday, UBC had to get a result against Pitt to keep their season alive. The Thunderbirds jumped out to a 4-0 lead on Danger, taking advantage of a flat start from the Pitt ladies. But Pitt came roaring back as the team got more into the game mentally. With strong performances from Linda Morse and Carolyn Normile, Danger clawed their way back.
Up 5-4, UBC began to clean their play back again, with Ellen Au-Yeung playing an incredible game. The Thunderbirds took half at 8-5 and built on that lead out of half. Pitt was simply unable to put any real pressure on the UBC offense, which allowed the Thunderbirds to remove a bit of the onus on their stars Mira Donaldson and Kate Scarth to score. The two combined for just one goal and three assists, surely thankful for the chance to rest a bit during a victory.
Au-Yeung finished with a game high six points for UBC, while Morse finished with three goals and Normile finishing with four assists for Pittsburgh.
UCLA 15-10 Dartmouth
In one of the most anticipated games of the day, UCLA proved their depth and talent in a 15-10 win over Dartmouth.
UCLA took an early lead with a pair of goals from Camille Wilson and Melissa Kan, and while Dartmouth would collect themselves and respond, UCLA held their lead the entire game. Their tall zone stymied Dartmouth's flow: Zhu often held the disc too long, and her fellow handlers weren't active. When Dartmouth did break their zone, it was through fast give-and-go's between Werffeli and Verzuh. But that didn't happen nearly often enough for Princess Layout.
Werffeli was the defensive star of the game. She shut down Chen when they matched up, from foot blocks to endzone denials. But Dartmouth couldn't score like they have been all weekend. Deep shots weren't automatically connecting, and UCLA's zone made their deep game a rare option.
UCLA spread the wealth in the first half, with six people scoring their eight goals. Han Chen was the trigger for most of their deep shots, and again and again Dartmouth underestimated the skill of UCLA's receivers. Nobody should ever give Pojunis three steps of separation in the deep space — she will take it and Chen will reward it.
Dartmouth played admirably, crawling out of a late 8-12 hole to close the gap to 10-12. But it wasn't enough to break even with UCLA. Pojunis scored UCLA's final goal with plenty of room to spare.
Pool C
Washington 15-4 Southern California
Washington, playing its first game of the day, had little trouble in vanquishing Southern Cal, who were coming directly off a loss to Ohio State in the previous round. USC's play was riddled with fatigue-caused errors and mental mistakes, while Washington played one of the cleanest games any team has played in the division so far.
Element jumped out to an 8-2 halftime lead, turning it over just six times in that span. The second half was even better from Washington, committing just four turnovers, three of which came on one point at 13-4. Nora Landi and Sarah Edwards pushed the very efficient offense for Washington, with Kate Dusenbury often their downfield target.
The trio combined with a combined ten points to lead Washington to the win. Alyssa Perez was the only USC player to score more than a point with her one goal and one assist.
Pool C's 1v3 game matched a pair of teams with as-yet perfect records at the 2016 College Championships: 2-0 Michigan Flywheel (wins over USC and Ohio State) and Stanford Superfly (wins over Washington and USC). While perhaps mildly compelling at first, the game quickly turned into a blowout win for Superfly.
The Stanford women started out strong with high-pressure man defense forcing enough turns to open up a 3-break lead. Once Superfly got the turn, they attacked with their high-powered deep game led by hucks from Anne Rempel and Courtney Gegg. Gegg, who many know from her prowess as a dominant deep threat, has significantly expanded her throwing game and has become a pick-your-poison matchup for any opponent. She gave Shayla Harris and Caitlin Go a steady feed of hucks that the receivers converted into breaks. Stanford hit half up four breaks at 8-5.
Stanford tried a change of pace with a diamond zone that Flywheel made quick work of, led by strong throws from Grace Denney, Leslie Hamar, and Hannah Henkin. However, when Superfly switched to a four-man cup they were able to generate numerous short-field turnovers that they cashed in for more breaks. Strong play in the cup from Veronica Cruz and Freya Chay helped power the defensive set. Stanford ended the game on a run of breaks, 15-6.
All in all, like many opponents before them, Flywheel had no answer for Superfly's suffocating defense and aggressive deep game. The aforementioned Gegg and Go turned in two more standout performances for the Stanford offense — each catching unders to feed the other deep — while Rempel, Hallie Dunham, and Monisha White kept were steady hands on offense.
Pool D
Whitman 15-9 Ottawa
Despite a late run from Ottawa, the Whitman Sweets took care of business in their first Saturday game.
Whitman went up 7-2 early with classic Nina Finley bombs and a patient zone that forced Ottawa to swing laterally until they turned it. Finley is peaking this weekend – her throws drop perfectly in front of her receivers, her backfield cuts are unguardable, and she shuts down handlers.
The Sweets stomped through the game, building a healthy 10-3 lead. But they couldn't end the game: instead Ottawa fought back into the game with a pair of goals from junior Caitlin Fowler. Whitman coasted through the second half, scoring the goals they needed but letting Ottawa take more options than they had in the first half. Ottawa grabbed two breaks before Whitman could close the game 15-9.