Central Florida is down and out in Pool D.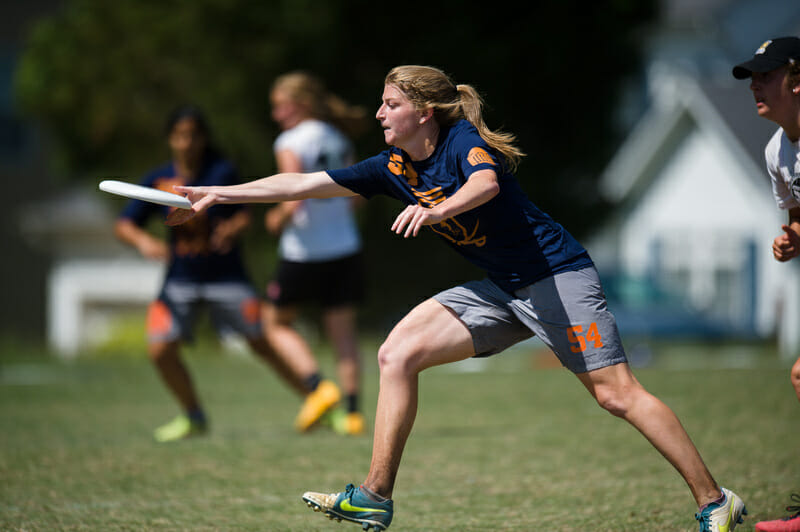 This article is presented by Spin Ultimate; all opinions are those of the author. Please support the brands that make Ultiworld possible and shop at Spin Ultimate!
Ultiworld is happy to provide all of our written and video coverage of the 2016 College Championships free of charge. However, if you are enjoying our work and want to contribute to our site, please consider making a donation to our completely optional tip jar.
Pool A
Virginia 16-14 Oregon
Nobody saw the upset coming… except Virginia. Oregon has been the heavy favorite for the pool and the tournament, and everyone expected another easy win for them.
Instead, Virginia broke to take control early, and they refused to let Oregon play at their pace. Much like Ohio State two years ago, Virginia had the skill, patience, and depth to slow the game's pace to a steady rhythm. In Oregon's famously imposing zone, Hydra was calm. They found their spaces, passed through the open windows, and marched down the field again and again. They took half 8-6.
Oregon was still Oregon. They looked for the big throws and fast breaks from Shofner, Ode, and Bartruff. They're comfortable with an overthrow here or a miscue there because they trust their defense to get the disc back.
But Virginia never gave it back. Everyone handled in the zone: Amy Wedmore, Tess Warner, Kelly Ross, and Brogan Jones found each other again and again. Rebecca Meeker, Keila Strick, and Janie Mockrish found small spaces in the zone, and then destroyed them.
But Oregon was still Oregon. They broke back to tie in the second half, and when Virginia took a lead again, Oregon fought to stay in the game. They didn't change out of their zone until the final two points, despite the fact that their person defense was much stronger against Hydra.
The long march came down to a 14-14 game to 16. Meeker bested Shofner to help Hydra hold at 15-14. Oregon was dialed in with their seed on the line. Brogan Jones had a run through D on Shofner, and Shofner launched into a toe-the-line bid to save possession. The observer made the active call1 that Shofner was out of bounds, despite her imploring her to consider it further. The Fugue star was clearly emotional about the call, and Virginia quickly scored afterward from Meeker to Mockrish to win.
This game means a lot. Virginia won a bye into quarterfinals by outplaying the number one seed in a higher pressure environment that tested them both. Oregon isn't invincible when faced with relentless, boring possession offense. And, not for the first time this weekend, an observer's call – wrong or right – played a big role in the outcome of a game.
Colorado 15-12 California
In the game to decide who advanced to prequarters, Colorado mustered everything they had to win when it counted. Kali put their foot to the gas pedal against California; their sideline stayed engaged in every play and despite several runs from the Pie Queens, Colorado didn't let go of their laser focus. Their offense was still frazzled at times, but their young D-line could string together breaks that carried them through the first half to 8-6.
The second half was a game of breaks: California kept the game close, but their lines were still open. Despite having one of the best players in the division in Marisa Rafter, Cal refused to keep her on the field for stretches at a time.
Colorado's energy and defensive fire kept them up enough to carry out the win they needed. Colorado will face Texas in the prequarters, another regional matchup for Colorado.
"There's definitely some unfinished business from Regionals, and I think Texas feel the same way," said Kali captain Megan Ives.
Pool B
Dartmouth 15-9 Chaos
In the lone Pool B game of the round, Dartmouth and Chaos played a game with huge implications on how the pool would shake out. With Dartmouth sitting at 2-1 and still looking at a chance to top the pool and Chaos just looking to stay alive for the bracket, both teams had much to play for.
It was Dartmouth who capitalized in the early going, securing two straight breaks to begin the game. The teams traded to 3-2 until Princess Layout managed another break on Jaclyn Verzuh's second assist of the early going. Chaos could not find a way to break Dartmouth and went in half down 8-6, with a pull to Princess Layout coming out of half.
Dartmouth made the most of their early work, using two multi-break streaks in the second half to pull away from Chaos. As usual, it was Princess Layout's big three stuffing the stat sheet in the victory: Angela Zhu (three goals, four assists, and two blocks), Jaclyn Verzuh (two goals, five assists, and three blocks), and Juliana Werffeli (two goals, three assists, and two blocks).
Pool D
Wisconsin 12-11 Central Florida
In a stunning upset, Wisconsin Bella Donna stormed back and then hung on late to end Central Florida's season. The Sirens came into the tournament as one of the favorites to win it, and did little to change that perception on the first day of the tournament. But after sleepwalking through much of their first round game against Texas, UCF faced a do-or-die game with Wisconsin for third in the pool.
In the first half, the Sirens continued to play the sloppy offense that they have played since the second half of the Whitman game on Friday evening. They still managed to take half 8-5, but their offense looked a lot more labored than Wisconsin's. Even on most of their holds, Wisconsin generally had a couple of chances to break, while UCF struggled to generate many break chances for most of the half.
Things quickly began to unravel for the Sirens in the second half. Wisconsin began to take advantage of the Sirens' turns and went on a crazy break streak to take a 10-9 lead with the game to 12. UCF was broken again, and that appeared to be the end — especially when captain and main offensive cog Shayna Brock went down with a knee injury.
But, the Sirens held and then snagged their first break of the second half to force double game point. The pull for universe was a short one though, giving Wisconsin a very short field to work with. Bella Donna showed remarkable patience, moving the disc laterally for a handful of throws, waiting for space to open up downfield. Once it did, Bella attacked the space perfectly and effortlessly, completing the attack as if it had no regard for the intensity of the moment. Wisconsin emerged as the 12-11 winners and cemented their berth into prequarters.
Wisconsin head coach Robyn Wiseman spoke of the team's mentality in bouncing back from an 0-2 Friday to advance to the bracket. "I challenged them at the beginning of the day to focus on being in the moment and finding joy through each other," she said after the game. "I think with that first game [today, against Ottawa] and then this game it was just building up. I thought everybody was on the same page mentally and in a positive place."
In spite of the team going 0-2, Wisconsin's Friday had a huge roll in their advancing to the next round. Their game against Texas developed in a near-identical way to the UCF game. Wiseman considered it a learning experience for herself as coach more than anything. "We haven't had a lot of double game points this season," she said. Referring to how frequently the team had to rely on its top players, she said, "[against Texas] we learned that we can't play them for five points in a row and expect them to be fresh."
But the Texas game also was a learning experience for her players. "I think our team does a really good job of adapting and I think that mental toughness and having that ability to adapt, having been in that situation yesterday, it was very fresh in their mind. They didn't have to recall on something that happened months ago. It was like 'yeah we were here yesterday and we had like five opportunities to score and we just didn't move the disc. If we just do what we do and move the disc laterally we're gonna do great.'" She continued, "All the things we didn't go against Texas, we did to a T here."
With the win, Texas moves on to play Oregon in the prequarters, the surprise second place finishers of Pool A. Regardless of how that game turns out, Wisconsin has a lot to be proud of this tournament. To topple the pool favorites in the manner in which they did, having failed to win a similar game the day before, is a remarkable achievement for that a team that has never attended Nationals as a group together. The likely impression from the game for many will be that UCF lost and missed out on a chance to make a run at a Championship. Those who watched know that Wisconsin won this game — and very much deserved to.
Whitman 15-6 Texas
Whitman cruised to a Pool D win with a 15-6 victory over Texas, the surprise second place finishers of the group. Whitman roared out to a 4-0 lead and never looked back. The Sweets were able to put the game on cruise control without asking their top players to exert too much.
An 8-2 halftime lead meant the game was all but over at the break, but the Sweets continued to play well down the stretch, and kept Texas from mounting any kind of comeback. Marlena Sloss continued her very strong tournament with six goals in the game, while Clair Revere put up four assists. Julia Schmaltz led Texas with two goals and an assist.
---
Editor: An earlier version of this story indicated that a Virginia player called Shofner out; later information has revealed that was not correct ↩