Minnesota's offensive brilliance was on display in a compelling final.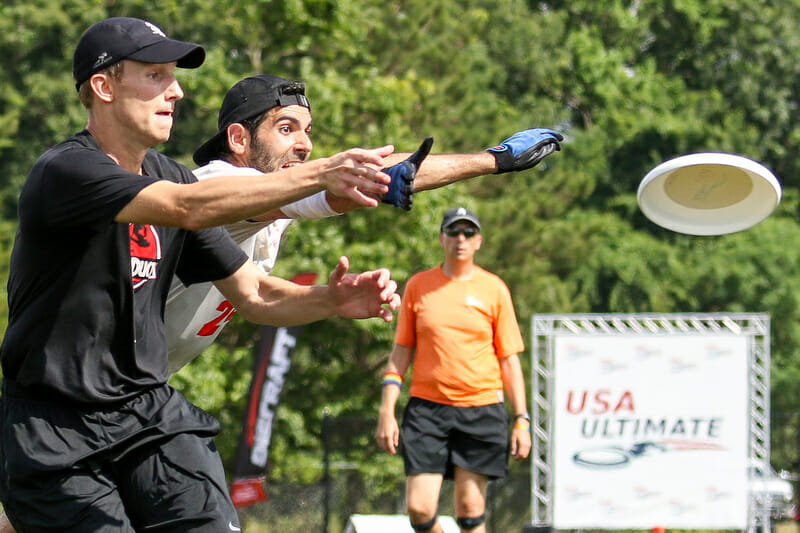 RALEIGH — On Memorial Day at the WRAL Soccer Park, Minnesota Grey Duck defeated Harvard Red Line 15-12 to win their first ever National championship. The title game, featuring an unlikely pairing of finalists, capped off a wild weekend at the College Championships. Coming into the weekend as the fourth seed overall, Minnesota took two pool play losses and suffered several unfortunate injuries that raised doubts about their ability to win big games on Sunday and Monday. Their epic run through the bracket, however, proved once and for all that Minnesota belongs where they now sit, at the top of the Division.
The game got underway relatively comfortably for both teams, trading to 2-2 with both Minnesota's Ben Jagt and Harvard's John Stubbs heavily involved for their respective teams. The game turned when Harvard's Milan Ravenell dropped an in-cut, giving Minnesota's D-line a short field to work with, which quickly lead to the game's first break and a 3-2 lead for Grey Duck.
While Minnesota was not able to expand on their one break lead before halftime, entering the break up 8-7, the momentum on the field was noticeably in their favor. Their offense was largely unchallenged while Harvard had to work hard just to keep pace.
Jagt has been the player on Minnesota generating the most buzz this year – and for good reason – but he may have hit a new level in the semis and final this weekend. With a championship within his grasp, Harvard had no hope to contain him in this game, no matter who they threw at him. Milan Ravenell and the returning Alex Hem, who was judged fit to play after a concussion scare in the semifinal against UNC, were both overpowered by Jagt's combination of size and speed. Even when Harvard deployed Stubbs in an attempt to slow down Grey Duck's go-to target, Jagt still managed to put his stamp on the game, getting open for under throws and distributing downfield.
"Jagt's a terrific player," said Stubbs after the game. "A lot of credit to him and their O-line. They just wouldn't give us the ball."
In general, Harvard seemed content to let Minnesota work the disc down the field on in cuts, as once Jagt roasted Hem deep early on Harvard started to back Grey Duck's cutters, evidently preferring the slow death of mechanical offense to the decapitation of Minnesota's speed merchants running amok downfield. Often, and especially when neither Vandenberg nor Stubbs were on the field, Harvard rolled out a loose 2-3-2 zone that effectively took away Minnesota's deep game, but allowed Grey Duck's patient throwers to find windows through which to advance the disc.
Perhaps Harvard were hoping that after the frantic finish to last night's insane Pittsburgh-Minnesota semifinal, Grey Duck would be pressing and willing to shoot deep into the teeth of the zone. In fact, Minnesota's offense was punishingly efficient for much of the game, giving away only two turnovers and one break.
A big part of the stabilizing effect was the return of Ryan Osgar, who missed the semifinal when his knee injury was aggravated after the quarterfinals. After testing out the knee in warmups on Monday, borrowing a knee brace, and deciding to give it a shot, Osgar played a masterful, if somewhat reserved, game in the final. His final stat line reads two goals, an assist, and two blocks, but that undersells his importance to Minnesota. He was integral in marshaling Grey Duck's offense all game, particularly against the zone looks that Harvard rolled out, patiently working his way through throwing progressions and finding the weak points in the zone.
"Getting Ryan back was huge," said Minnesota freshman handler Sam Kaminsky after the game. "He's such a big part of our offense, made every easy under happen."
Harvard's offense performed admirably, but they weren't hitting on all cylinders the way that had at points on Sunday, and they just couldn't match the overwhelming Minnesota offense blow for blow. In what was a valiant send off for a senior heavy Harvard team, their captain and Callahan nominee Vandenberg was incredible, recording 65 touches and no turnovers while making some very difficult throws. It was about as good a performance as you could hope for in a losing effort, and spectators were treated to a sight that had become familiar over the weekend, seeing Vandenberg, Stubbs, and Ben Scharfstein run a devastating handler weave once Red Line got the disc near the endzone.
"It's something we work on every day at practice," said Scharfstein. "Mark and John are really fast, and really good, so it makes my job pretty easy."
John Stubbs finished with another impressive stat line, four goals and three assists, but he couldn't quite dominate the game the way he did in his incendiary performance against UNC in the semifinal. Stubbs finished Nationals as the leader in goals scored and third in assists, but will have to wait for next season if he hopes to finish with a gold medal.
Minnesota's incredible story can't be denied. Every member of the team rose to the occasion all weekend, and in the process created something, a championship team, that can only exist as an entity greater than the sum of its parts. "I've never been a part of a more complete team," said Grey Duck coach Tallis Boyd.  The refrain all weekend was "next duck up" and it rang true in the finals when reserve players like Connor Anderson took on the challenge of guarding John Stubbs after injuries on the D-line thrust upon him the responsibility to be the stopper, or when Sam Kaminsky, a freshman starting as an O-line handler was called to make some plays with a limited Osgar and other firepower missing from offense, notching some key assists and big throws in tricky situations.
While the score remained close all game, it felt that Minnesota was in command as Harvard struggled to stay within striking distance. Eventually the scoreboard reflected this notion. At 11-10, Minnesota punched in a hold, then broke twice to pull away from Red Line with a 14-10 lead, the second break coming on a bookends from Jagt punctuated by a towering sky for the goal.
Harvard never quit, fighting for a hold, then getting a break to keep the game alive even if only briefly, on a dish from Scharfstein to Vandenberg after essentially 70 yards of handler weave.  Scharfstein had a great game, filling his role to a tee. As primarily a reset handler that created an environment in which Vandenberg could thrive, most of the time when he did his job perfectly, his presence was barely felt.  In his final college game, he was certainly a presence, recording two goals and two assists, none bigger than the hold that kept Harvard's season alive.
While Harvard's late break injected a jolt on enthusiasm back into the game and sent ripples of hope through the large contingent of Harvard fans who had made the journey down to Raleigh, the game ended the way it had been played. Grey Duck flew cutters out into the lane and quickly worked the disc down the force side with rhythmic cuts that got the disc within 15 yards of the endzone, and the team within moments of claiming their program's first title. Harvard's stout defense stonewalled the first two upline cuts to the cone, but could not stop a third. Ryan Osgar, the captain playing through pain, managed to wriggle free and score a goal that will live forever in the memory of Minnesota's players and their fans.
It's interesting that one of the wildest College Nationals ever ended with a game that in many ways just made sense. Minnesota had an elite offense all year, and few teams had been able to slow them down. Harvard was a very good team that was probably playing above themselves to reach the finals, and had a defense that didn't have the teeth to generate many turns against dominant offenses. John Stubbs and Mark Vandenberg were great players all year, and while on Sunday they played like some combination of Kurt Gibson and Joan of Arc, on championship Monday they were merely great again, which wasn't enough to make up the gap with Minnesota's bigger, quicker, deeper team.
The Twilight Zone-level madness of the first three days waned and, as the 2016 championships came to a close, the world made sense again.