Catch up on the action from high school state tournaments!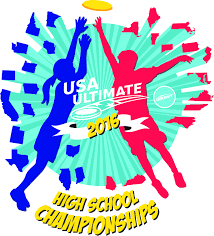 We have begun to receive some submissions to our new 'Submit Recap' page. Below, we are rounding up the recaps we have received from high school state tournaments from around the country. If you want your HS tournament to be included, please submit a recap or email us at [email protected].
California (May 7-8)
Boys
Berkeley High School competed with seven other teams from California: Alameda, Gunn, Atascadero, Foothill, DaVinci, Casa Grande and Desception. Berkeley and Alameda were seeded at the top of their pools and went undefeated Day 1. Both teams made it through quarters and semis without much difficulty and would eventually meet up in Sunday's final.
The final proved to be exciting and Alameda had Berkeley on the ropes and were leading 10-8 with hardcap looming but Berkeley kept their seniors on the field. Although Alameda gave it all they had, it was not quite enough and Berkeley came back for the narrowest of wins, 11-10. Congrats to both teams for a very tense and exciting final. Both teams left everything on the field and it couldn't have been any closer.
Berkeley High had 14 seniors on the squad this year including three members of the U20 National Team: Jeremy Dolezal-Ng, Colby Chuck, and Chloe Carothers-Liske. They were heavily favored after their win at Spaghetti Westerns a few weeks before. Foothill's Cameron and Gavin Beck, Keith Applebaum, and Justin Wiegel all brought their YCC experience to the tournament. Alameda brought Devin Hom, Phillip Yang, Michael Peng, and Gavin Maxwell and Jake Thorne.
– Paul Colbrio
Iowa (June 4)
Boys
Iowa City Wings defeated West Des Moines Valley 13-5 to win their fourth consecutive state championship in just the fourth year of their program. They outscored opponents 52-17 over the course of the tournament. The long-established Ames Parallel team suffered a down year, placing 7th after a string of recent success.
Dillon Crowell of Iowa City West led the tournament in assists, a standout junior heading to the University of Iowa after his senior season. Matt Belling of West Des Moines Valley led his team to the championship before falling to ICW.
The youth scene in Iowa has grown larger lately. Three high schools had new teams compete in this year's state tournament, hosting a record high of eight teams this year.
– Tyler Whitehead
Minnesota (June 4-7)
Boys
Countless Minnesota teams attempted to take down Edina Green Lantern this year, but Edina survived unscathed with a 13-7 victory over Mounds View in the final of the Minnesota Ultimate High School State Tournament at Hamline University's stadium in St. Paul on June 7th.
The bulk of the tournament occurred over the weekend of June 4-5 at the National Sports Center, but Minnesota Ultimate scheduled the Division I championship games in both the girls and open divisions for a separate evening to better showcase the sport.  A lively crowd packing Hamline University's football stands for both games – likely the largest ever for a youth Ultimate game in Minnesota. The enthusiastic crowd showed support for both teams and the sport in general, bringing a friendly yet competitive atmosphere to cap off another year of ultimate.
After a fairly even start, Edina scored four straight points to take the game to half, up 7-3. Mounds View dropped a couple of catchable tosses and granted Edina the opportunity for break points. The first break was set up by a huck from Wystan Duhn to Alec Karlen, which set up a toss from Daniel Brunker to Joe Lagorio in an endzone set. Edina held a comfortable lead for the remainder of the game.
Almost every exciting huck and score of Mounds View in the second half was immediately followed by a score from Edina, leading up to the final point. Edina forced a turn and Drew Otterlei sent a huck disappearing into the darkness of the back corner of the endzone where the stadium lights didn't quite cover. Senior captain Joe Lagorio reeled it in to cap off an eventful night and dominant season.
A swarm of golden jerseys mobbed Lagorio as the Green Lantern celebrated their second state championship in three years.
– Isaac Gittleman
Girls
Apple Valley took on Great River for the girls Division I state title in front of a large crowd at Hamline's stadium. Great River, following a win over Apple Valley the week prior, took home the title with a 13-7 victory. 
Both teams held downwind to open the game. Great River got the first upwind break with a throw from Grace Backes to Christine Siebels-Lindquist to make it 4-2. The break was followed by an enthusiastic show from the school's mascot, leading the crowd in cheers. Apple Valley answered the break with an upwind score through patient swings and occasional long throws. They worked it very far down the field, forcing Great River to play person defense. Kayla Wangen threw to Macy Lake in the end zone who toed the line beautifully. Still fresh from their upwind score, Apple Valley next threw a three-person cup and got the block; Lexi Kocken found Wangen for the score, tying it at four. Great River called a timeout to stop the momentum.
Downwind holds closed out the first half. Great River went into the break up 7-6, on serve.
Fresh from half, Great River scored a break, with Maura McDaniel playing an integral role on offense, saving possession and bringing it in for the upwind score. They then set their four-person cup with a deadly mark by Anne Sullivan, making it difficult for Apple Valley to swing the disc. After lots of athletic bids by both teams, Great River scored again, opening up the largest lead of the game, 9-6.  Their quick transition offense led to their third break of the game with a great throw from Isabel Olson to Emma Piorier.
High energy from both teams marked the second half, but Great River ballooned the lead out to 12-6. Apple Valley finally got a hold on an easy point as Anikka Reinertson found Macy Lake in the end zone.
On the following point, Great River worked it up and, after several missed chances, Isabel Olson placed a floaty lefty forehand in the end zone which Siebels-Lindquist was able to grab over two Apple Valley players for the win.
After the final match, spirit award winners were announced for each division. Great River, in addition to winning the state title, won the overall girls spirit award, an incredible honor. Congratulations to both teams and here's to a great 2017 season!
– Emily Regan
New Hampshire (June 5)
Boys
Hanover High School won New Hampshire states for a second year in a row! They had an exciting final game against Keene, falling behind 10-8 but storming back after a timeout to win the title 13-10.
Both teams in the finals had phenomenal athletes. During the entire game, both squads were very spirited and positive despite the cool/wet weather that was happening. There some long, drawn out points and solid defensive plays from both sides.
– Colby Clarkson, Hanover coach
New Jersey (May 28-June 2)
Boys
Once again Columbia and Westfield played for the New Jersey high school boys' title. Columbia entered as the the defending State Champion; Westfield won their first State title in 2014, ending a long run by Columbia.
Several hundred fans attended the final game, held under the lights for the first time at Drew University. It was an incredibly hard fought match. The two teams traded points in the first half, which Columbia took 8-7. After pushing out to a 9-7 lead, WHS came storming back to win six of the last seven points, taking the title with a final score of 13-10.
– Rick Liebling
Girls
The New Jersey Girls High School Championships was dominated by the Watchung Hills Varsity Girls. Fresh off an appearance in the USAU HS Northeasterns Finals, Watchung came in to States as the heavy favorite. Led by World Juniors representative Jessie Sun, Watchung was an unstoppable force, only allowing one point in the entire tournament as they won the final 15-1 over West Windsor.
A big congratulations to the West Windsor Girls who won a tight semifinal over Columbia High School's Sparkle Motion. The teams finished 2nd and 3rd, respectively. Westfield Girls ended 4th overall losing a tight contest to Columbia in the 3rd place consolation game.
Rounding out the tournament was Watchung's JV Team, a first for NJ Girls ultimate, and Paramus Catholic Girls, who were playing in their first games as a program!
– Devyl YCC Coordinator
Pennsylvania (May 28-29)
Girls
Fox Chapel won their pool but had a close double game point win over Haverford High, while Lower Merion rolled through their pool, taking half 7-0 or 7-1 in each of their four games before opening their lines in the second halves.
In the semis were two city rematches, where Lower Merion had a rematch with fellow PHUEL competitors Radnor from pool play. They again took a commanding lead at half, 8-0 this time, while Fox Chapel got into a knockout fight with PHUL rivals North Allegheny. NA took half 8-7 before Fox Chapel pulled off a hard-capped 10-9 victory. In the finals, Fox Chapel and LM traded points for the first few until LM started to get some breaks and pull away, taking half 8-4, and coasting through the second half to a 15-7 win.
Margo Urheim and Bethany Eldridge on Lower Merion were both towering over the competition all weekend. Michelle Wolff on Fox Chapel could throw the disc impressively far and let them win the field position battle decisively against other teams. North Allegheny brought a small squad but their stars shined all weekend.
See further discussion on All-State teams and more from the tournament at the Ultiworld Forums.
– Christian Vanni, coach of Lower Merion