The Germans hope Worlds 2016 is the culmination of more than a decade of building and improvement.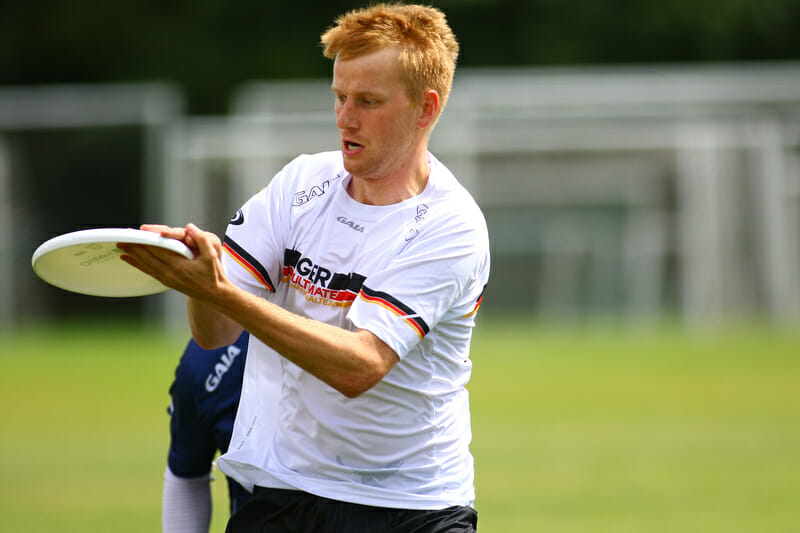 There is a storm building in Europe — spinning in the streets of Salzburg, ploughing across French fields, and lurking in Swedish parks — and it's heading straight for London. With WUGC nearly upon us, it is time to learn a bit more about some of the men's teams who will be competing in England next week, squaring off against the best the world has to offer.
A Decade Of Preparation
German engineering is a deliberate process. A finely tuned operation built on perseverance, determination and studious scrutiny. Given their national habit for endeavor, it should come as no surprise that the Germans have been preparing for the upcoming tournament for more than a decade.
2005 was a transitive year for German Ultimate, a spiritual and tangible changing of the guard for their national squad. Rather than let nature run its course and slowly weed the aging shrubs from the garden, Germany resolved to redefine their entire system. This led to the inception of Inside Rakete, initially a new way of promoting and progressing the sport in Germany that has come to be nearly synonymous with the national squad. The groundskeeper charged with cultivating this idea was Stefan Rekitt, a man so self-assured that it makes you question your own life choices.
The empirical reality of Inside Rakete is a decade of continuous improvement for German ultimate at both Club and International level. However, manifesting this destiny has proved an arduous task. One of the keys to Inside Rakete is philosophical continuity. In Rekitt, they have a coach who has been involved with the national side on and off the pitch for fifteen years. The leadership of Inside Rakete decided to maintain an extended national squad through years when there were no international tournaments to compete in. This means that as a community, German ultimate has been united in its preparation for London longer than basically anyone else. A gold medal for the Junior team in 2007 was an early vindication that the program was on the right course. EUC 2011 saw the Senior men's team take home a hard earned Bronze. However, Rekitt admits that they were 'somewhat disappointed' with their eighth place finish at WUGC 2012 in Sakai.
With the aim of rectifying their missteps in that tournament, Germany held open try-outs for their London squad in 2012 and early 2013. Once the squad was nominated, it plunged into European games. Over the next two years the extended national squad trained sporadically, with the dual aims of preparing for the upcoming international tournaments and developing the quality of ultimate throughout Germany.
During this time Rekitt served what he dubs an 'internship' under Boston Ironside coach Josh McCarthy at US Club Nationals in 2012, 2013, and 2014. Simultaneously, Germany applied for foreign aid from US coaches such as the Wiggins brothers and Tim Morrill to help redevelop their ultimate infrastructure. The result was a national squad that was ready to take over Europe.
In 2015, Inside Rakete decided to take what they had learned over the previous years and compete at the US Open in Cincinnati. The results were satisfactory: 3 wins and 3 losses, including a very impressive early tournament win over then national champions Johnny Bravo. However, it was the experience of competing against such a consistently high standard of opponents that stood pertinent in the minds of the squad.
"Flying in US coaches and sending players across were important investments… but we needed to bring the team over," Rekitt says.
This experience helped prepare the Germans for the European Championships last summer. At EUC 2015, the Germans finished second, just losing out on the gold to a very impressive Great Britain side. The final proved to be an exciting climax of the gradual assumption of power by the two old empires, albeit hopefully a penultimate one. The potential for another slobberknocker in London is a salivating prospect. Unlike royalty and a general distrust of the French, European dominance is something the Germans refuse to share with the Brits.
Players To Watch For
Philipp Haas
Odds are, if you've played against Germany in the last decade, you've played against Philipp Haas — he has been a driving force for German offenses since 2004. His tactical arsenal earned him a spot on the NexGen team that toured America in 2012. It was the impressions and connections he made during this trip that led to him playing for Washington DC's Truck Stop at US Club Nationals in 2013. As a result, Haas has gained a lot of mannerisms from the big table. His proficiency with aggressive break throws betrays his American influences. Expect Haas to get a lot of disc in London.
Holger Beuttenmüller
The German captain uses a combination of height and speed to form an O-line weapon that just about any defender will struggle to stop. On the pitch, he inspires the kind of confidence in handlers that is borne from a career of collecting nearly every disc tossed vaguely in his direction. Unfortunately, we did not get to experience Holger fully in Copenhagen as he was handicapped by injury. Rest assured that injury has since been overcome, reduced to a driving urge to reassert himself on the world stage.
Christoph Köble
Christoph Köble is the leader of the defense and the captain of Germany's athletic soul. In 2014, he had an internship for Mike Boyle Strength and Conditioning in Boston. Due to his undeniable ability and uncommon proximity, he played with Ironside at US Club Nationals that fall. Being a professional athletic coach, he also ensures that the German squads fitness is ready for Worlds. Physically speaking, he is the most finely tuned thing Germany has produced since the Volkswagen.
What To Expect
A testament to their philosophy, even in ambition the Germans are measured. According to Rekitt, "The goal is quarterfinals with a chance to compete." It is an appropriate aspiration for a squad in their position — firm and attainable, but still has room left for hope.
With so much work already behind them, the focus right now is on individual training. The squad is well established and well prepared; EUC and the US Open were the two main road tests for the team. Since then, the side has been noticeably absent from European warm-up tournaments such as the Confederations Cup and Windmill, though it's worth mentioning that a German club team (Heilbronn's Bad Skid) won the latter. Speculation and rumor on the issue are of little consequence, as Germany's distaste for the grapevine is well documented.
The fact of the matter is they are half of European ultimate's power couple and have spent years tuning their engine in preparation for London. I bet that baby purrs like a tiger.