With most top Polish athletes playing Mixed, how will the young Open team fare?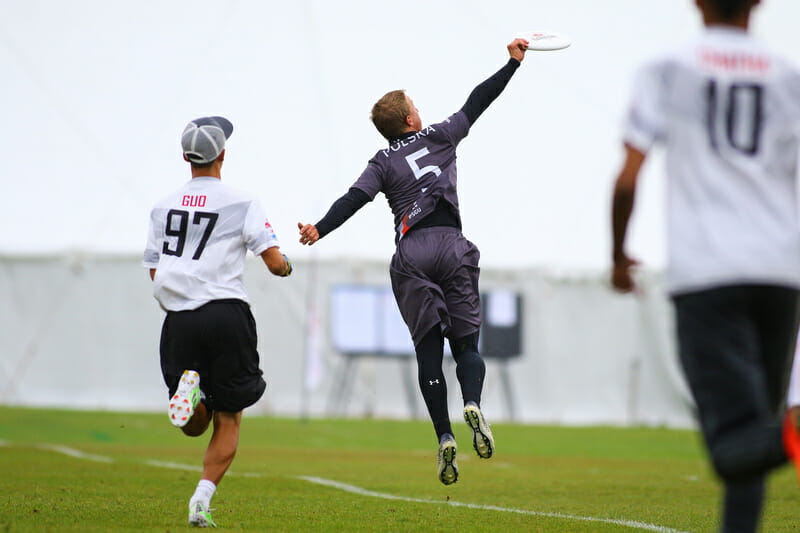 There is a storm building in Europe — spinning in the streets of Salzburg, ploughing across French fields, and lurking in Swedish parks — and it's heading straight for London. With WUGC nearly upon us, it is time to learn a bit more about some of the men's teams who will be competing in England next week, squaring off against the best the world has to offer.
A New Generation
It is a time of great promise for Poland: Wroclaw is the current European City of culture, its GDP is among the highest in Europe, and, most critically, it will host the World Games next year. Preparing to host the tournament has had a big impact on the anatomy of Polish ultimate. The Open team from last year has almost entirely deserted in favor of playing in the World Games-applicable Mixed division. This has led to a new generation of players filling up the ranks of the Open team. Which means it's not just the fields Poland train on that are evergreen.
Ultimate in Poland is only about 10 years old. Mixed was the main focus for the community and an Open division didn't really appear until 2011. The limited history of this team goes some way to explaining their last place finish at the European Championships last year. Despite resting at the bottom of the competitive ocean, the Poles did pick up a big win against Finland and also beat Russia and Latvia during preparation tournaments. However, of the 26 members of this team, only three have decided to stay with the Open division and team captain Dominik Dobranowski.
Dobranowski has his work cut out for him prepping this squad before WUGC. Given Poland's focus on the Mixed division, the team has one of the shortest runways before flying to London. The first trials took place in March. Poland Open is also bringing one of the smallest squads to Worlds. With so little time to prepare and so much preparation to do, the leadership of Poland has their work cut out for them. Dobranowski understands this and is placing an emphasis on developing well-rounded players to help secure the future for his community. "Everyone should know how to throw but also be mentally strong and be a good athlete," he said.
Dominik understands the scale of work that lies before him. "I am trying to teach my players as much as I can," he said. "Even if it is too much at the beginning and too much to learn for one tournament, it will bring a good result in the future for every player."
When it comes to the specifics of these lessons Dominik is drawing on the globalization of ultimate for source material. Once lessons were stolen from the limited footage that dripped its way down to Europe through online tubes. Now, thanks to the proliferation of international training camps, elite ultimate coaches are giving a much needed boost to burgeoning scenes. Names like Chris Sherwood and Beau Kittredge used to be whispered on select college campuses, revered as nigh mythological figures.
Thanks to the tireless work of these and other ultimate ambassadors, the process for developing ultimate communities is being refined and focussed. When tactics from Buzz Bullets or Ironside appear on European fields they are not the bastardizations of old, but trueborn heirs to their strategic forebears. Dobranowski has utilized these resources whenever possible; for example, he credits Jim Schoettler's influence in elevating the standard of national team try-outs.
Players to Watch
Zibi Braniecki
Since his transition from MMA to ultimate, Braniecki has been enjoying scaring opponents without having to hurt his knuckles. A lockdown defensive cutter, he has played for various teams in Poland, including Mojra when they attended WUCC 2014. Since then he moved to the Bay Area in California and started to study the American style. As a testament to the rapidity of his growth this year marked his first pro season for the San Jose Spiders.
Marcin "Świeżak" Bielewski
First introduced to ultimate in Raleigh, North Carolina, Bielewski has since plied his trade across European leagues. He has lent his talent to top teams in Spain, Norway, and his native Poland. One of the few returning players from last year's EUC campaign, Bielewski is not fazed easily and is more than ready for his stewardship of Poland's future. A key player on Girls Stay Home, Poland's Open champions, Świeżak is accustomed to leading lines from the front.
Kamil Filip
A standout player from Poland's newly initiated national squad, Filip will get his first taste of international ultimate in London. Frequently one of the top scorers for whatever team he represents, Filip makes excellent use of his speed and hops to tear down hucks. Confident with the disk in the air or in his hand, his versatility is a huge boon to a Polish side that will need to plug holes in its hull periodically.
What To Expect
With the World Games on the far horizon, Poland's attention is firmly on the Mixed division. This has granted Dobranowski and the Poland Open team a great deal of freedom. He has had to rebuild the National team but in doing so he gets to help build the country's future. While setting up this team was a big ask of the leadership, the real challenge still lies in front of them. The anxiety that has surrounded organizing this team over the last year is starting to permanently fade as it is replaced with excitement for the upcoming event. The grind is almost done and soon it'll be time to enjoy the fruits of their labor.