A mix of young and old look to lead the Netherlands to new heights.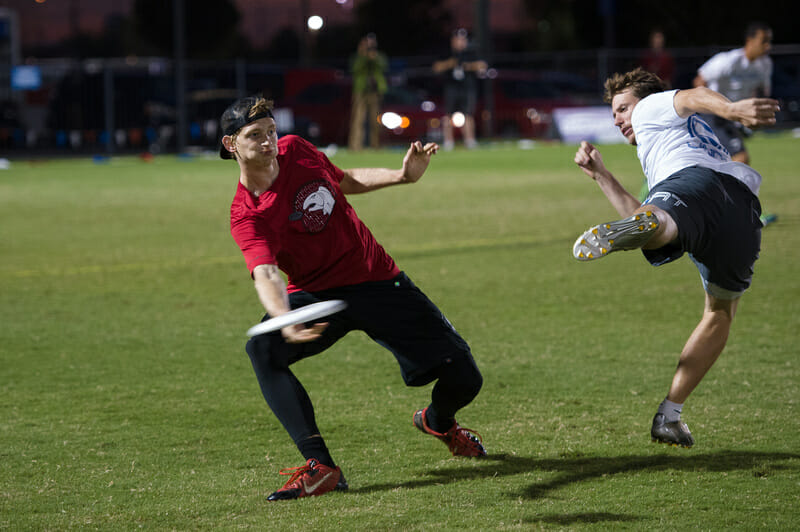 There is a storm building in Europe — spinning in the streets of Salzburg, ploughing across French fields, and lurking in Swedish parks — and it's heading straight for London. With WUGC nearly upon us, it is time to learn a bit more about some of the men's teams who will be competing in England next week, squaring off against the best the world has to offer.
Focus, Intensity, and Commitment
The Dutch are the embodiment of duality. Their two major cities: The Hague and Amsterdam, are respectively known as 'the legal capital of the world' and 'the number one tourist destination for people with vendetta's against lucidity.' Their national squad walks the line between these juxtaposed identities. A core of measured veteran leadership has crafted a philosophy built on a strong work ethic with room for wild abandon at the weekends. The Dutch execute their 21st century lifestyle with the natural resolve bred into a people who are perpetually at war with the North Sea.
Dutch ultimate bears a lot of the hallmarks of smaller European communities. National squads are formed each autumn in preparation for the ensuing summers' festivities. Consistency in these situations is derived from the usual suspects serving their seasonal tours. The size of the community reflected in the typically low turnover of players between years and the results they garner. A 14th place finish in Sakai in 2012 was expected but there is a pervasive disappointment around their 12th place finish in Copenhagen last year. Captain Tjeerd Ates and Head Coach Hans Lommen are reprising their roles from last year with the aim of putting on a more impressive show. "We feel we belong in the top ten European countries at least this year," said Tjeerd. A flower not so easily plucked for Europe's upstart ultimate principalities.
By reprising their roles from 2015, Tjeerd and Hans are looking to utilize an established base from which to launch their WUGC campaign. In contrast to a lot of other European countries, less than half of the Dutch squad competing in London attended the European championships last summer. So many players succumbing to real life is a potentially detrimental development for teams barking at the European pack. Ever the purveyors of proper process, the Dutch counteracted this by voting for two additional captains and an advisor from the members of the finalized squad. Enter Joram Mossink and Foeke Schaap as captains and Galen Campbell as advisor. This move placed calloused hands at the helm to help muddy the greener elements of their squad.
Part two of blooding the initiatives utilizes the geography of the Netherlands. A relatively small surface area carved up neatly by flat, faultless roads means the Dutch are seeing a lot of each other. They had four training weekends under their belt by the end of 2015. Since the New Year, they have been training as a squad fortnightly. This is combined with smaller pods that have been set up for players who live close to each other to train together. Given that 14 out of the 25 players compete for either Amsterdam or Utrecht at the club level, chemistry became a less intimidating subject with each passing month.
With this new squad, the Dutch are also shaking up their established strategy for the upcoming tournament. Those readers located in the Northwest of America may recognize the name Eric Doesburg; failing that, they will definitely recognize the philosophy he inspired in Dutch ultimate. A pre-eminent figure in the Netherlands scene, Doesburg served three tours with Seattle Sockeye between 2011-2014. After sleeping with the Fishes, he brought back some of their tactical tenets to his homeland. Prominent amongst these was a tight offensive structure. However, as the lawyers of Holland soon learn, sometimes you need to cut loose. While Doesburg's tactical injection was an immediate boon to the scene, over time it did cause somewhat of a creative stagnation leading to downfield detachment. This year, Tjeerd and Hans are looking to add color to their cutting patterns and draw some unpredictability into their attack.
It can be perturbing for players from smaller communities when they compete on larger squads. There are few instances of a European club team bringing more than twenty people to a tournament. Transitioning to the sizeable national teams can lead to some players falling to the wayside in the shuffle for prominence. The Dutch leadership are addressing this through their philosophy. Three pillars hold up this team: focus, unmatched intensity, and commitment.
"Playing only one in 3-5 points means you can push yourself beyond what you think is 100% every point you play and that you have enough time on the sideline to recover and then cheer on your teammates as loudly as you can," said Tjeerd. This high rotation rate of players' means opponents will rarely face a weary challenge. The downside to such an approach is it can make it difficult for players to establish themselves in games. Although for a culture built on jurisprudence, the Dutch are not without weapons.
Players To Watch
Joram Mossink
You may know him as this guy. Joram was notably absent for EUC last year as he was finishing his Masters in San Diego. Educated academically and athletically between the American west coast and Utrecht, Joram has played his way across the North American scene with teams like San Diego Streetgang and Madison Club. One of the faster players on the Dutch team, he is the type of cutter you like to see get the disc, and he will — a lot. He also has the useful super power of pulling extra inches out of the ether when he gets horizontal.
Foeke Schaap
If Joram is an irresistible force, then Foeke is the immovable object — albeit one that moves frequently and to the continued consternation of opposing defenses. A leader on paper and the pitch, Foeke brings the brand of big man confidence that allows handlers to feel their way into a game. Against the undeniable tsunami of pressure awaiting them in London, Foeke is one dam that will hold firm.
Galen Campbell
The youngest member of the Dutch leadership, Galen sits at the front of the Dutch offense. Moving down the pitch like an interloping estuary, he coordinates Dutch attacks with the velveteen strokes of a young Rembrandt. Calm and composed on the outside, only the players assigned to mark Galen will realize how much effort he's putting in.
What To Expect
The Dutch have paid their dues in the doldrums and are looking to London as the chance to arrive as a fighting power on the international stage. Their disappointing performance at the Confederations Cup was quickly rectified by the more assured appearance they made at Windmill Windup. Their squad goal is to finish in the top eight of European teams at the tournament. In order to do so, they will have to correct losses against Austria, Denmark, and Sweden from last summer as well as some recent upsets in warm-up tournaments. A daunting task, but one their recent steady improvement of performances indicates they could be capable of. Suffice to say, there's something cooking in the Dutch oven, and it doesn't smell like hot air.