While only seven players are grinding it out on the field at once, the rest of the team can still contribute to on-field success.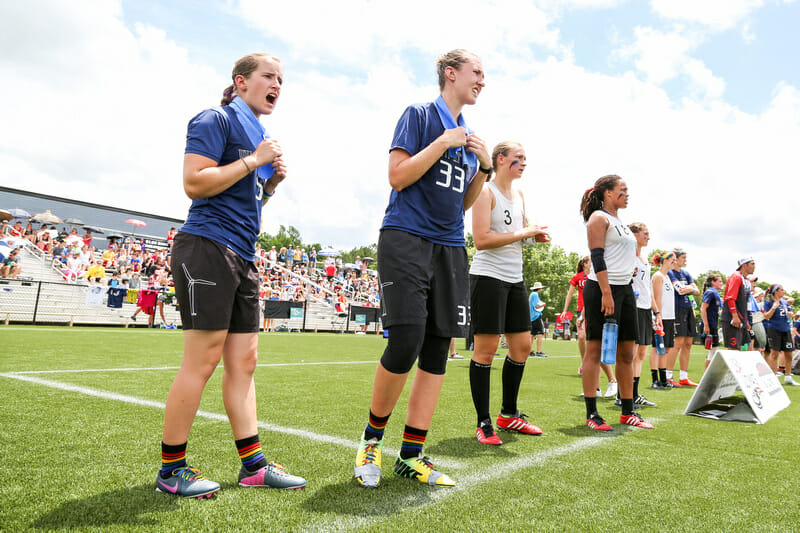 This article is presented by Spin Ultimate; all opinions are those of the author. Please support the brands that make Ultiworld possible and shop at Spin Ultimate!
Being a great player and teammate goes beyond your performance on the field — you can always help your team succeed by being an active, positive presence from the sideline.
Communication from off the field goes beyond simply cheering your teammates on. Though positive energy and support are indeed important, your perspective and guidance from the sideline help your team play to its full potential. Players on the field can't see everything; players off the field can fill in the gaps, giving your teammates the information they need to succeed.
Here are five ways to maximize your impact as a sideline presence.
1: Follow the play.
Stay mentally and physically engaged in what's happening on the field. Tournament weekends require a ton of energy and, as teammates, you can fuel each other's fire to overcome fatigue. While only seven members of your team are grinding it out on the field at a time, even just the physical presence of the rest of your team on the sideline can provide support and generate camaraderie. Make sure there are players on both sidelines so that no matter where your teammates are on the field, they have someone nearby who can feed energy and information.
Sometimes being a good teammate means taking time to yourself to recharge; constant, 100% through-the-roof energy levels aren't necessary or productive. If you need to step away for any reason, just communicate with your team leadership first. but if you're at the field and physically well, you should be moving with the play, staying invested in your team's progress.
2: Encourage your teammates.
Create a positive playing environment and keep your team's energy up by encouraging your teammates from the sideline. Cheer on awesome plays, lead team cheers, and rush the field after the point ends. Even if you get scored on, rush the field and high-five your teammates!
Deliberately espouse a forward-focused mentality, allowing your team to shake off unsuccessful play and look towards the next point. If your teammate makes a mistake, help them move past it and get their head back in the game. Your teammates depend on this positive energy, especially during long points with lots of turnovers.
3: Feed general information.
You're physically following the play and verbally encouraging your team; now, you're in a great spot to start giving your teammates useful information about what's happening on the field. Here's some general direction you can give from a sideline:
Up calls: Get in the habit of yelling "up!" whenever a throw goes up, letting your teammates know the disc is in the air. Be extra helpful by calling the names of players the disc is coming towards and alerting them to where exactly the disc is headed.
Repeat foul, pick, stall, etc. calls: When there's a call on the field, echo the call so the players on the field hear it and respond accordingly.
Defensive transitions: If your team fires out of a zone or throws a turnover, help your team's defenders find an opponent to pick up.
Offense: In general, advice from the sideline while your team is on offense ought to be fairly limited. You can help by making players aware of poaches and reminding cutters to clear out when necessary, but otherwise, let your teammates do their thing.
Giving these directions doesn't require much specific ultimate knowledge, so even brand-new players can get involved and help their teammates out.
4: Choose one teammate to talk to.
Too many voices is overwhelming, so follow one teammate throughout the play and encourage your other sideline teammates to do the same. Remember to use your teammate's name; sideline communication can get lost if your teammate can't hear your voice or doesn't recognize that the information you're sharing is meant for them.
As a bonus, following one player's movement also helps you develop field vision by seeing how play progresses instead of just watching the path of the disc.
5. Give brief, actionable feedback.
Once you've found your voice on the sideline, it's time to bring a little more focus to your off-field communication. You can see the whole field; translate what you see into brief, actionable communication for one defender. Use as few words as possible to get your point across, and focus in on communication that gives your teammates information that they wouldn't otherwise have.
Think about sideline communication on defense in terms of four different positions:
On the mark: Tell the mark what options are developing for the thrower and help them adjust to take them away. Terminology can differ from team to team, but in general you can give brief clues to let the mark know where the thrower is looking, like "strike," "inside," "around," and "no huck." Keep the goal of your defensive strategy in mind when telling the mark what to react to. This is usually an easy place to focus in on if you're just starting to give specific direction from the sideline. More advanced players can look to give the mark adjustments to their hand placement while marking. For example, with a forehand force on a right-handed thrower, the sideline could say "left hand low" if the thrower likes inside forehands or "right hand high" to challenge high-release backhands.
Downfield person defense: Help the defender challenge the most dangerous option for their cutter based on what's happening on the rest of the field. Let them know where the disc is on the field so they know whether their mark is likely to be a threat. For example, if the disc is on one sideline and your teammate is guarding a cutter on the opposite sideline, recognize that their cutter likely isn't going to be active immediately so a bigger buffer is okay. As the disc swings, let your player know the relative position of the disc ("swinging towards you!" "middle of the field now!") and advise them to close their buffer. Additionally, notice when the disc is in the hands of a confident hucker ("watch the deep look!") or when their cutter has set up an opportunity to cut under ("no unders!") so they can adjust their position accordingly.
Handler defense: Let the handler defender know where the disc is moving, whether it's swinging laterally or moving downfield. When the disc moves, remind them what options they should be taking away according to your team's defensive philosophy or goals. Most importantly, let them know when they're guarding the next available reset, particularly if a cutter downfield has the disc and has committed to them for a dump. Because handlers get a lot of touches on the disc and have wide arsenals of dangerous throws, always be prepared to start giving the defender advice on the mark.
Zone defense: Know the goals of the zone and help the defender play to it. Focus on letting them know which players on the opposing team they should be paying attention to and what space they should be occupying. The goals, positions, and offensive movement vary widely from team to team, so pay attention to the particulars of what your team is trying to accomplish and how your opponent is countering it. As mentioned above, if your team fires from zone defense to person defense, help your teammate find the person they should guard.
***
The best sideline communication requires a good understanding of the game, but here's the exciting part: many of the tips listed above can be accomplished by anyone, even players new to the game. Everyone can be an effective sideline presence just by following the play, feeding energy and basic information.
Not only will this make you a more valuable teammate, sideline communication also helps you better understand ultimate! Committing to being involved from off the field means you'll be constantly engaged in what's happening on the field, you'll watch the game closely, and you'll continue to learn.