While rarely focused on as much as cutting, effectively clearing space can be just as important to your team's offensive flow.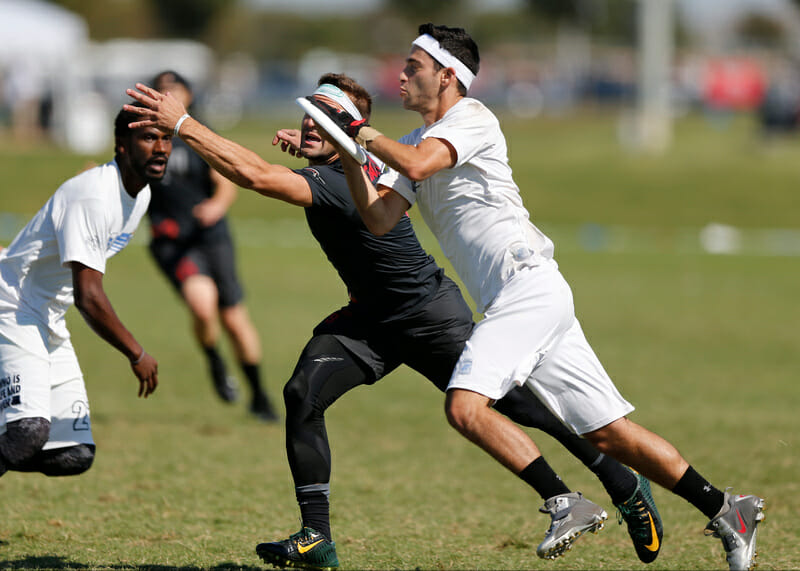 This article is presented by Five Ultimate; all opinions are those of the author. Please support the brands that make Ultiworld possible and shop at Five Ultimate!
Clearing is one of the most important skills in ultimate, yet it's one of the least discussed.
During game play, there are three modes a player can be in during an offensive possession. The first is at a standstill, resting or waiting for the right moment to move. While there is expertise involved in this skill, it is one that is limited in terms of what can be accomplished.
The second mode is active movement or cutting, either downfield or in the backfield. It is the subject of numerous lessons from the moment we start playing.
Finally, there is clearing. Clearing is a mish-mash of all three modes of play: part movement, part set-up, part rest. It is the act of repositioning, either after a pass or dump, or after failing to receive a pass.
Clearing effectively is not only important for personal play in helping you to get the disc again, but also extremely necessary for good team play and ensuring that others can take part in the offensive possession. Both are essential in ensuring your squad makes the most of its chance with the disc in hand.
Here are five tips for clearing effectively.
1. See the Field
Vision is the most important aspect of clearing. That is one of the main reasons why clearing isn't taught (and often not done well). It is often hard to teach a player to see the field, to read the defense, and to understand their place in the offensive system.
Young players, especially, struggle with this concept, and it is one of the many reasons (besides a lack of confidence or disc skills) that working a new player into an offense can be tough.
Many people have experienced a point where another player — rookie or veteran — has disrupted the flow simply by being in the wrong place at the wrong time.
Seeing the field breaks down to the following: knowing where you are on the field, knowing where your teammates are on the field, and knowing where the offensive target (and conversely defensive dangers) are on the field.
Primarily, a player needs to know where he or she is in relation to the disc. You need to be able to understand at what point you are likely not the next target. Then, it is your job to get out of a possible throwing lane and to move as quickly as possible to accomplish this. Most often, this means moving laterally away from the disc — towards the sideline — before crossing back into a ready stack position.
Be alert and focused: think about the game situation, be mindful of the stall count and where the disc has gone since your cut, always know the procedure for your cutting system (where you need to go next to be ready to cut again), and know where this applies on the field.
However, the next part of seeing the field is immediately paramount. Not only must you be focused on getting out of the way of the thrower's sightline and path, you must also ensure that as you are moving you are not in the way of your teammates.
Nothing is worse than cutting right into the path of a wide open teammate, bringing your defender in line for a possible poach block.
Keeping your head and eyes up and on a swivel is key. Know where your teammates are and change your route or speed to best serve them. As mentioned, most likely it is someone else who will be getting the disc next and you will need to set up your cut for later.
Finally, know where your team is trying to attack and avoid that space. Likewise, see where the defense is and try to avoid giving them opportunities to make entry into that attacking area.
2. Use the Space
The key to clearing is the use of space.
There are always attacking areas, targeted spaces where offenses are designed to go or most optimally suited to utilize.
This will vary by your team, your strategy, and your strengths (for example, some squads have powerful handlers, so they need a very open backfield). In general, vertical stacks aim to attack the sides of the field, while horizontal stacks target the underneath and deeper areas.
See the space where your team is attacking and get away from it during your clearing movement. This may mean moving around players or heading into an unusual area for a moment. Again, know your team's strategy and where you're expected to go to set up your next attack.
Always use the full space that you possibly can, using the width of the field to get out of the way of play and give yourself more room to set up your next cut or get back into your stack positioning.
By narrowing your approach, or not using the full width of the field, you'll likely limit your own options for the next offensive move.
3. Be Dangerous
Even when clearing, be a dangerous threat.
Just because you are exiting the main flow of the attack doesn't mean you can't get the disc. Give-and-go passes can be extremely useful in keeping the disc moving and the defense off-guard. Similarly, in the middle of a clear, a thrower will often have a break opportunity or see you suddenly open, as defenders tend to relax in those scenarios.
Always be dangerous and be ready for the disc to come to you. If you aren't paying attention or aren't ready, you either won't get the disc or won't be ready to catch it.
Be dangerous by communicating with your throwers and seeing if you are the best option available. Recognize when you will have a chance to get the disc in your second or third cut; if you are firmly looked off, get ready to set up your next one.
4. Engage Your Defender
Engage your defender so that you deny him or her the opportunity to rest or poach.
If you aren't going to receive the next pass or two, you need to set up your next cut and you need to do so in a way that forces your defender to pay attention to you. This means not only moving quickly, but also in a smart and threatening fashion.
A smart defense instructs their players to sag off into the lane as a player passes by it, or to keep their head up to jump a coming under cut. Naturally, at the same time, most defenders also slow down slightly to save their legs (if not stand outright), as they see their player won't be getting the disc. The space between you and the defender will almost certainly increase as they separate.
To stop the defense from doing any of these things, you need to stay active. Keep cutting hard through the clear and set up your next angle, whether it is to head back into a stack or to attack the open space again.
Using the width of the field or going backwards around others is important, but still use the same sharp angles you normally would when trying to get open. Keep your speed high.
A defender who is slowing down or turning to see the field is much more likely to turn his or her hips at such a quick movement, allowing you the 2-3 further steps of separation you need to get the disc again. Likewise, the defender won't be able to sit in a lane or give you a big cushion, allowing themselves to rest.
By engaging your defender, you are helping your team avoid turnovers and you are setting up your own cut in a way that makes it most likely to get the disc yourself. If you're ignored by the defense, or if they aren't paying attention, you'll find yourself wide open in a few seconds.
5. Work Hard
The most often ignored aspect of clearing is the effort it takes.
You can't rest during the clear because, if you do, all of the previous steps break down.
Work hard for the entire point, trusting your teammates and your own endurance to help you through. While keeping the same level of speed throughout the entire point is impossible, it is very easy to avoid jogging during this phase of the game (which many do).
Push hard, take those extra steps to get to the sideline or backfield, away from the attacking space, use your muscles to continue to make sharp cuts, even if you're headed back into the stack, and head right into another cut if you've got the legs (and the offensive space without limiting your team) to do so.
After a series of hard cuts and clears on repeat, your defender will lose all sense of positioning and be chasing you, tired and demoralized.
Not only will that help ensure you get the disc more often, but you'll be helping your teammates too.