The club season is here!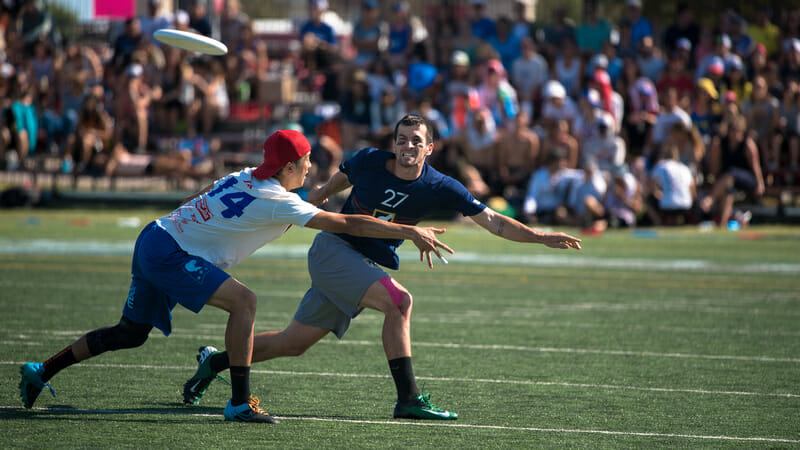 This post is presented by Disc Store. All opinions are those of the author; please support the brands that make Ultiworld possible and shop at Disc Store!
An electric college season is behind us. The World Championships medal ceremonies have been held. All eyes now turn to the 2016 club season as the US Open gets set to kick off in Kinsgton, Rhode Island, this holiday weekend.
The US Open, now in its fourth year, sets the tone for the competitive club season. The semifinalists from last season's National Championships meet again and look to establish a case for why they could be the 2016 champion. They will face challenges from international teams and hungry upstarts looking to prove themselves against elite competition.
Here are the stories we are watching to begin the season.
Men's Division
The Return of George Stubbs
When rumors started to crop up that George Stubbs could be playing with Revolver in 2016, it sent ripples through the ultimate world that turned into waves of excitement around after Nationals when it was confirmed that the Callahan winner was taking his talents to San Francisco.
Unable to play at Worlds in London due to of his absence from the club circuit last year, Stubbs should be fresh for this weekend and looking to lead the line for Revolver to compensate for any fatigue or absence from Beau, Cassidy, and the rest of Revolver's Worlds crew.
It's anyone's guess exactly how the defending champs will deploy their new star, as Stubbs played both offense and defense for Ironside, and has the speed and athleticism to make for a great initiating cutter, while also possessing exceptional quickness and throwing range from the handler position.
In addition to Stubbs, Revolver is also adding Grant Lindsley and Byron Liu, who are big pickups in their own right. Make sure to tune into our coverage on Friday morning when Revolver and their shiny new pieces takes on Ironside at 2:00 PM Eastern.
Mad Club On The Rise
After Madison missed Nationals in 2013 and 2014, few were expecting big things from the North Central stalwarts last fall in Frisco. It was a pleasant surprise for their fans when they turned in one of the tournament's most exciting performances, taking down Machine on double game point in the first round of pool play, beating upstarts High Five in pre-quarters, and heroically pushing Sockeye to the brink in one of the best games of the year in their quarterfinal matchup.
Madison won't have to wait long for a shot at getting revenge, as they will take on Sockeye right off the bat on Friday morning. A statement win over Seattle to start off the tournament would be a good way for Madison to stake their claim to the 2016 season and show that last year's performance was no fluke.
Part of what makes Madison such an interesting story is that they are one of the first examples of a vibrant pro team reaping clear dividends for a club team. Guys like Pat Shriwise and Andrew Meshnick weren't huge names on the club scene before they started making their bones for the Madison Radicals and lighting up the AUDL.
Perhaps after Madison's sterling record in the AUDL the past few seasons, we should have been less surprised by Mad Club's breakout at Nationals last year, but with the Radicals flying high atop the Midwest division and with Mad Club looking to replicate that form on the club circuit, they wont be sneaking up on anyone this time around.
Is Guerrilla The Real Deal?
By almost any measure, the Bay Area has been the most successful ultimate community in recent memory. JAM, Fury, Revolver, Polar Bears, Blackbird, Nightlock… the region produces dominant teams year after year from a talent pool that never seems to run dry. That notion will be put to the test in the Men's Division this year, as a new team – Guerrilla – rises out of the bay looking to be add their name to the Bay Area's Nationals delegation.
While San Francisco has sent multiple teams to Nationals in the Women's and Mixed divisions many times in the past few years, there have not been multiple delegates on the men's side since 2012. Comprised of several ex-PBR players and some young talent from the area, Guerrilla is posed to potentially shake up the club scene on the west coast.
They'll likely need to steer a second bid towards the Southwest if they hope of making an appearance in Rockford, and getting a big win over one of the teams at the top of the division will go a long way towards making that hope a reality.
New Pieces On Sockeye
Revolver and Ironside made the two biggest moves of the offseason, bringing in George Stubbs and Kurt Gibson, respectively, but Sockeye was active over the winter as well, injecting some new elements into a roster that has been relatively consistent over the past few years. Trent Dillon, Nick Stuart, and Husayn Carnegie will all debut for the fish this season, and Simon Montague, coming off of a 20 assist performance at Nationals last year with Sub Zero, returns to Seattle after leaving them for Minnesota following the 2012 season.
With Stuart and Dillon returning from Worlds, it's unclear what their impact will be this weekend, but both add athleticism to a team that hasn't always been able to go blow for blow with other teams in the air. Carnegie will also be a big addition in that department, as his explosive play in the AUDL no doubt turned the heads of Sockeye's management. The former LA Aviator has already become a favorite target of some of his new teammates in his time on the Cascades in the AUDL.
While several of Sockeye's big pickups will operate downfield, Montague gives them a new look out of the handler set. His big frame and long arms allow him to launch skyscraping hucks as well as squeeze out the creative break throws that are at the core of Seattle's offense.
While Revolver once again enters the tournament as the favorite to bring home the title, don't sleep on Seattle and their new core of players making a mark right off the bat this season.
Mixed Division
The Power Of The Northeast
There's no question that the Northeast region is one of the deepest and strongest regions in the Mixed division, challenged only by the Southwest. Since 2009, the region landed a team in 3rd place or better at Nationals every season except one1. It helps to typically send three or four representatives, as they have in every year save 2013, including five in 2012.
With four teams that look like quarterfinals-quality outfits2 in attendance at the US Open, we should get an early preview of the layout of the powerhouse Northeast. Boston Slow White, New York Metro North, and Boston Wild Card are all aiming to continue success on the National stage and have the firepower to do so. In a volatile region with serious depth, you can expect teams not playing the US Open to pay keen attention to how their fellow Northeasterners are faring to get a sense of their relative strength.
If history is accurate, chances are that there is a semifinalist within the Northeast pack.
Drag'N Thrust Full From Title Binge
At this point, Minneapolis Drag'N Thrust has built one of ultimate's historic dynasties. After three straight National Championships, plus a World Club Championship for good measure, it is reasonable to expect the dreaded hangover from the Minneapolis crew. While their city is famous for their brews, there's only so much room in both stomachs and trophy cases. Is this the year that malaise sets in?
The short answer is no. Hard work, dedication, and commitment are hallmarks of the Drag'N Thrust culture and they certainly showed up last season. This is still a very talented and experienced team. They add new members like Greg Arenson and Michelle "Chip" Chang that have yet to earn a gold medal and will do well to stoke the flames. The intensity with which stars like Austin Lien, Jay Drescher, Sarah Meckstroth, and Sarah Anciaux play is infectious.
On top of that, everyone is gunning to take down the champs. They'll match up with San Francisco Polar Bears, who may have a lot of new faces, but still have some vets that remember losing to Minneapolis when they claimed their first title. Behind them in pool play are a slew of teams tired of the Drag'N Thrust vs. Seattle Mixtape that has played out in the past two National Championship games and at the 2015 US Open. Everyone in the division would prefer to get their shot rather than give the stage back to that duo.
Cross Country Trek
In the mixed division West Coast teams rarely come east at all over the course of the season, let alone on their first weekend of sanctioned play. Two of the tournament's top teams, Seattle Mixtape and San Francisco Polar Bears are both making the trek, which would be arduous enough before you consider that many of these players just got back from England after winning gold with their teams at Worlds.
If these two, who met last year in the semifinals at Nationals in one of the season's best games, seem a little flat this weekend, it shouldn't be a cause for panic; both teams are expected to be missing some key players this weekend due to the travel. The performance of these West Coast teams could be an indication of how the Triple Crown Tour incentive structures are being received; if Mixtape and PBR show up to play in a big way, it could be an indication that the TCT is in some way working.
Will Any International Teams Take The Spotlight?
One of the best parts of the US Open is getting to see international club teams make a splash on US soil, and this year should be no different.
Columbia's representative Voltaje U.C. is loaded with players with international experience who should not be rattled by playing away from home, while Panama's national team is making their first ever appearance in the US and will look to make a good impression and showcase the rapidly growing talent pool in their country.
Make sure to tune in at 11:45am EST on Friday to see Panama tangle with Metro North on Ultiworld's live stream. While for most of the American teams this weekend will be just the beginning of a long journey, for teams like Panama, this tournament is the highlight of their season and it should be a treat to see them going all out to pull off what would be a memorable upset.
Women's Division
The Elite Pecking Order
This offseason was pretty quiet across the women's division, particularly at the top. With minimal turnover, expectations are for last year's semifinalists to maintain their high ground. Inside of that group, however, there is room for movement.
Boston Brute Squad had one of the only flashy moves of the offseason, bringing in feared handler defender Lauren Sadler from Riot. Sadler's presence should allow Boston to move another thrower to their O-line to fill the role of Paula Seville. Fresh off a college Offensive Player of the Year Award, Angela Zhu could be a perfect fit in their offense's backfield. They'll also need to fill in Courtney Kiesow's downfield slot, and have plenty of worthy candidates.
Seattle Riot wasn't quiet in the offseason either. Former Callahan winner Cassie Swafford joins the Riot roster after leading Nationals in assists last year in a Breakout effort for Raleigh. Alex Ode (Schwa), Callie Mah (returning from injury), and Kirstin Gruver (Scandal, formerly of Riot) round out a very experienced rookie class. While Seattle lost some players who took on a lot of touches, they have a roster filled with players ready to take on more. They're, simply put, still loaded.
Down the coast, San Francisco Fury also added some solid experienced club players without losing any of their brightest stars. For most teams, adding Magon Liu (Brute Squad), Sharon Lin (Mischief), Katie Ryan (Green Means Go), and Marisa Mead (Polar Bears) would be gamechanging, but it is par for the course in the Bay. Everybody contributes on this team, so everybody they lost had some impact, but the swap seems even. No reason to expect a drop off here.
Finally, and keeping in theme, Denver Molly Brown has seen little turnover. Lisa Pitcaithley joins the team after leaving Fury, but the rest of their rookie class is former players and practice players. The integration period should be frighteningly short, potentially offering some edge to Denver at the US Open. Somehow, they kept the timeless Alicia White from retiring, and after decimating all comers at Worlds, "A Plus" will do the same to her younger foes, surrounded by a hyper-talented core that perhaps had more developmental room than the rest of the top tier teams.
More Changes For Scandal
The regular season was a bit bumpy in 2015 for the then two-time reigning champions after undergoing a lot of roster turnover. They could face similar changes after losing former college Player of the Year Alika Johnston and defensive sparkplug Allison Maddux, among others. Good thing they've got practice with that.
It is unclear how Scandal will replace the impact of Johnston and Maddux. They were 3rd and 4th, respectively, for the team in assists at Nationals. They are big time throwers who opened up the field with their quickness and breaks. Kirstin Gruver has gone back to Riot and Kelly Hyland is also departing from both stepped up into sizeable cutting roles for Scandal in their 2015 rookie campaigns.
Fortunately, there are reinforcements on the way. Samantha McClellan, who turned in a fantastic year for Ambiguous Grey in the Mixed division last year, where she earned 2nd Team All-Club honors, is back in the fold. Speedy Laura Pape is also back, while athletic rookies like Keila Strick and Theresa Hackett are exactly the kind of athletes coach Alex Ghesquiere can quickly mold into strong role players. Not to mention, a devastating trio of Jenny Fey, Sandy Jorgensen, and breakout Sarah Itoh are lined up for another dominant season.
With all that in mind, it wouldn't be a surprise to see Scandal stumble out of the gates. Their veteran core is still one of the division's best, but could be a little fatigued in their return from winning at WUGC. Last year's slow start didn't stop them from coming out firing at Nationals, and that could easily portend for this year. But there's no chance Scandal was satisfied missing semifinals last year and they have a long way to go to reclaim that honor.
Showdown Rebound
Like a lot of the upper echelon, Texas Showdown has also experienced minimal turnover. Along with a solid recruiting class, raiding the Texas Melee coffers for the likes of Shiru Liu, Domenica Sutherland, and Julia Schmaltz, stars are aligning for a bounceback season for Showdown. It would be much needed after recording just a single victory at Nationals last year.
Optimism about their future is predicated upon further development of the core. Katey Forth is still dominant in all facets, Bex Forth is back, and Sharon Tsao, Sarah Levinn, Julie Malacek, and Edith Teng offer nice pieces that can do damage. After taking on a lot of new players the past few seasons, Showdown should start to see dividends for those investments, as well as the recent success and talent from their Melee-heavy rookie class. Showdown's returners comprise 75% of their goals, 87% of their blocks, and over 90% of their assists from the 2015 Club Championships.
The dark side is that the team did not add a lot of top level club experience and that core is impact players is only aging. All those returning percentages are great, but the 90% of turnovers they bring back from Nationals has less shine to it. So if you want to to be a pessimist, there's still room for a case to be made.
The US Open will need to be Exhibit A.
Upsets Brewing in the Northeast
After sending four teams to Nationals last season, change is afoot in the Northeast region. Firstly, Toronto Capitals has disbanded, leaving in their wake Toronto 6ixers and Ottawa Stella as teams to compete in the USAU series. Secondly, teams like Boston Siege, the last seed at the US Open, look like they are stronger, but the region may not accrue four bids again.
While the top slot in the region looks liked for #1 ranked Boston Brute Squad, after that, handicapping the results quickly gets messy. NY Bent and Quebec Iris are the remaining two teams that qualified for the Club Championships last year, and coincidentally, will both be taking the field in Rhode Island. Most of the core of Iris is back, led by the handler-cutter duo of Marie Genest and Sophie Dagenais. Bent experienced some key turnover and will have to cope with the likes of losing Alexi Zalk and Rebekah Souder-Rousso. Siege's youth is developing in the team's second season and the 6ixers have a wealth of formers Caps vets to learn on.
The US Open will offer us some hint of how this key region will play out. After Brute Squad, the shake-up could be on display this weekend.
Tune in to Ultiworld's live coverage from the 2016 US Open starting Friday morning at 9:30 AM Eastern!
---
In 2012, Odysee topped out at 6th ↩

assuming Toronto Union plays the USAU series ↩