Catch up on all of our College Championships coverage!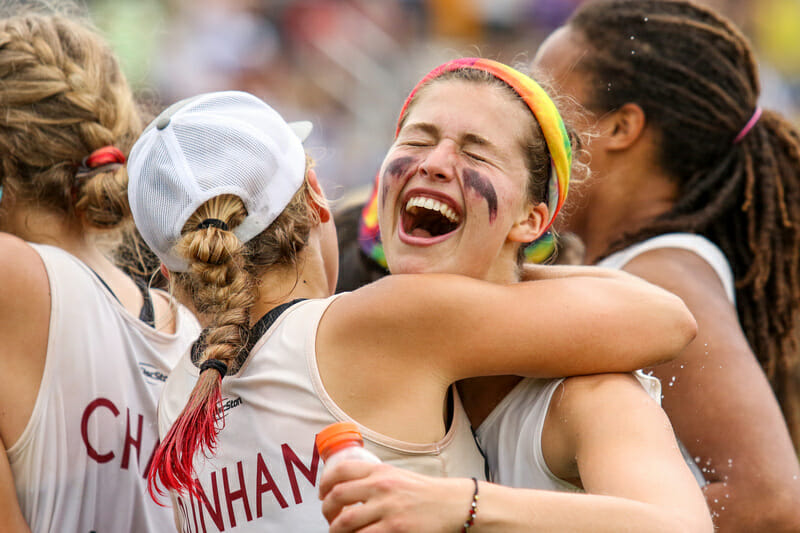 If you enjoyed our coverage, please consider purchasing an Ultiworld video subscription or putting a tip in our tip jar! Your support helps us continue to improve our reporting and video from the biggest tournaments of the season.
After an incredible college season, we were treated to a, somehow, even better College Championships. With our 13 person staff, we did our best to bring as much of the tournament to you as possible. Here is a roundup of all of our tournament coverage, from features to reporting to opinion.
Editor's Note: I particularly recommend reading the profiles and features if you missed them in the run-up to Nationals. 
Profiles
A Team Of Their Own
In Their Own Words: Pittsburgh's Trent Dillon
Heist & Vendetta: UCLA's Pair Of Aces Aren't Bluffing
Features
College Championships Team-By-Team Guide
College Nationals Bracketology By The Numbers
Ranking Ultimate Teams With The Elo Rating Algorithm
The Championship Window: Which Men's Teams Are Built For Now?
The Only Team Worth Watching At Nationals Is Texas A&M (Or: An Ode To Dalton Smith)
Finishing What We Started: How Central Florida Built One Of The Country's Top Teams
Reporting
Finals Recaps: Minnesota/Harvard, Stanford/Whitman
Semifinals Recaps: Minnesota/Pittsburgh, Harvard/UNC, Stanford/Oregon, Whitman/Virginia
Men's Quarterfinals Recaps: UNC/Auburn, Minnesota/Colorado, Wisconsin/Pitt, Harvard/Georgia
Women's Quarterfinals Recaps: Virginia/Dartmouth, Whitman/UBC, Oregon/UCLA, Stanford/Colorado
Men's Prequarters Recaps: Minnesota/Massachusetts, Pittsburgh/Texas A&M, Harvard/Oregon, UNC/Michigan
Women's Prequarters Recaps: Dartmouth/Washington, UBC/Michigan, Colorado/Texas, Oregon/Wisconsin
Day One Storylines: Men's, Women's
Round-by-round pool play recaps can be found by going through the Men's and Women's archives from Nationals.
Analysis
Harvard More Than Just Their Dynamic Duo
Zone Defense The Key To Stanford's Victory
Stanford's Second Years Take Them To Second Straight Final
Program Proven: Whitman Advances To First Final
'Sweet' Success: Looking Deeper At The Roles Of Whitman's Stars
Video/Photo
Friday Highlights
Saturday Highlights
Finals Recap
Photo Coverage From Our Partners At UltiPhotos
Full Game Footage Available For Subscribers
Opinion/Miscellaneous
Sin The Fields: Live From College Nationals
Deep Look: College Nationals Live Wrap Show
[AUDIO] Nationals Day One Storylines
A Very Serious Evaluation Of The Best 2016 Callahan Videos
Pittsburgh Graduating Class Leaves Behind Mixed Legacy
Awards
Men's Player Of The Year: John Stubbs (Harvard)
Women's Player Of The Year: Jesse Shofner (Oregon)
Men's College Individual Awards
Women's College Individual Awards
Men's Coach Of The Year: Tallis Boyd (Minnesota)
Women's Coach Of The Year: David Allison (Virginia)
All-America (Men's)
All-America (Women's)
Men's Callahan Winner: Trent Dillon (Pittsburgh)
Women's Callahan Winner: Marisa Rafter (California)