Catch up on all of our coverage from London!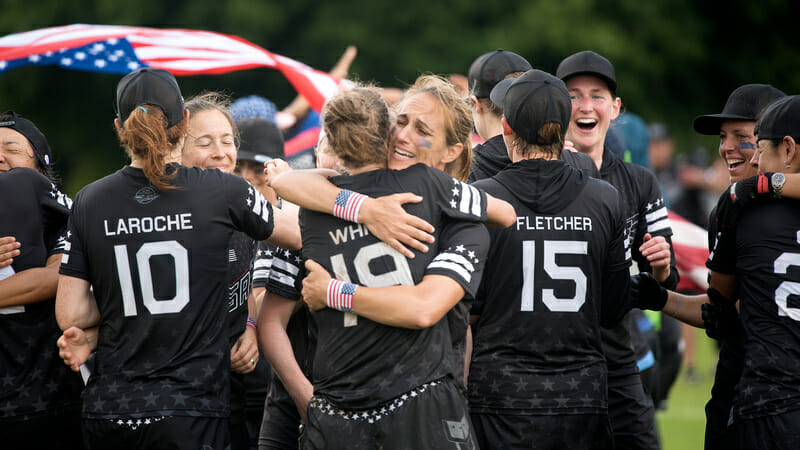 The United States put on a truly dominant performance at last week's World Ultimate & Guts Championships, taking home five gold medals1 after an undefeated showing across all divisions of the national delegation. Here is a roundup of all of our tournament coverage, from features to reporting to opinion.
Profiles/Features

We Are Not Twins
NASA Scientist, CEO, Mother of Two, and Ultimate Captain: A Q&A with Katey Forth
Who The Heck Is This Girl? An Interview With Sarah Anciaux
Reporting, Presented By VC Ultimate
Men's Final Recap – USA vs. Japan
Women's Final Recap – USA vs. Colombia
Mixed Final Recap – USA vs. Australia
International Semifinals Recaps
Masters Finals and USA Semifinals Recaps
International Quarterfinals Recaps
USA Quarterfinals Recaps
International Wednesday Recap
USA Wednesday Recap
International Tuesday Recap
USA Tuesday Recap
International Monday Recap
USA Monday Recap
International Sunday Recap
USA Sunday Recap
Video
Canada's Danielle Fortin Completes Greatest vs Japan
John Stubbs Callahan vs Canada
Opinion/Miscellaneous
USA Women's Captain Alex Snyder On Their Semis Win
Wondering What Guts Is All About?
If I Were The Coach…
Putting In The Work To Build The Best Team
Preparation, Tryouts, And The Genesis Of The US National Team
If you enjoyed our coverage, please consider contributing to our tip jar! Your support helps us continue to improve our reporting and video from the biggest tournaments of the season.
---
Six if you count Guts! ↩