Brute Squad put on an exceptional performance in the semifinals.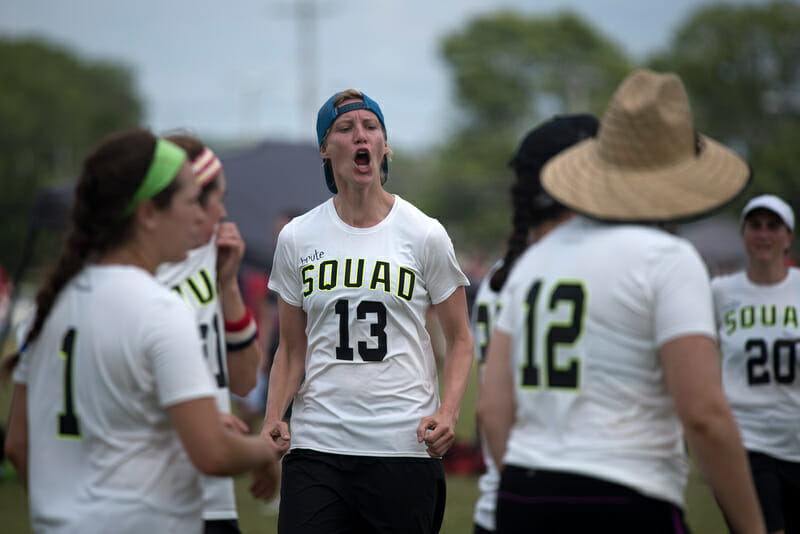 This post is presented by Disc Store. All opinions are those of the author; please support the brands that make Ultiworld possible and shop at Disc Store!
PROVIDENCE – Boston Brute Squad entered Sunday having played the best ultimate in the women's division at the US Open. Nothing has changed.
If anything, Boston looked even better after a blowout performance in the semifinals against DC Scandal. Intense defense, supported by methodical offense, led to large runs for Brute Squad, who went on to win easily, 15-7.
Boston came into the tournament as its top ranked team. They have shown that they number may be more predictive than reflective on last year's title run. They won a bit of a squeaker against #3 San Francisco Fury in pool play and have otherwsie throttled any other opponent they've faced off with. The trends continued in bracket play, with a 15-2 victory over Bent and then today's strong showing versus Scandal. Brute Squad coach Ariel Jackson agreed the semifinal was their best performance thus far.
"We've been playing really well, and against Fury, we came out really well but then we had a bit of a lull," he said. "We were up 8-5 and it's hard to keep going at 100%, so that was a good reminder that we have to do that. We were very cognizant of that coming out of half here and I thought that the difference between the game against Fury and this game was that we executed on the first point out of half. Everybody was at 100%, bodying up, pressure on the marks."
Even through the first half, the Boston defense was the game's defining entity. After a smooth hold to start, they notched two breaks created by gripping person matchups, drawing a pair of turnovers from Scandal centerpiece Jenny Fey and a third on blading throw to her. They added a third on a Cassie Wong backhand to a diving Caitlin O'Connell to give them a 5-1 lead that carried them into an 8-4 half.
"Their defense is really good. Any offensive system is going to struggle and, right now, we're at level one of our offense and we need to be able to develop to levels two and three to react to our main objective being taken away and working around that," explained Scandal coach Alex "Dutchy" Ghesquiere. "It's early in the season, we have a lot of new players and we just couldn't go to option two and option three very well."
The remarkable thing was how few blocks and turnovers there were for what felt like a dominant defensive performance. Scandal only finished with eight turnovers – four of those were from Fey – and only three of those were Brute Squad blocks. But initiating cuts were taken away, Scandal cutters were hounded into short yardage gains or positional losses and difficult grabs.
After the turnover, Boston was relentless, and their O-line was even stingier: three total turnovers, only one of which was by the offensive unit, and no breaks surrendered. Lien Hoffmann tallied four goals and an assist while Leila Tunnell dished four goals, often inside forehand breaks. Brute Squad conquered open side yardage voraciously.
"With Brute Squad right now, the margin of error is really small. It's really hard to take the disc from them," said Ghesquiere. "It's a credit to their players that they can work against our defense and take the thing that they wanted as their first choice."
In the losing effort, Fey and fellow handler Kath Ratcliff led the way for Scandal. Fey put up three goals and two assists while Ratcliff added three assists of her own.
Boston moves on to the US Open final to face off with Seattle Riot. The last time the two met was in the final of the Club Championships, which Brute Squad won 15-12 behind good defense and a high level of execution. If the past is any indicator, the future in Boston is bright.