Inconsistency was the rule at the Elite-Select Challenge.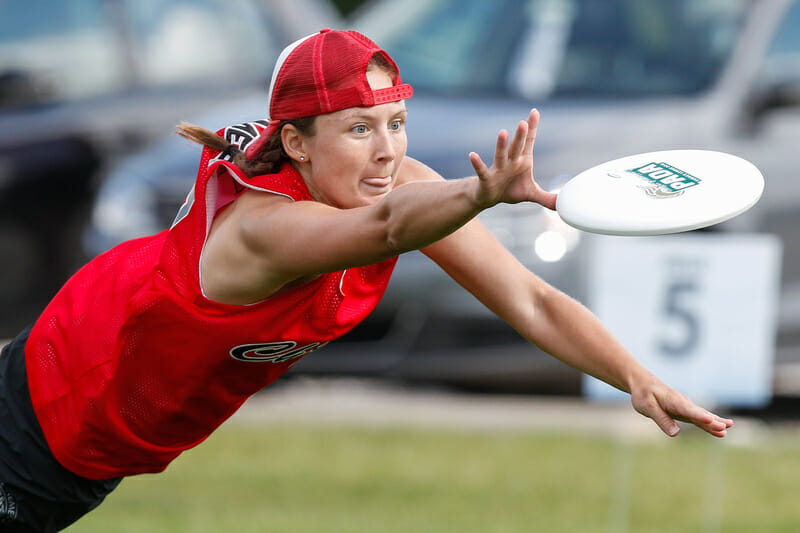 Disclosure: The author is the father of Underground player Hallie Dunham.
COLUMBUS — The Elite-Select Challenge is arguably the most consequential tournament of the regular season. While the US Open, Pro-Elite Challenge, and Pro Flight Finale focus primarily on the top teams who are confident of making Nationals, Elite-Select is loaded with the teams that are battling for bids for their regions. With the exception of Showdown, Iris, and Siege, all of whom attended the US Open the previous weekend, virtually all the teams expected to be battling in the bid hunt were in Ohio this past weekend.
As might be expected for an early season tournament, erratic results were the norm in Columbus, with teams looking great one game (or half or point) and totally out-of-sync the next. Thus, the changes to the TCT schedule announced this week (in which ESC is pushed back to mid-August) should be welcomed, as the battles next year will be waged among teams that have had more of a chance to develop schemes and team cohesion.
Here's a rundown on the teams in order of finish.
6ixers Cruise To Tournament Win
The one exception to the up-and-down performances among the women's teams this weekend may be the Toronto 6ixers.
The 6ixers rode that consistency to a tournament victory from the 5th seed. Their closest game was an 11-9 win over Heist in semis in which they were never worse than on-serve. The 6ixers take the place of the Capitals in the TCT Elite Division for 2016, but return just nine of the 2015 Capitals (plus several returners from previous years). However, based on their performance this weekend, the 6ixers look as strong as or even stronger than the 2015 Capitals.
Of particular note is the addition of Lauren Kimura, formerly of Traffic, who led all players at the tournament in recorded assists this weekend. They benefited from strong performances from their Team Canada players returning from London, Sarah Bobak and Jordan Meron, who co-led the tournament in G+A+D.
Also of note, while Laura Kinoshita was on the Caps roster last year, she didn't play at Nationals, but was a big contributor this weekend. The buzz I heard along the sidelines were that 6ixers had great team speed, likely due to the many young players they brought aboard.
Schwa Returns To Form
Schwa has a new look this year, not only in personnel thanks to massive turnover, but also in style. For the first time in a few years, they have a dedicated coach in the form of Derek Gottlieb. He has installed a new motion offense that someone described to me as "a thing of beauty when it was clicking." They clearly struggled with it back at Eugene's Solstice, but it was starting to click for them in Columbus, as they blasted Pop, were able to overcome a hot Wildfire team, and got revenge on Underground for knocking them out of the bracket at Solstice. They continued their strong play through the first half of the final, but lapses in execution started to emerge after the half, perhaps due to fatigue from multiple intense games on Sunday. With their only losses to the tournament victor, the rest of the season is looking bright for Schwa.
Youth Movement Continues For Underground
Underground has continued to add youth and depth this year, with 8 current or recent college players added to the roster plus some strong veterans. Rookie Abbie Abramovich was critical to the team's D-line conversion, while 2nd year player (and Ultiworld 2016 college freshman of the year) Hallie Dunham centered the O-line and led the team in assists. 
Like many teams this weekend, Underground showed flashes of both brilliance and ineptitude. Their best wins were driven by their depth as they were able to put together runs of 7-0 vs Ozone and 5-0 vs Heist by sending out multiple fresh D-lines with an energy that the higher seeds were not able to match. As at Solstice, rookies Tess Young and Maddie Gilbert vied to top the team in blocks, with captain Noel Hanzel also throwing her body around to great effect.
The flip side is that in almost every game they struggled and fell behind in the first half. The epitome of this was the start of their game vs Phoenix on the showcase field in which they dug a hole (0-5, then 1-7) too deep to escape. They had a similar pattern of falling behind and then making a run in semis vs Schwa, but Schwa upped their energy as well and fought back to blunt the Underground run at three to take half. Underground broke twice more in the second half, but Schwa broke back to win on double game point.
Heist A Work In Progress
Tournament three-seed Madison Heist struggled mightily in pool play, falling first to Wildfire who broke early and stayed in control throughout, then getting trounced 5-13 by Nemesis to end up last in their three-team pool.
Perhaps they were missing Robyn Wiseman's impact on the field, as last year she did everything for the team with great hucks, momentum-changing Ds, and consistent resets.
Especially on Saturday, Georgia Bosscher did not seem well integrated back into the team after taking time off from club play (including a stint on the USA National Team). She had fewer than expected touches, and there appeared to be some chemistry issues when she was involved. Things started to come together in their prequarter game versus Rival and peaked with a great overtime victory in quarterfinals versus a top-seeded Phoenix that had been nothing but dominant to that point (39-13 in pool play).
Notably, Bosscher came alive with five assists and a goal in the win. In semis, Heist gave the 6ixers their toughest test, but after tight games with arguably the two strongest teams at the tournament, Heist couldn't match Underground's intensity in the middle stages of the third place game. Liza Minor was a major contributor all weekend and Amelia Cuarenta was very effective, but Heist seemed at times to lack the depth of athleticism that some of the other teams brought.
Wildfire Is For Real
After strong play, including wins over Nightlock and Underground, took them to the final at Solstice, Wildfire seemed significantly underseeded going into ESC at #9. They showed that their Solstice results were no fluke by jumping out ahead of Heist 5-1 in their opener and never letting the game get close with fiery defense and patient offense (giving up only a single break). They were less clean in their next game and their miscues let Nemesis jump ahead 5-2, but Wildfire ground out a 12-11 DGP win to clinch their pool and a bye into quarters.
There they met a fired up Schwa that had put on a 13-1 clinic in prequarters versus Pop. Schwa jumped ahead from the start and never let Wildfire get back in the game. However, Wildfire won out over the top two seeds to take fifth, with a convincing 13-8 victory over Ozone and a hard-capped 12-11 win over Phoenix.
Standouts on the weekend were Wildfire rookie Kristen Pojunis, who had 10 assists, four goals, and three blocks in just five games, and veteran Vivi Mai anchoring the solid handling core. With wins already this year over Ultiworld's pre-tournament 7th, 8th, 9th, 10th, and 13th ranked teams, I expect to see Wildfire competing in the bracket at Nationals.
Phoenix Looks Ready To Build On Last Year
Teams that are confident of earning a bid to Nationals have the luxury of focusing on development at a tournament like the Elite-Select Challenge. That may have been to case for Phoenix, as they often looked dominant, but still dropped a couple of games to lower seeded teams.
Phoenix efficiently jumped on every Underground mistake in rolling to a 13-6 pool play win. Of note was a strong deep game with a fleet of athletic receivers ready to win even tightly defended shots (e.g., Mariel Hammond, Katelyn Cobelens, Ann Araps, Erynn Schroeder, and Jenny Wei).
Despite losing Cassie Swafford to Riot, with so many strong additions to their roster, Phoenix looks capable of matching or improving on last season's breakthrough results.
Green Means Go Coming Together
Green Means Go lost several key contributors to last year's team that finished just short of the bid threshold, including Katie Ryan (Fury), Lyra Olson (Phoenix), Linda Morse (AMP), and Jane Urheim, so expectations were a bit lowered coming into this weekend.
They had a rough start, losing badly to Rival in a turnover-filled pool-play game, as Rival's athleticism and energy ruled the day. However, they stayed close with Ozone and took care of business vs Small Batch to make the bracket.
GMG seemed the underdog going into prequarter match-up with Nemesis, which was coming off a trouncing of Heist and DGP loss to Wildfire, but they were able to take advantage of innumerable execution failures by Nemesis to move into quarters, where they lost to 6ixers.
After dropping the next game to Phoenix, they ground out a DGP win over Ozone to hold seed at 7th. Stepping up this weekend for GMG were Danielle Walsh with five goals, 10 assists, and 10 blocks, along with fellow handler Amel Awadelkarim and cutter Malti McKinnon.
Disappointing Sunday For Ozone
2nd seed Ozone won out on Saturday, but went 0-fer on Sunday to finish 8th. In their quarterfinal game versus Underground, they took advantage of some 1st half miscues to go up 6-4, but couldn't match their opponent's energy as Underground ran off seven straight to take a dominant 11-6 lead.
The next game was more of the same, as Wildfire jumped out to a 5-1 lead and never looked back. Ozone generated some strong defensive pressure, but notably missing on the field for Ozone was Katherine Wooten. With Angela Lin and Kate Wilson now retired, Ozone was without players accounting for more than half of their recorded assists in 2015. Thus, it may be no surprise that Ozone seemed to struggle when faced with strong defense themselves. Having Wooten on the field may return Ozone to form, but I suspect there will be some concern about their results in Columbus.
Quick Hits
Hot Metal was missing several of their veterans on Saturday due to an alumna's wedding. Their only pool play win was over bottom seed Maeve, and they were unable to sustain much offense versus Underground's defensive pressure in prequarters. However, with the help of some Sunday reinforcements, Hot Metal won out in the Ninals bracket over Pop and Rival.
Rival jumped into the fray last year, merging women from Ohio and Michigan. They continued to build this weekend with some promising results, including convincing wins over Green Means Go in pool play and Nemesis in the 9th 

place bracket. Rival is a young team with speed and athleticism, and I expect them to continue to improve as the season progresses. Notable contributors were veteran Sara Scott and rookies Sophia Knowles and Sadie Jezierski.

Nemesis epitomized the weekend with erratic results, including a runaway win over Heist and then jumping ahead of Wildfire before losing on DGP in pool play. They followed that up with an error-filled loss to Green Means Go in prequarters and a never-close loss to Rival before beating Pop to take 11th.
Pop was an exception to unpredictable results at Elite Select, with every one of their games going to seed. Their play was similarly steady for the most part, but without the depth of athleticism of the top teams.
The bottom three seeds finished where they began, each with one win over the others in the Sunday consolation round robin.
Early Season Nationals Speculation
The Elite-Select Challenge definitely hit its target, with tremendous parity across the field and tons of upsets throughout the weekend. Notably, Pool B finished upside-down, and only one of four pool winners won their quarterfinals.
There seems to be a clear division this year between the top six teams in the Women's Division (Brute Squad, Riot, Molly Brown, Scandal, Fury, and Traffic) and the rest of the pack. Of the teams at ESC, 6ixers and Phoenix appear to have the most potential to break into that top group (along with Nightlock, who we will see more of in Denver).
If Schwa, Underground, and Wildfire continue to develop the cohesion of their young rosters, they look to be in a strong position to make the Northwest a four bid region and gain a 3rd bid for the Southwest.
Heist seems unchallenged in the North Central, and with linchpin handler Wooten playing, Ozone should be favored to earn a second bid for the Southeast. Certainly either Nemesis or Rival could gain a bid for their region, but I'll wager that both won't, so there could be a great battle at the Great Lakes regional for the bid to Nationals. Nemesis won all three match-ups last year, but Rival struck the first blow of 2016 this past weekend, and as a young team may have a higher upside.
That leaves five bids for the Northeast, Atlantic Coast, and South Central with four looking pretty clear. Thus, the big question in my mind is which of BENT, Siege, Iris, Green Means Go, Hot Metal, or Showdown will grab that last bid for their region. With early season wins over all of this group but Showdown, BENT seems in position to grab the last slot at Nationals, but Siege has much stronger results against top teams. If the bid goes to either the NE or AC, there should be great high-stakes regional battles. I, for one, am looking forward to the rest of the season.