The All-Star Tour battled with a short roster, but Atlanta was able to avenge last year's blowout loss.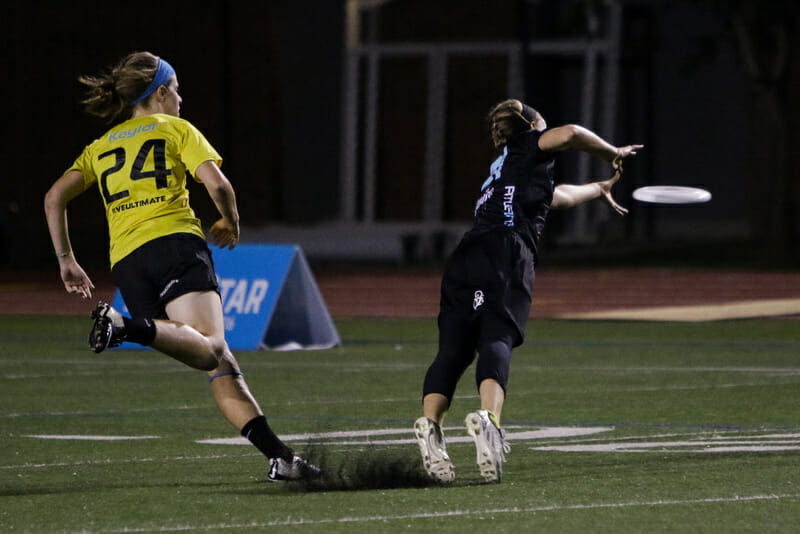 ATLANTA – The All-Star Ultimate Tour played a fifth straight exciting and incredibly close game last night in Atlanta, but came up short this time, losing 16-14 against Ozone. The loss sends the All-Stars to 2-5, meaning they'll need to close with three straight wins in order to finish at .500. This affair was hotly contested throughout, with many points featuring chances for both teams to score, but Ozone showed just a little more poise and was able to close it out.
The All-Stars were in a tough spot coming into this one, down to a roster of just 13 healthy players. Injuries to Janina Freystaetter, Ellen Au-Yeung, Alex Ode, and Lindsay Soo prevented the Tour from even being able to fully sub a line. Traveling across the middle of the country after playing with their respective club teams at Colorado Cup made for a taxing start to the week, though the Tour was happy to get a stop at Jesse Shofner's family home in Nashville.
The early edge went to the All-Stars. If you blinked, you missed the opening break on the first point, and it was only a few points later before the visitors added another to gain a 4-1 lead. The Atlantans looked nervous, missing on throws and dropping hucks. Two straight multi-possession points had gone to the All-Stars, and there had to be some fear creeping in that last year's 15-6 blowout was getting a sequel. Another huck bounced out of Ozone's waiting hand. The crowd braced itself for another All-Star break.
But Ozone responded and, from that point on, showed impressive resolve. Evelina Pierce intercepted a Shofner huck and some dump-swing offense got Anraya Palmer a break side score that injected energy into the home team and their fans. That boost was magnified on the next point, when Meg Harris launched a backhand for Paige Carver, who threw her body to the ground to make the play and get Ozone their first break of the game. Emily Lloyd got bookends on the following point to give Atlanta their first lead over the All-Stars, 5-4.
The Tour fought back to go up 7-6 in more long, multi-possession points. In the first half, these lengthy battles often went to the All-Stars, who eventually would start generating open side space on their cuts against a tiring defense. Ozone needed an answer.
With the half in the balance, Ozone pulled to their guests, the score tied 7-7. The Atlantans showed their first zone of the night and Mira Donaldson's attempted blade over the top led to a Beth Kaylor turn under pressure. A few throws later, All-Star alum Hannah Leathers put up a forehand huck to Palmer on the back line to take half.
Fatigue started to show for the visitors in the second half. The long points they had been winning started going to the host team. Most of the All-Star's second-half goals were scored in efficient holds where they were able to space the field and attack near the thrower.
But in game where Ozone's lead never extended beyond two goals, both teams were fighting and making plays knowing they could change the game. Caitlin Fitzgerald and Clare Frantz both had great layout blocks and Fitzgerald added a big layout goal on a throw from her college and club teammate. Katherine Wooten had a massive forehand bomb to Mira Walker that stunned the All-Star defense for an Ozone hold. Mira Donaldson had a great sky followed by an assist.
One of the best battles of the night was the second-half matchup between Kim Spragg and Wooten. With Ozone up 13-11, Spragg stifled Wooten's dump cuts to force an Atlanta red zone turnover. Wooten immediately got it back with an emphatic handblock on the goal line on a Spragg huck attempt. A few points later, Spragg matched that raise with a footblock on Wooten. It was a lot of fun to see two long handlers challenging each other.
But the second half belonged to former Georgia teammates, Leathers and Palmer. Palmer, a first year player with Ozone, might have been the MVP of the game. Leathers came up with some big plays, including an ankle-breaking upline cut for a goal and a picturesque layout to save a possession that turned into an Ozone hold. Palmer added an upline cut of her own, capping it off with a backhand huck to a skying Emily Lloyd (another former college teammate) to make it 15-14.
The final point was, unfortunately for the All-Stars, too emblematic of the evening. Claire Revere eyed up an open throw to Clare Frantz on the break side for a hold, but they weren't on the same page and Revere's throw sailed beyond Frantz's cut. Ozone didn't take long to put it away, with Haley Reese delivering the dagger in the form of a smooth backhand huck to Walker for the 16-14 victory.
The game was meaningful — in very different ways — for both teams.
For the All-Stars, it had to hurt, with so many chances to take control of the game having passed them by. Having recently given up late comebacks to both Fury and Molly Brown, the residents of the road have to be frustrated by their late game performance. With Phoenix, Scandal, and Brute Squad on the docket, a 3-0 finish is going to be tough to come by and will require improved play down the stretch. A little bit of luck in the health department would also be much appreciated.
But for Ozone, the night was a hopeful one. Their trip to Colorado went poorly and they struggled to get good wins and avoid tough losses. They face some serious questions going into their next tournament. To have a big positive win like the one they scored against the All Stars should be empowering, as well as really educational about things to work on, like reset cutting and open side downfield D. Especially after last year's debacle, it was truly a W Ozone wanted to have. No team on the tour may get more out of their All-Star game than Ozone will.