Nick Stuart shares reflections on his experience competing in London with the US Men's National Team at WUGC 2016.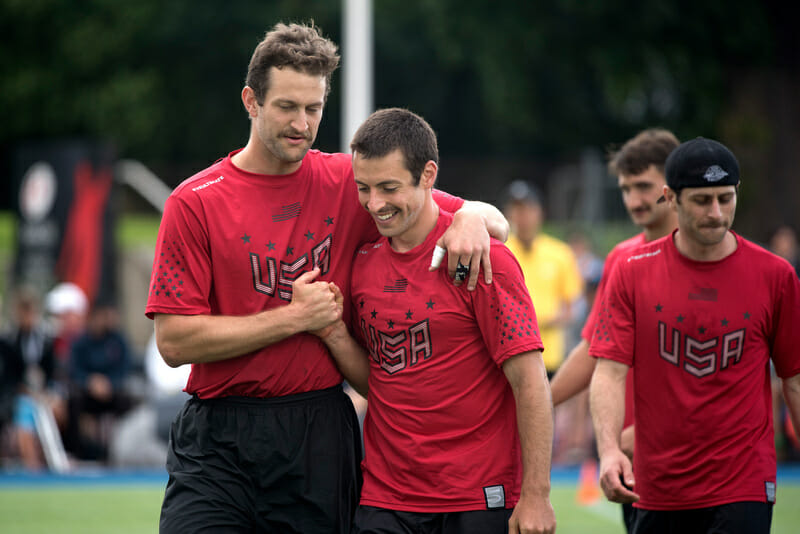 This article, written by guest author Nick Stuart of the US Men's National Team, is the third in a series about his experience leading up to WUGC earlier this summer. Read Nick's first piece about the national team tryout process here and the second piece about the team's preparation and training camp weekends here.
When I travel to a tournament, I always get a little nervous about what to expect. Will the fields be nice? Will there be adequate water and a good crew of volunteers? What will spirit be like? How will my team play and how will I play? Once there, I inevitably end up comparing the tournament to those I've attended in the past on each of these criteria and many more.
By any measure, WUGC ranks among the top tournaments I've ever been to, if not the outright best.
The field site was incredible and the organization was very good. Really top-quality grass, with good seating at the showcase fields. Even with the heavy rain, the fields dried very quickly, and didn't become a bog of heavy mud. It was a bit disappointing that some games got cancelled — and I'm sure even more so for those teams whose tournaments were cut short by an abridged format — but the organizers did a good job finding playable fields given the situation.1 We even played our game against Colombia half on one field, and half on another because that was the space that was ready.
Even with all of the field shuffling, we were well informed about what was going on and where we were supposed to be when. The water at the fields was replenished quickly and I never found an empty cooler, which is really quite impressive. The volunteers were all super friendly and were quick to share a laugh; they were often seen joyfully interacting with players from all over the world, even attempting to trade their volunteer jerseys for some international swag.
Part of the fun of this tournament was finally getting to watch the other Team USAs dominate. It was really the first time we had been able to see them play together and it was awe-inspiring to witness the chemistry that they had created in their short time together. I wasn't the least bit surprised that the other four teams all came away with gold.
After all the work we had put in with Men's team, it was also finally time to see how we stacked up against our competition. While we had some really wonderful games in pool play and power pools, our real tests came against Australia, our first matchup with Japan, the semifinal against Canada, and finals against Japan. In the first three of these, I was never worried about the outcome during the game. I was most nervous leading up to the semifinals against Canada, but once we started, I was immediately confident — we seemed to play our best in the games that mattered most. Any chemistry issues that we may have had all seemed to magically disappear and everything about our strategy fell into place. We played stifling defense against Australia and Canada, and converted breaks quickly and efficiently. Our offense was on fire, and not-counting Japan's four-goal run in the power pools, rarely had a misstep all week.
To say that we as a team peaked at the right time would be an understatement. Finals against Japan was arguably the best ultimate team ever assembled playing at the highest level it ever had. Our offense made a single mistake the whole game — a drop, that we quickly got back and scored. Getting through such a high-pressure game against such a tough opponent with zero breaks is absolutely amazing. Both of the two other lines were able to generate turns and convert them to breaks, slowing down perhaps the fastest offense in the world to almost a standstill.
What I noticed most before the finals was how loose we were as a team. Normally when I begin to warm up, I get very focused and very serious. For this game, though, we could all sense that this incredible experience was coming to an end. Regardless of the result, Team USA 2016 was expiring after our final came to a close. I think because of this, we were laughing together, listening to goofy music, and enjoying every moment together we could. Our team energy never wavered the entire game.
Playing for Team USA at this tournament was a huge honor. While the tournament may not have been a week-long battle of hyper-competitive games, it's always amazing to play teams from other countries. They are often very excited just to play us and love getting the opportunity to share the field with their favorite players. After our game against South Africa, for example, one of their players who is a huge US ultimate fan wanted a picture with the team. We offered to have Jimmy, arguably our biggest star, stand next to him. He declined however, saying that he would much rather be next to John Stubbs. We all couldn't agree more.
Being on this team taught me a lot about ultimate and what kind of player I want to be. Playing with this incredibly talented, competitive, spirited group of guys has made me a more selfless player, more aware of my responsibility as a leader in the sport, and more willing to take a step back and collect my emotion before reacting to on-field situations.
This was truly an experience I won't forget and I can't thank the rest of my teammates and coaches enough for all of their hard work and friendship on our journey. As we move into the heart of the club season, I have a feeling that this will be one of the most competitive Club Series ever — but also one of the most spirited, and that can largely be attributed to the connections made on Team USA.
---
I'm sure it wasn't WFDF's decision to say that certain areas weren't able to have games played on them. ↩