Reflections on what it was like to go through the selection process for the US National Team competing at the 2016 World Ultimate & Guts Championships.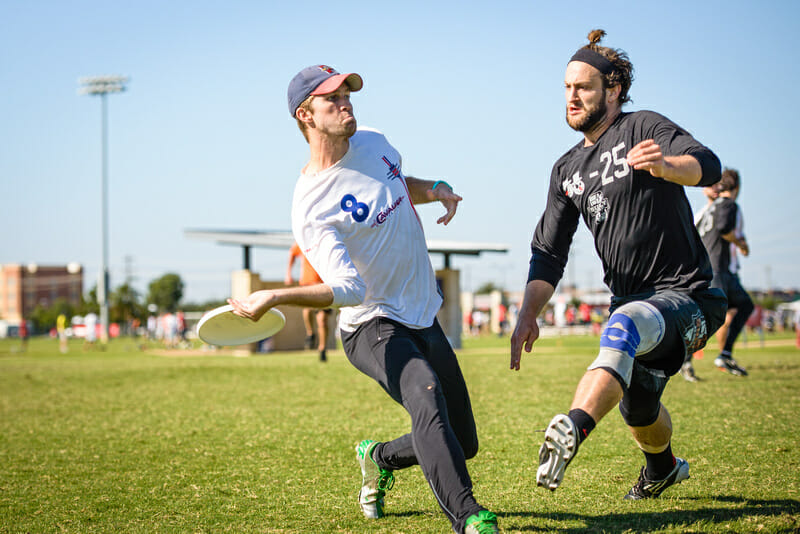 This article, written by guest author Nick Stuart of Sub Zero and the USA Men's National Team, is the first in a series on the road to London.
After Sub Zero's first game against Truck Stop at 2016 Club Nationals, I found myself chatting with Peter Prial. We knew each other from playing against one another, but this was our first time beyond friendly on-field banter. He told me about the new format for the US National teams, how much fun it would be to have a chance to play together in London, and that I should tryout. It was the first I'd heard of the opportunity and I immediately started dreaming about playing for the team.
I grew up around ultimate. My dad played for Princeton from 1983-87 and introduced me to the sport when I was very young. I really started playing in Gainesville, Florida. I played points with my Dad's Masters team in 2002, pick-up at JJ Finley elementary school, numerous tournaments, and leagues. My Dad and I played on the same Mixed team my freshman and sophomore year of high school. My junior year I was playing with Vicious Cycle and playing against the University of Florida guys who were coming off a College Championship title. By the end of high school, I made Ronin (now Florida United).
All this is all to say that I had a long and varied ultimate background before I ever really competed with players primarily my own age. In 2008, I was lucky enough to play in the World Junior Ultimate Championships in Vancouver — my first experience with both youth and international ultimate. During my college years at Carleton, I again got to play for the US Junior National team at 2010 WJUC in Germany. Both were phenomenal experiences that gave me a sense of just how special it is to represent your country in international competition.
So when Peter alerted me to the fact that the team going to the World Ultimate & Guts Championships this summer would now be selected rather than just the top Club team in the country, I knew I wanted to be a part. I hoped that my career through high school, on CUT, with four years of experience on Sub Zero, and multiple WJUC appearances would be enough to prepare me for this process. Regardless, I knew I was going to have to put in a lot of work. Looking at the tryout list was daunting and exciting and I knew I would have my work cut out for me to earn my third chance to represent the US.
Pre-Tryouts  
Offseason time is precious for me. I haven't been really injured since college (where I was always injured) and I largely attribute this to the longer offseason of club. This year, I hit the gym pretty hard. I started working out with fellow Sub Zero teammate Nick Simonelli, a strength and conditioning coach. We talked about a plan and decided my focus should be on mobility, flexibility, and injury prevention.
When the tryout list was announced in late November, I hadn't touched a disc since Club Nationals, and knew that I was going to need to get the touches in. It's really cold in Minnesota throughout most of the offseason, so running outside, throwing outside, even just walking outside can be painful. Sub Zero rented some indoor turf space and every Tuesday we met up with Drag'n Thrust men and some other local guys and played pickup.
I also had a lot of conversations about tryouts with my Sub Zero teammate Simon Montague. We talked and joked about our goals, fears, who else was going, speculations about what we'd do, who we'd play against. I tried to focused in on only a few goals for tryouts that I felt would push me, but also were attainable.
Zero turnovers.

Have clear, constructive sideline talk to an individual. It's easy to have your voice heard by everyone, but harder to actually say something to someone.

Cut hard, clear harder.

Throw as few forehands as possible (and absolutely no forehand hucks). This one I joked about with friends, laughed about with my partner, and secretly worried about to myself. My forehand (especially hucks) is weak, and tryouts weren't a time to work on it.
Being at the second tryout weekend, I had read some about the West Coast tryout and knew what was coming: 3v3 handler weave, 3v3 with a limit on throws, 5v5, full scrimmages, and I knew that we'd rotate from Men's to Mixed. Knowing we were going to have 25-30 minutes of lunch and that I wasn't going to have enough time to eat a full meal and then digest that meal before being asked to play again was a big help. I decided to bring a simple homemade trail mix (cashews, almonds, m&ms), and beef jerky to eat throughout the day and during lunch.
I talked with Sam Kanner some between tryouts (he had attended the West Coast tryout) and asked him for some tips. His exact words: "Be in shape."
With only a week before tryouts, I hoped I had done enough.
Tryouts
Saturday morning was sort of a blur. Lots of familiar faces, taking pictures, tryout pinnies, signing in, throwing, etc. Everyone was abuzz with conversation, jokes, and you could feel the anticipation. Nervous energy was in the air — the good kind of nervous, like you get before that first point of a tournament or like the crowd before semis of Nationals.
Everyone huddled up, the coaches said their piece, and we were quickly broken into gender groups. The men were then broken up into three smaller groups that we'd first play against, then with for the rest of the day. We did a simple breakmark drill before getting into scrimmaging.  
Tryouts are hard to explain. Unsurprisingly, they were physically grueling — 3v3 full-field anything is a grind and it's impossible to hide. With teams of eight, at most you had two points of rest before it was your turn again. More often than not, playing the best defense you could wasn't enough. Offenses were singularly stingy with the disc with very few drops or errant throws.
But tryouts weren't just a physical challenge. What you might not know unless you were there was how mentally challenging they were. The disc was moving so fast that in order to make a good continue cut at the right time you had to know what was going to happen one to three throws in advance. If you weren't ready, your cut would be late. Add to that the fact that you likely haven't played with these people much, so you have to figure out what their tendencies are before they throw to you. Factor in that everyone is just a little itchy to get the disc. Multiply this whole equation by you knowing that you always have a great defender breathing down your neck, and there isn't much time to let your brain rest. Even when the play stopped momentarily, you had to use that time to jog and get water, before you're back to helping out your teammate on the field, and then you're playing again!
Another element of the mental challenge was the jockeying to put yourself in a position to play both O line and D line. It wasn't always easy to play both ways, and people tended to want to play defense, where making a play would be that much more noticeable given the efficiency of the offense. Since breaks were so few and far between, you often had to sit two points in a row in order to play the other way. There were numerous points where only four or five players jogged out for an O point and people who were hoping for a D rep had to get on the field to play offense. Looking back on it, I realize my thought process at these times came down to three choices:  1) Play two in a row and get a D rep in at the risk of not playing my best because of fatigue, 2) Sit one point so I can play at my best but probably play another O point, or 3) Sit two points and miss out on being seen by the coaches but get to play a D point. Ultimately I did some of all of these depending on the situation: a particularly long point would make me sit two for the extra rest, a short one and I'd hurry back to get another rep in.
Sunday was essentially the same. Split into teams, 3v3 in the morning, 7v7 in the afternoon, with rotations into mixed during both. You could see fatigue set in on some people, with nagging injuries limiting some playing time. More often than not, one or two players would have to take an injury sub after attempting to play. There were more turnovers, but the speed of the scrimmages was the same. If anything it was faster, as people were trying harder to leave a positive impression at the end of the weekend; as time dwindled, you could feel the urgency rise.
We ended, huddled, and the coaches said their ending pieces. Everyone hung around chatting, Paideia and Amherst pictures were taken, I said my thanks to coaches Dutchy and Ben Van Heuvelen, and then it was over. Over except for the waiting.
Post-Tryouts
I spent most of the plane ride home from Orlando reflecting on how I felt I did on the goals I had set out for myself:
Zero turnovers.
I had one turnover in 3v3 (a flick huck just too far), none in full 7v7 scrimmages (that I can remember), and what felt like a thousand in mixed. I'm not proud of it, but I counted it as a win since my turnovers in Men's were so minimal (more on this later).
Have clear, constructive sideline talk to an individual.
This was an area that I left feeling like I could have been better. I struggled to manage my time on the sideline between resting, getting food/water, and talking.
Cut hard, clear harder.
I felt good at tryouts, fast and quick. I made a specific point to clear hard, and also to follow hucks — I am really proud of the way I did that. I scored a lot of goals because I was alone in the endzone after someone else had caught it just outside. I even snagged a couple of Ds chasing down floaty hucks. I felt like I was always there on a huck, on offense or defense, and that may have stood out.
Throw as few forehands as possible (and absolutely no forehand hucks).
Well…I threw two flick hucks (that I remember). One was to Trent in 3v3, which was just out of his reach (see goal #1). I can't quite remember who the second was to, but it was a horrendous throw that was completed nonetheless. I probably threw some unders that were fine. All in all, I didn't embarrass myself too badly with my forehand, so I counted it as another win.
Going back over tryouts now, I have a few thoughts to note:
Playing Mixed wasn't easy for me. I consistently overthrew women and felt much more sluggish and slow than in Men's. In talking with one Drag'n Thrust guy I know, he mentioned his frustration that it felt universal that the men weren't trying as hard in Mixed and that he overheard many of the men talking about how Mixed was a "break." As much as I'd like to say this wasn't the case for me, I really struggled to put my full effort into the Mixed scrimmages. I wish I had a good reason; what it really came down to was that I would have been happy to make the Mixed team, but I wanted to make the Men's.

The tryouts themselves were run very efficiently. Dutchy and Jake [Henderson, the Mixed coach] were quick to let us know if we were moving too slowly between tasks. That being said, we were given a lot of freedom. Teams could run zone, junk, or any defense we wanted, though we were told that we should run man at least some of the time. We warmed up as individual teams and could see the trainer or take a break at our own discretion.

I'm confused about the reasoning behind the restriction not allowing people who didn't compete this past year to tryout. Why would you want to limit who can tryout for the team? By having an application process for tryouts and NOT an open tryout, you can filter out players you may not want at tryouts. Why would you want to limit players like George Stubbs (had he wanted to try out) or Jeff Graham (who was told he was ineligible) from playing because they didn't play in the Series?

I want to thank Kurt Gibson for asking Dutchy and BVH at the end of the weekend when they'd be letting us know their decisions. I wanted to ask, but didn't want to be "that guy."

I wish I could have gone to West coast tryouts, or had one big tryout. Not on the fields in Phoenix though, those sounded brutal.
Roster Decisions
Then came the waiting. Waiting for decisions was brutal for me, I'm really bad at being patient. I received a lot of "How do you think you did?" or "What do you think your chances are?" These were expected questions, but still incredibly difficult to answer, so I often answered vaguely. "I played well, but it's really hard to compare, especially because I was only at one tryout and didn't see half of the players trying out." Or similar sentiments.
When the decisions came out it was pretty surreal. The e-mail was BCC'ed and they were pretty clear about not telling anyone about it. Yet not fifteen minutes had gone by before I was on a GroupMe with 7 or 8 other guys who had been chosen and I spent the rest of the night waiting for more people to be added. The next day we had an e-mail from Dutchy with all of our e-mails and we could finally see the full roster. There were people I was surprised about not making the team, but not anyone I was surprised that did.
To say I was excited would be a gross understatement. I was elated, ecstatic; I couldn't keep a stupid grin off my face. I am so thrilled to have the chance to represent the US again in international competition, and to be able to do so around such an amazing group of guys.
Some of my teammates are constantly vocal, sending e-mails and texts, while others have been completely silent. We've joked, talked about nagging injuries, started a fleet of social media — including plenty of heckling of the Amazing Race. We've recently been told our initial roles, strategy, playbook, and now it's waiting, training, and intrepid excitement.
I'm not worried about figuring out how to play together. There will be bumps and bruises, but it'll come together. The guys on this team are incredible athletes, players, and the ultimate IQ is insanely high. It's exceedingly possible that at times we'll think too much and lose sight of what is likely to lead us to the most success and the reason we are all here in the first place: just the joy of playing ultimate and representing the United States.
Watch Nick and the the rest of the Men's National Team take on Revolver at a scrimmage in San Francisco from this weekend. Game footage now available.