With many of Canada's top clubs absent from the competition, new teams took advantage of their opportunity to contend for a national championship.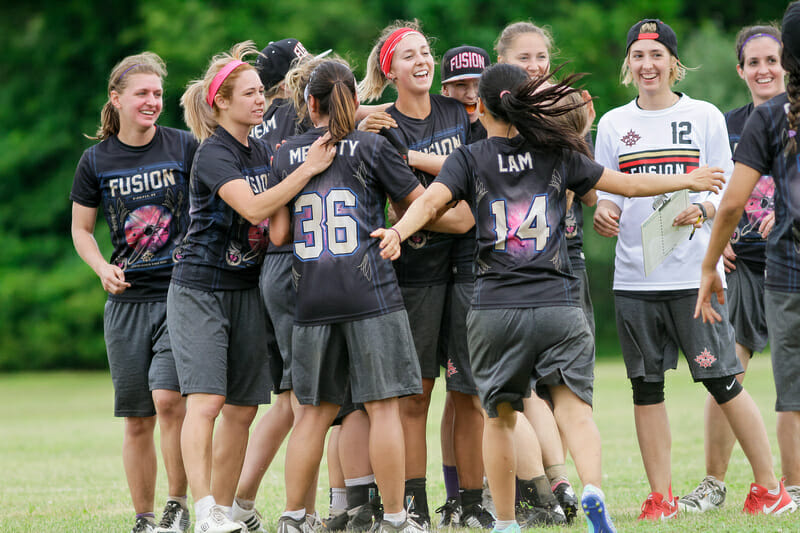 EDMONTON – The women's division of the Canadian Ultimate Championships ended in superb fashion with Winnipeg's Fusion taking home their first-ever national title. In a fantastic showcase of women's ultimate, Fusion vanquished Vancouver newcomers Sneaky House Hippos (SHH) 15-11 in the championship game on Sunday to capture the gold in Edmonton.
Right from the start, both teams brought high intensity on the field. After a long series of holds to start the game, SHH claimed the first break to go up 7-5. Fusion was quick to shut down any opportunity Vancouver had to extend their lead, securing a much-needed hold, getting their break back, and going into half up one.
After the break, Fusion found a new gear and scored the first two goals of the second half to take control of the game. At 12-10, Vancouver's Terryn Chan hit on a perfect huck to Victoria McCann in the back corner of the endzone to bring the game within one. But although SHH did an excellent defensive job shutting down the deep threat that had been prominent for Fusion throughout the early portions of game, they could not find another break.
With the gold medal clearly in sight, Fusion put the nails into the coffin and drove straight towards the win. With their deep game contained, Winnipeg instead relied on patient offense, working their way up to the endzone, swinging the disc until Karen Hatch found Angelu Mae Galvez on the far side with an around backhand to win the championship.
Winnipeg's offense was seamless in the final, as their quick releases and incredible layouts to retain possession carried them through the game's closing stages. Defensively, Fusion played tight person-to-person coverage and were able to shut down the Vancouver deep threat. Carmen Lee was a pivotal contributor for Fusion throughout the title game and captain Alexa Kovacs turned in a finals-MVP performance for her team.
Sneaky House Hippos played a solid defensive game as well, with quick and athletic play threatening to break Fusion on several occasions. Victoria McCann and Laurel Jay played brilliantly for Vancouver while Ashlee Davidson led the team in goals with four. The trio did their part to keep the game close and exciting, but miscues from the SHH offense gave Fusion a few too many opportunities and the Albertans capitalized to pull away in the second half.
For Fusion, the victory was the culmination of several years of building and training.
"We've built from the ground up in Winnipeg," said Kovacs. "We have a lot of rookies and a lot of veterans, and we worked really hard for this all year. We keep building every year, and right now it's just pure happiness."
Kovacs and the rest of her teammates are hoping this success begets even greater future success for women's ultimate in Winnipeg. "We really want to inspire the girls who are coming up from our junior programs, hopefully they can help take us to the next level," said Kovacs.
For Sneaky House Hippos, a squad already chock full of young talent from the University of British Columbia, their first year as a team will be viewed as a strong success.
"I think everyone is really proud of the season we had and happy because we got to play frisbee with friends — that's really what the whole basis of the team was," said SHH captain Victoria Lam. "Hopefully we will be back here next year."
Notable Absences Left Door Open
With several major USAU tournaments happening the same weekend and with the increasing roster requirements for participation in the Triple Crown Tour, there were some notable absences at CUC's this year. With traditional powerhouses such as Traffic, Iris, and the recently formed 6ixers — which formed out of the ashes of Capitals — missing the tournament, it's fair to say that three of the top five teams in the country were not in attendance. This gave some of the teams in the next tier of competition the chance to compete for a perhaps unlikely National championship.
Fusion has challenged the top Canadian teams for several years, consistently finishing in the top four, but had been unable to complete their quest for gold until this year. For her part, Kovacs kept the focus on her own team's achievement in Edmonton, though hinted that this was an experience that will serve them well in future matchups with the perceived top-tier programs.
"We were really playing for each other and trying to play our game while we were here and not really think too much about who were playing against," Kovacs commented after the finals. "This is going to give us some confidence knowing that we can come out here and we can play hard."
With next year's CUCs a qualifier for the World Club Championships in 2018, Fusion and Sneaky House Hippos have gained valuable winning experience which they hope will translate to being able to challenge the country's elite whenever they face off next.
Prairies Programs Getting Stronger
For years, the Canadian Ultimate Championships have belonged to teams from the country's largest cities: Toronto, Montreal, and Vancouver. Again aided by some key club absences, that narrative began to shift this year as we saw strong performance from teams based in Canada's Plains provinces, including Flurry (Edmonton), Korra (Regina), Wild (Calgary), and of course, Fusion (Winnipeg).
The hometown team, Flurry, had never made the semifinals in any prior CUC but upset fellow Albertans Wild in the quarter-final to set them down a path that would result in a third place finish, their first ever medal at CUC's. Wild would also enjoy a strong finish to their tournament, beating out Korra in a consolation match before defeating a strong Quebec team in the fifth place game.
While Korra ultimately dropped to eighth, the Regina team impressed on the weekend, giving Sneaky House Hippos all that they could handle in their quarterfinal matchup before falling 11-9. Regina has been building their women's program for a few years and the hard work is starting to pay off; Korra will be a team to watch out for in future tournaments on the national stage.
With half of this year's top eight teams hailing from the prairies, the future looks bright for each of them as the build towards trying to qualify for Club Worlds in 2018.
Mixed Results For East Coast Teams
Quebec, although missing their top club, Iris, brought four teams to Edmonton this past weekend. Unfortunately, none of them would challenge for a spot on the podium. Both Qub and Venus would lose in the quarterfinals — the latter on double-game point to Vancouver's Zephyr — before finishing 6th and 7th respectively. Storm and Mystik brought exciting play to the field at times, but were still relegated to the consolation pool.
Although there were several women's teams from Quebec this year, there was only one from Ontario. Despite finishing in tenth, the lone team hailing from the capitol's province, Tox6ix, made an impressive debut in their first year at Canadian Nationals. Formally the B-team for the Toronto 6ixers, Tox6ix possesses many young and fiery athletes that showed promising development, boding well for the future of this new program.
All of these programs will hope to rebound and come back stronger in 2017, when the women's Canadian Ultimate Championships will be held much closer to home in Ottawa.
What's Next?
With Iris, 6ixers, and Traffic preparing for next year's Club World qualifications by competing against North America's finest in the USAU Series, many of the teams present at CUC this year are going to have to up their game a notch. Fusion has been a resident of the top four teams for several years in Canada and with this win under their belt, they will head into next year with momentum on their side. After their success in Edmonton, Sneaky House Hippos also appear prepared to compete at the next level. For many of the rest of these teams, they can ill-afford to settle into a long offseason so early if they hope to challenge at a high level in 2017.