Catching you up on a busy weekend.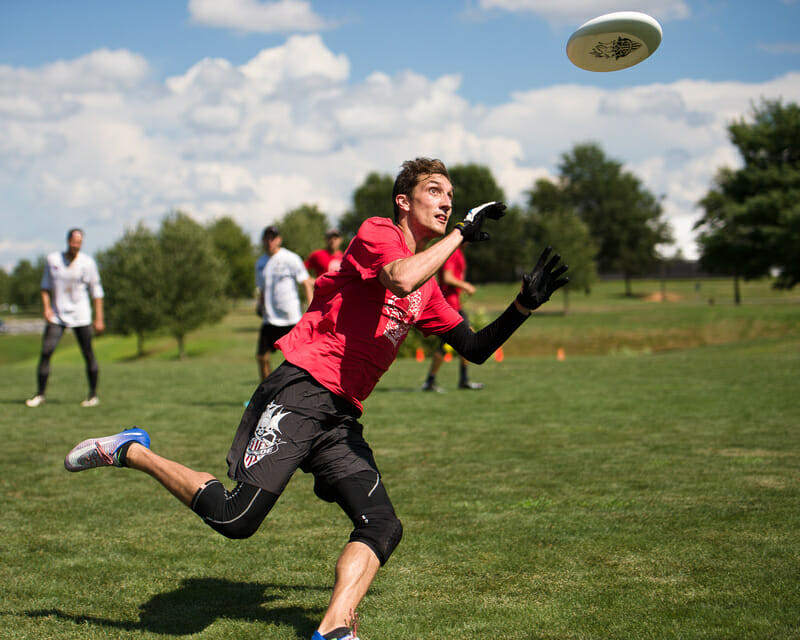 It was one of the busiest weekends of the summer in ultimate, as club teams from all levels — Pro, Elite, Select, Classic, and Youth — competed around the country. Here's a look at what happened.
Chesapeake Open – Boyds, MD
Men's
In what was easily the most competitive men's tournament of the season outside of the Triple Crown Tour majors, Boston Ironside got their first tournament win of the season with a 13-10 victory over Washington DC Truck Stop in the Chesapeake final.
Ironside underperformed two weeks ago in Denver at the Pro-Elite Challenge, but bounced back in a big way with dominant performances over every team except Truck Stop (they got a one point win over Truck in pool play). Boston won't be heading to this weekend's Pro Flight Finale, so we will not see them again until Regionals. But they put out a strong closing statement to end the year and may end up with a plausible claim to the #1 overall seed at Nationals.
Outside of the strong play from Ironside and Truck Stop, the rest of the Chesapeake competition was very game-to-game, with wild upsets (like Patrol 10-9 over GOAT in quarterfinals) and bizarre results (like US Open winner Chicago Machine finishing with a 3-5 record) marking the landscape.
Northeast teams had a good weekend overall. Toronto GOAT recovered from their quarters loss to get wins over High Five and Machine in consolation to take fifth place. New York PoNY got two wins over Machine and a four point win over GOAT en route to a T-3rd place finish.
It was a rough weekend for Southeast teams, who went winless against out-of-region competition in the championship bracket. Raleigh Ring of Fire, Atlanta Chain Lightning, and Florida United went a combined 8-13 and only got four total out-of-region wins. The Southeast is staring down a possible one-bid year, which would mark a nadir for a once-dominant region.
Mixed
The Mixed Division at Chesapeake was mostly local and relatively less competitive than the Men's. Philadelphia AMP laid claim to the pole position in the Mid-Atlantic with a 13-9 win over West Chester Bang! in the final.
Bang! crept into the Ultiworld Top 25 a couple weeks ago after rolling through the competition at the Philly Invite. But they came up well short against AMP twice and will likely be fighting for second place in the Mid-Atlantic at Regionals. Ambiguous Grey got a first round, 13-10 victory over Bang! as well.
7 Express had a rough weekend, going 1-5, and will have a treacherous road to Nationals in the Northeast as they will not be earning a bid.
Women's
Atlanta Ozone avenged a pool play loss to Quebec Iris in an 11-10 victory in the Chesapeake final.
Ozone, Iris, and Green Means Go were the standouts this weekend; Chicago Nemesis fell short against GMG in pool play, 13-11, and then lost 12-4 to Iris in semifinals.
It was a much better tournament for Iris than the US Open, where they went winless in early July.
Select Flight Invite — Indianapolis, IN
Men's
Houston H.I.P. was a dominant force at their first real tournament of the 2016 season. Their closest game was a 13-8 win over Vancouver Furious George in the semifinals, and they easily defeated Baltimore Medicine Men 13-7 in the final.
"This is definitely the deepest team we've ever had," said H.I.P. captain Matt Bennett. He credited their large margins of victory to their ability to consistently play two separate defensive lines and an O-line that rarely sent players over to defense, a contrast to seasons past.
H.I.P. landed at #10 in the USA Ultimate rankings and is in a great position to earn a third bid for the South Central. But they feel confident heading into Regionals regardless of whether or not they land that bid. "We don't think that we are behind [Johnny Bravo and Doublewide]," said Bennett. "We want to be able to come out and compete with them for Regionals, not just to get a third bid."
The tournament's #1 seed, the SoCal Condors, had a disappointing 12-11 loss in the quarterfinals to Furious George but went on to easily beat Plex and Phoenix in consolation to finish fifth. The Condors, however, are now in a bad spot to make Nationals, as they have fallen to #20 in the USA Ultimate rankings and are unlikely to earn a bid for the Southwest, leaving the region with just one Nationals berth. With reigning national champion San Francisco Revolver in the region, an upset looks unlikely.
Medicine Men reached the final via wins over Phoenix (13-6) and Temper (11-9) in the bracket. The team's only losses came to H.I.P.
Temper finished third after defeating Furious George for the second time on the weekend.
Mixed
Cincinnati Steamboat dominated a thin field in the Mixed Division, defeating Orlando Swing State 13-7 in the final. Steamboat is now 17-1 on the season; their only loss came to Boulder Love Tractor at the Pro-Elite Challenge in Tractor's backyard.
Steamboat is in a strong position to land a high seed at the National Championships; they are currently fifth in the USA Ultimate rankings.
Women's
The Toronto 6ixers continued their undefeated 2016 season with another tournament win at the Select Flight Invite. The 6ixers edged out Columbus Rival 11-10 in the final.
The 6ixers have undoubtedly locked up a second bid for the Northeast, but they will likely sweat out the final week of the season, as their regional competition — Siege, Iris, and — are currently ranked #16, #17, and #18. Currently, none of those teams is in bid range.
Rival and Pop played a tight semifinal that Columbus won 11-10.
Sixers, Rival, and Pop — the top three seeds — were in a tier above the rest of the competition at SFI.
Youth Club Championships – Blaine, MN
Check in on all of our coverage from the Youth Club Championships right here.
Nucci's Cup – Mercerville, NJ
Men's
Rochester's Genny Tall Boys bounced back from an opening round loss to win the 10th annual Nucci's Cup. They upset overall #1 seed Amherst Dark or Light 15-11 in the final.