The top teams battled it out at Pro Flight Finale, and while Riot's victory makes them the favorite, the challengers are making the rest very exciting.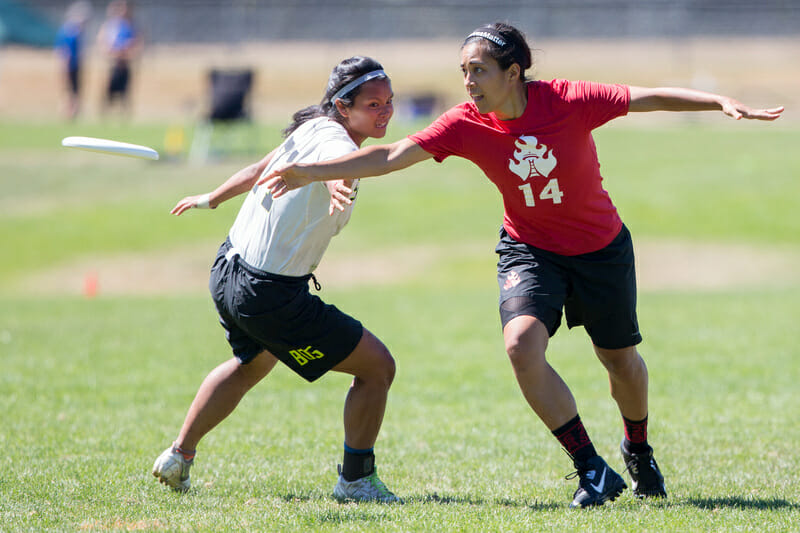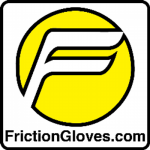 Our coverage of the 2016 Pro Flight Finale is presented by Friction Gloves; all opinions are those of the author. Please support the brands that make Ultiworld possible and shop at Friction Gloves!
We thought the story of the Pro Flight Finale's Saturday games would be the 100+ degree temperatures, but the real juicy narratives actually beat the heat. Upsets among the game's best teams started revealing a complex web of performance that obscure who exactly should be favored over whom. And while playing on the turf was like running on hot coals Saturday, things calmed on Sunday and the games stayed competitive and emotional.
The lone exception to most of this is Seattle Riot, the undefeated tournament winner and clear #1 emerging from the Cascadia Classic. Aside from some rough moments against Phoenix, Riot was playing at the top of their game all weekend long, including in a brawling final with Boston Brute Squad. Heat, wind, person, or zone — Riot and their depth navigated varying challenges and conditions with aplomb.
Meanwhile, the elite tier mixed things up enough to give us plenty to gab about going into the postseason.
Riot Claims Second Straight Over Boston
There's no question as to who the best women's team was at the Pro Flight Finale. It wasn't just one game and not simply a strong performance in an intense final. From the opening pull to Rachel Bradshaw's final goal of the tournament, Seattle was putting on a clinic, and the topic was blowing out elite club opponents. They routed Traffic, Heist, and Phoenix in succession before cleanly defeating Fury by scores of 13-9 and 13-10.
The team is quick to credit their depth: "This weekend really showed the depth of Riot's roster," said Seattle coach Gwen Ambler. "We haven't had to rely on a single player, which creates space for any player at any time to be the one to step up and make a play."
Ambler's assessment that the team is playing with a great team mentality and accountability is accurate. It makes it hard to identify standouts, as different players came through big in different moments. However, Hana Kawai has been one of the best players in the division this season. Second year handlers Julia Snyder and Paige Soper look worlds more comfortable than last season and are getting an appropriate uptick in opportunities to shine. But it might be Fiona McKibben, Rachel Bradshaw, Cassie Swafford, or any number of others who are hot in a given half.
In particular, Seattle has to be pleased to have knocked out Boston in back-to-back finals, adding the Pro Flight to their Pro Elite Challenge title last month. The previous two times they had tangled with Brute Squad were in finals — at the US Open and last year's National Championship — and they were throttled in both affairs. The experience seems to have hardened Riot's resolve and forced them to evolve in a smarter, more cohesive, and more resilient outfit.
"We're playing better against tight D, and in practicing playing D in their style, we've become a lot better at generating pressure," said Riot captain Rohre Titcomb. She added that the team is focused more on their energy than X's and O's. "When we play with heart, it doesn't matter what a team throws our way."
Seattle Riot won the regular season and the prize is a TSA lane directly to the #1 seed at Nationals. All they need to do is pass through a Northwest Regionals screening and they'll be the favorite to take home the title in Rockford.
Brute Squad Officially Second Fiddle
There's no doubt Brute Squad belongs in the top tier, but at this point, they are also clearly in the back seat to Riot. After leaving Riot choking on their dust in two straight meetings, they've now dropped the ball twice to a Seattle team that no longer looks rattled by Boston's strangling person defense.
But Brute's offense just still isn't right. Claudia Tajima and Shellie Cohen have not quite filled Paula Seville's shoes and Lien Hoffmann is not playing like one of the game's best cutters. Even Leila Tunnell is not performing at the same level as last season. Most of the changes are small and all four of these players are still quality starters for one of the best team's in the division, but in an environment this competitive, it doesn't take much to alter the equation.
Fortunately, Boston's defensive unit is still the top dog. Kami Groom is playing some of the best ultimate in the division, while Cassie Wong, Lauren Sadler, and Amber Sinicrope join her as standouts on both sides of the disc. The squad's rookies look strong and their defense plays deep. The D-line even plays strong offense when their counterparts need a rest. That's kept them in position to beat out everyone aside from their challengers from the Northwest in red and white.
Fury Still Yet To Put It Together
The Fury we saw in Vancouver, WA was more like the Fury we expected rather than we one we had previously been given this year. And yet their results didn't rise to match. They opened the weekend with a loss to Vancouver Traffic, the lowest ranked opponent to best them yet. But from there, they put together wins over Scandal and Molly Brown — although between those victories they were comfortably felled twice by Riot.
What's vexing about Fury's losses is that it doesn't seem to stem from a specific weakness. They certainly looked like a much tougher defensive team, shoring up the one shortcoming they had demonstrated earlier in the season. But their ability to execute — just hitting open receivers with crisp quality passes — wasn't always there. If there was one area in which they seemed below average, it was their deep game. However, that was simply due to a lack of aggression. There simply wasn't an emphasis on generating big open lanes for deep shots. Perhaps that was the missing ingredient.
Playing the best ultimate we've seen from them this year, San Francisco still looked like their ceiling was below a national championship. And while it is only the regular season, there are precious few opportunities remaining to turn it around.
Scandal Turns In Best Weekend Yet
While the Washington D.C. contingent had a clunky end to their weekend, they did put the division on notice. Any doubts about whether or not this is a top tier team can be set aside. The addition of Jesse Shofner certainly turned out to be a difference maker, but just as much so was the continued evolution of their role players and ever-present dominance of Jenny Fey and Sandy Jorgensen. They aren't the favorite to take home a third title in four years, but they are going to be a factor.
Their most impressive feat was high quality 13-7 victory over Molly Brown to open the tournament. The crushing wins over Nightlock and Schwa that followed and their close loss to Brute Squad line up with the rest of the elite pack. And while they wound up losing two of their three Sunday games, they were beaten by Fury and Traffic by a combined three goals.
All in all, Scandal is trending in the right direction. Despite losing Sarah Itoh, arguably their best O-line cutter, their offense kept things moving and continued to click. Their space-guarding defenses looked strong, with Shofner slotting in both up front and in the mid lanes, and Jorgensen patrolling the deep space. They should not be overlooked.
Molly Brown Finishes Below the Bar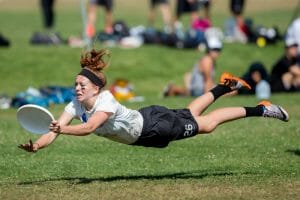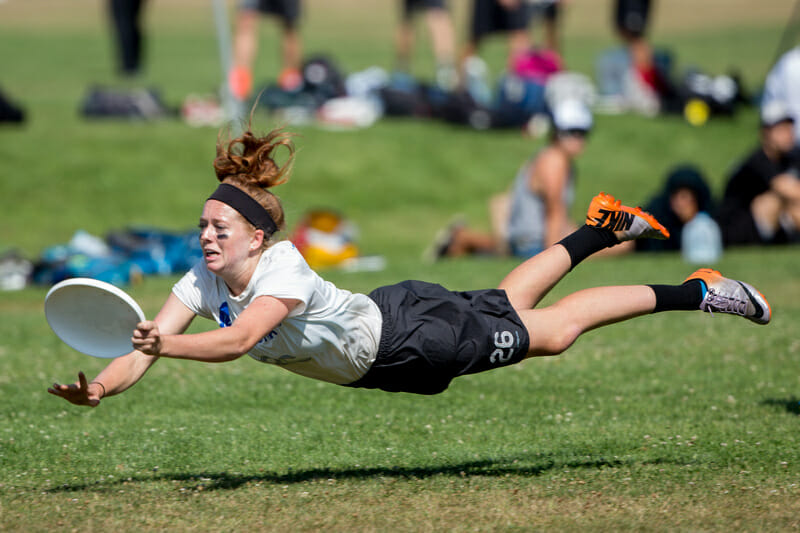 It seems like every tournament, Molly Brown gets close but can't get that big win. At the Pro Flight Finale, they took steps backwards. Opening the tournament with a blowout loss to Scandal didn't set a great tone, as they struggled to make adjustments to D.C.'s switching tactics and junk zones. They also lacked the big blowout wins over the tournament's lower seeds and lost to Fury 13-8 in consolation play Sunday.
The best results Denver locked up were mostly losses. A 13-10 victory over Traffic looks better now than it would have a week ago. But two double game point losses to Brute Squad still look the same as they ever did and they tell the story of the team that comes up just short. When the team struggled to get their deep game working, it wasn't always obvious they could move the disc effectively or get quality resets. But when they are getting big gainers and separation that enables good continues, this team is dangerous.
Capable Traffic Still Inconsistent
While it's still a mixed bag for Traffic, they have proven they've got some chops. Vancouver struck big with upset wins over both Fury and Scandal, demonstrating that they can take down semifinal-quality opponents. That's something they'll only likely need to do once if they want to make it to the semifinals at Nationals this season.
Of course, they were far from consistent. They were leveled by Riot and struggled with Heist — who wound up winless — during pool play. Their lapses are pretty plainly visible, as they go through lulls in energy that tend to coincide with poor play. When their volume drops and their focus wanes, Traffic pays the price and that is a dangerous trait to carry into the postseason.
Don't forget, however, that this was just their second tournament. They haven't had much time as a whole unit yet, and that can complicate the process of delivering elite level ultimate game after game in the blazing heat. While they are still a step behind the top 5, Vancouver clearly has a puncher's chance of busting down the door.