The best of the best in the U19 girls division in Blaine.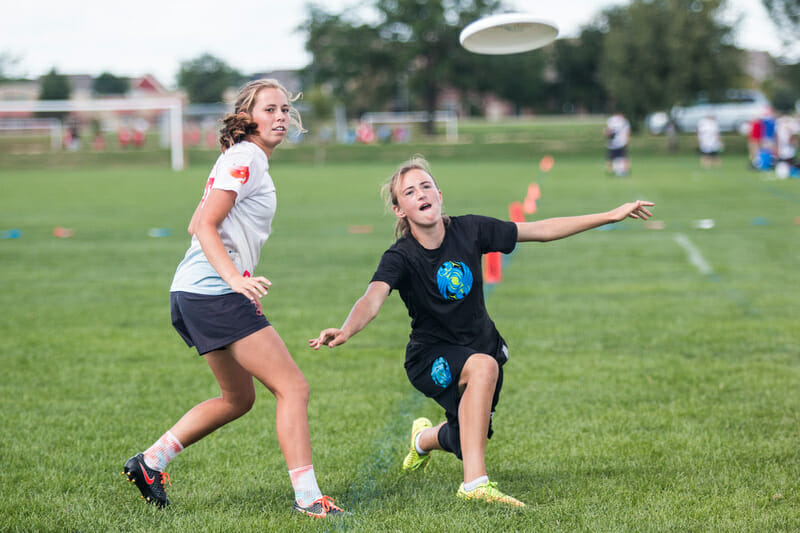 The article is presented by CUT Camps; all opinions are those of the author. Please support the brands that make Ultiworld possible and participate in CUT Camp!
YCC weekend was three days filled to the brim with exciting matchups, high-energy games, and nail-biting finishes. The weather made for near perfect playing weather, the wind stirring just enough to make things interesting while the sky stayed a clear, cloudless blue for the entirety of the tournament.
This tournament in particular shines when it comes to displaying the intensity and love for the game of ultimate on the youth scene, each of the teams fighting hard to put everything they had been practicing throughout the course of the summer into motion. Boston BUDA fought hard in their games versus Seattle Nimbus and Cincinnati Belle, providing an electric competition that was thrilling to watch, BUDA and Belle doing their best to dethrone the reigning Seattle girl's unbeatable streak here at YCC.
All-Tournament Line
Hayley Samson (Cincinnati Belle): Impeccable offensive play and unstoppable downfield hucks lands Hayley a spot in the All-Tournament line. Consistently a playmaker throughout the course of the weekend, Hayley tore up the fields, finding teammates in the end zone for the score again and again, in an unstoppable barrage that made life difficult for any opposing teams.
Maddie Samson (Cincinnati Belle): A force on offense as well as defense, Maddie Samson found the end zone on multiple occasions for the Belle score. Her tough person defense generated several blocks for her teammates, making her a double-edged offensive/defensive weapon for the Cincinnati girls.
Josephine Coppinger (Boston BUDA): Coppinger's heads-up throwing and strong offensive leadership lead BUDA in some excellent battles versus tough opponents. With quick, decisive throws that tore opposing team zones apart and ridiculous play-making hammers, Coppinger was an offensive force to be reckoned with over the course of the weekend.
Renata Pepi (Boston BUDA): Grinding is the name of the game for Pepi, a feat she easily accomplished with standout defensive pressure against opposing teams, unstoppable cutting ability that helped her team thread through defensive zones, and sick endzone layouts against high pressure defense highlighted the depth of Pepi's offensive and defensive capabilities.
Claire Trop (Seattle Nimbus): Trop was a standout player all weekend. Unstoppable downfield speed made her a threat in the deep space, complimented by her pinpoint throws and relentless defensive assaults marked her as a force to be reckoned with in Seattle's already imposing line-up.
Ally Constantino (Seattle Nimbus): Constantino was a highlight reel in and of herself at this tournament, pulling off back-to-back-to-back scores on more than one occasion, flying high to sky opposing teams in downfield space, and generating play-making D's during critical points to help secure Seattle's chokehold on the YCC championships year after year.
Kate Lanier (Triange Area Warhawks): Whether it was securing points in the endzone, finding her teammates for the assist, or generating D's, Lanier was a constant threat on the field. Both offensively or defensively, opposing teams would be hardpressed to find a way to account for Lanier's imposing presence over the course of the game.
Honorable Mention: Kendra Griesman, Cara Sieber, Darra Reppermund, Jessie Sun, Abby Swenson
Of course, the talent from all of the teams at YCC is not limited to just these seven. The intensity and heart shown by all the players was impressive, leading to fast-paced, close scoring matches that made for an exciting weekend. Seattle maintains its victorious streak, but with the competition shown by these youth programs continuing to intensify, it will be interesting to see in the next couple of years who will rise to challenge the Seattle girl's grip on the YCC throne, or if they continue their unquestioned dominance.