Ring of Fire finds its form to punch its ticket to Rockford.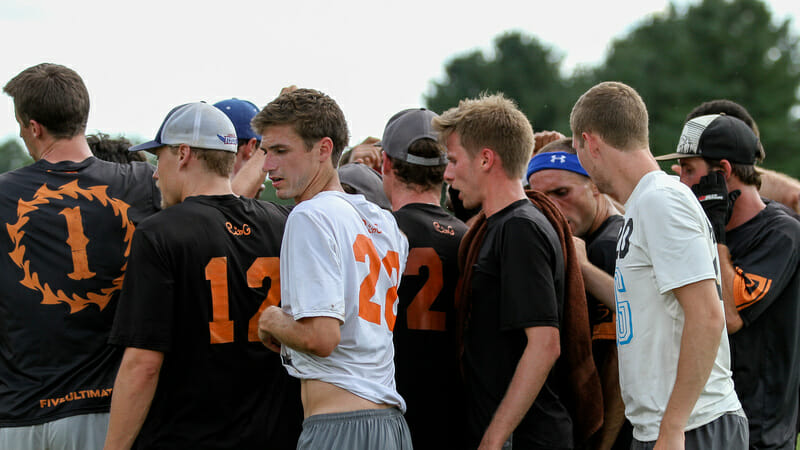 ATLANTA — Ring of Fire has struggled the entire season to show they are the kind of team that can wedge itself in the weekend conversation at Nationals.
A myriad of problems has plagued Ring since the start of the club season, from clashing commitments with the AUDL's Raleigh Flyers to integrating a large number of new players to simply bringing a full roster of players to tournaments.
You wouldn't have known it this past weekend in Atlanta. Ring showed the caliber of team it can be in Rockford with a dominant tournament performance, avenging a Sectionals semifinals loss to Durham Turbine with a 12-10 victory in quarterfinals before playing two excellent games against top seeds Florida United and Chain Lightning to capture the southeast Regional title.
"Coming into this weekend, we were more afraid of ourselves than anyone else," said veteran captain Noah Saul after the tournament.
Playing in a deep Southeast region for just a single bid to Nationals was not an easy prospect for any of the top teams coming into the weekend. Florida United boasted the best regular season results and was considered the favorite, but they did not lack doubters. As the overall five seed and two seed in Pool D, Ring of Fire benefited from having fairly easy Saturday match-ups; with the one-seed Cash Crop missing several key players (Walker Matthews, Dillon Lanier), there was little doubt that Ring would make the bracket. Smooth sailing in pool play allowed Ring to wrap up its Saturday by early afternoon.
A loss by Durham Turbine to Ironman in Pool C put the North Carolina rivals on a collision course for a Sunday rematch in the quarterfinals. Turbine struggled Saturday to maintain its energy throughout the heat of the afternoon and inconsistency on offense led to a scare in prequarters against Lost Boys. Durham kept its season alive with a double game point win and entered Sunday with renewed confidence to take on Ring and repeat their Sectional performance.
But the story of Sunday was Ring's offensive consistency and defensive tenacity. In what was their tightest game of the weekend, Ring found the formula it would employ all day long: an adaptable offense and explosive defense. Turbine repeated their strategy from Sectional of poaching unders to earn an early lead, but failed to truly throw Ring off balance as it had two weeks ago. Defensive pressure and renewed offensive confidence allowed Ring to overcome their early game jitters and notch a 12-10 victory.
Against United in the semifinals, Ring's strategy of using their large roster of athletic defenders to negate Florida's deep game and trap United on the sideline with a backhand force worked beyond anyone's expectations. Down 7-3, Florida — who had looked crisp and fiery all weekend — was silent. Ring's loud and boisterous sideline received boosts from the heckles of former Ring veterans on Wilmington Right Coast. Ring cruised to a 13-9 victory and rode their momentum into the finals.
Ring head coach Mike DeNardis and assistant coach David Allison exuded confidence in the huddle heading into the finals. Another game, another team's season to end. Ring pulled away from Chain to take half 7-4 and never looked back. A long, fading swing pass for a goal from Jonathan Nethercutt to Justin Allen — punctuating the 13-10 score with a trademark spike — was the final coup de grace for a Sunday that featured some of the best ultimate Ring has played all season.
The secret to Ring's success this past weekend is really no secret at all. "We have explosive playmakers all across the roster. We've been able to customize our defense around their abilities," DeNardis said after the game. "I think we ran off some momentum in the semis and finals because we attacked aggressively and applied a lot of pressure."
Relentless defensive pressure and an adaptable offense that relies on contributions from every single player are attributes that define Ring of Fire most seasons. There were of course some stand out performances in Atlanta. Hunter Taylor, Jakeem Polk, and Jacob Fairfax made spectacular defensive plays. The presence of Noah Saul and Shane Sisco on Ring's offense cannot be understated; Saul, in particular, provided additional firepower and depth to Ring's offense and took pressure off of Nethercutt, who carries a significant load as Ring's most potent arm on offense.
"This year [Saul]'s playing offense for us," assistant coach David Allison said. "We wanted to increase the level of skill as far as throwing and cutting, and Noah obviously brings that."
For DeNardis, Allison, and all of Ring of Fire, Sunday was both a revelation and validation for a squad that has struggled all season to define itself. A dominant Sunday performance in a one bid region against a bevy of other strong teams is never a bad way to jumpstart the end of the season.
"It feels good, especially after Sectionals," DeNardis said. "We've had a bumpy ride and it's been hard to get players the reps they need with so much new talent on the roster."
Fitting every new piece together has been a challenge all season long. It appears that won't be a challenge much longer. With two regional titles under his belt as head coach, DeNardis was proud of what his players — from the top to bottom of the roster — were able to accomplish.