Madison Club prevail with an epic second half comeback and Prairie Fire stay hot to send Sub Zero home empty-handed.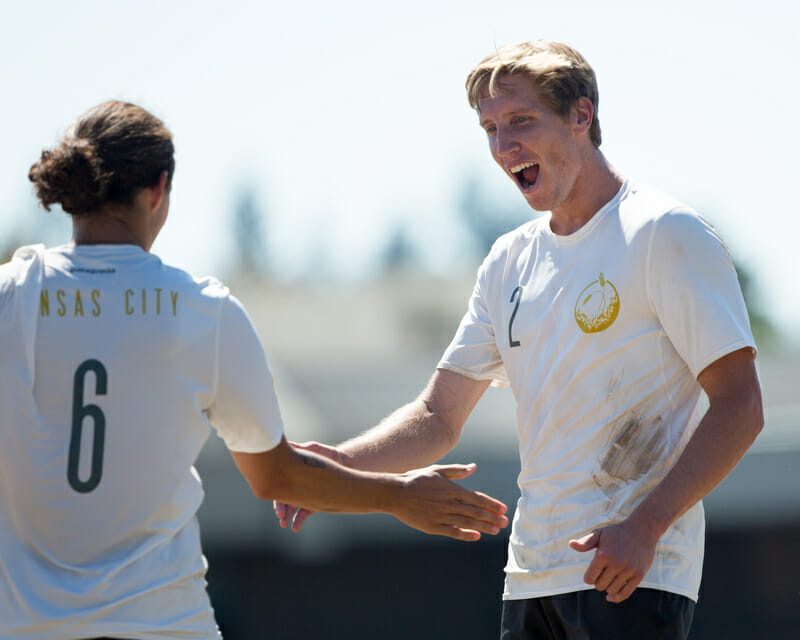 BLAINE, MN – It was 8-4 Minneapolis, and Madison Club was reeling. They'd just been broken four times in a row, culminating with Edina High School's Sam Hammar pulling down a big upwind huck for Sub Zero to send the Regional final into half. A series of uncharacteristic miscues, partially due to the strong ~25mph winds, had put Mad Club in a hole, and they were going to have to fight tooth-and-nail to get out of it.
That started, says Club's Colin Camp, with getting the right mindset.
"The biggest change we made for the second half was our mental game. In games that windy, it's really easy to get frustrated with the amount of turns and overall execution errors. We were taking that frustration out on each other and obviously that's not productive. We knew we could score upwind, as we had probably half a dozen red zone chances in the first half. However we had to accept the fact that turnovers were going to happen, stop with the finger pointing, and continue to make plays defensively."
The previous day, Sub had shocked Club in pool play with a come-from-behind double-game-point win, forcing Club to play a red-hot Prairie Fire squad in semis. But in that game, Club's defense was stifling, forcing Kansas City's potent offense into mistakes that they quickly took advantage of.
In the first half of the championship game, Sub Zero gave Club a taste of their own medicine. Going downwind, Madison's offense would put up contested (low-percentage) deep shots, figuring they could get it back in much better field position. But Sub's defensive offense was stingy with the disc, content to patiently work the disc upwind through Jason Tschida and Tristan Van De Moortele. The litany of turnovers the Madison offense gifted them didn't hurt either.
"We fell into a huck-and-hope style in the first half," Camp lamented. "[In the second half] We made a point of getting more unders and working it up the field when going downwind."
They did work the unders, and the second half was a completely different story because of it. Club came out hot and Sub looked woefully unprepared for their assault. A downwind hold out of half was immediately followed by a break. Then another. And another. And suddenly it was 11-8, Madison.
While the dropped discs, popped-up throws, and general miscues certainly didn't help, Minneapolis offensive handler Josh Klane thinks that the offense's mindset was to blame.
"We tightened up on O-line and lost our poise and composure. We opted to play the field position game without even trying to work it up the field downwind, expecting that we could just get the D back. We didn't clamp down on D hard enough and it all fell apart."
This shift to a huck-and-play-D strategy oddly enough mirrored what Madison Club's offense elected to do in the first half. Both times, the strategy, to put it lightly, failed. In the end, that run was what decided the game, as Sub couldn't recover. Final score, 13-10.
While Madison Club celebrated and relaxed, Sub Zero had to quickly attempt to refocus themselves for a game-to-go against Prairie Fire. After being blown out by Club in semis 15-7, PF had easily beaten both Illusion and Mad Men by a combined score of 30-14. They rode that momentum right into their game against Sub. After back-to-back downwind holds, Sub's O-line thew a huck out the back of the endzone. The Prairie Fire defense, led by Brett Hidaka, Christian Simpson, and Jesse White, calmly worked the disc through the howling wind, effectively using the breakside to avoid getting trapped on a sideline. Sub's offense, try as they might, could not pressure the PF defense into a turnover, and eventually Hidaka hit White in stride for the crucial upwind break. Hidaka would score again on the following downwinder, giving PF a 3-1 lead. That's all it would take.
"We knew Sub was filled with a bunch of guys who knew how to win, so our focus was on our process and executing our fundamentals," captain PJ Matulka said. "The offensive set didn't give up a break all game. And the D really put us in a good position with the first — and only — upwind break. "
Although PF's offense did turn the disc, the Sub defense could never muster any type of attack, either throwing the disc away on a bladey upwind huck or through a miscue in the backfield. The wind seemed insurmountable, and the fire (or ice) that gripped Sub in their first half versus Club was gone; instead, the pungent frustration and grim reality of the second half had seemed to carry over into the most important game of their season.
"Our average age is 23 years old and we showed that inexperience and immaturity against a team that has both those things," Klane lamented. "I think the finals loss carried over into the next game and left us flat the entire time. All it took was one upwind break by Fire and the consequent downwinder and we couldn't quite get those back."
It's not all on Sub, of course. Prairie Fire's offense, having been given an early cushion, settled in and played as mistake free a game as was possible, given the conditions. Abe Coffin and Matt Jackson were brilliant, but it was Jay Froude who had perhaps the play(s) of the season thus far. I won't even attempt describe it — just go and watch the video for yourself.
After taking half 8-6, PF and Sub traded the rest of the way. Final score, 15-12. For Sub, missing Nationals is an aberration, not a signal of a recession from the top of the club scene. This team is young, and they'll return in 2017 hungrier than ever.
"Super unfortunate result but we showed that we can compete with anybody when we play our game and we are gonna be a force to be reckoned with as we all grow and build together," said Klane. "With the young talent we have, the sky's the limit for this team."
Meanwhile, Prairie Fire turns their attention to Rockford. While it may be the biggest stage, Matulka says that the team plans on approaching it like any other tournament: one point at a time.
"A consistent theme in our huddles has been maximizing every point and staying in the moment. Those won't change. We have had goals all season culminating in a Nationals performance that reflects our team potential. A couple guys will take time to get healthy, we'll reinforce some things in practice, and wait for the seedings to make our final preparations. The confidence couldn't be higher. We're looking forward to Rockford."