After a very tight matchup in the Regional final, it's a shame that BFG was sent home.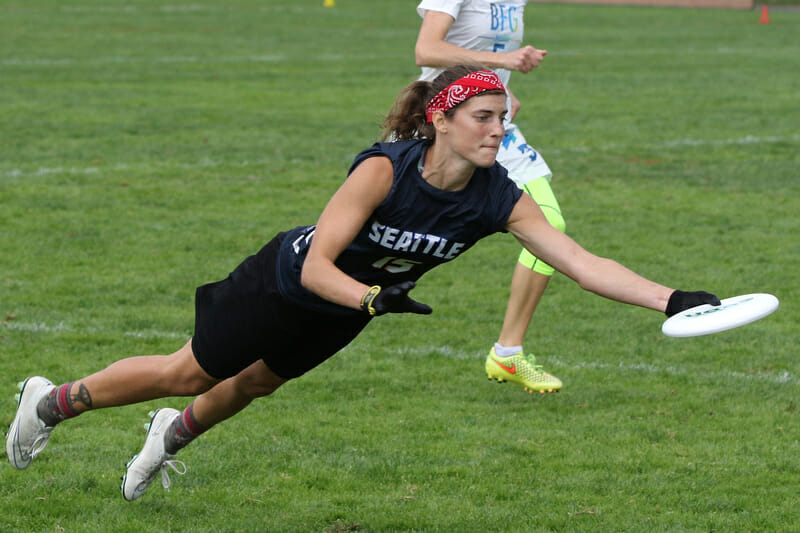 LACEY, WA – Seattle Mixtape wrapped up their third straight bid to Nationals, overcoming a very strong Seattle BFG team on double-game point in the finals of Northwest Mixed Regionals.
Both teams worked through Saturday pool play with relative ease before bracket play started on Sunday. As each brushed aside the competition, it seemed inevitable that they were on a collision course to meet in the finals. Thankfully for the fans they did, and they played one of the most exciting games anywhere in the country on the weekend.
Mixtape And BFG Finally Square Off
For as talented as both teams are, it was a surprise that the finals of Regionals was the first opportunity they had to play one another. The two Seattle powerhouses traveled very different roads to this point in the season. Mixtape is an established program, a two-time national runner-up who spent their summer squaring off against the nation's best teams at the premier club tournaments in the sport. BFG, on the other hand, is a newly constructed roster of all-stars, many of whom were formerly standouts in the men's and women's divisions or on mixed teams in other cities; as a Classic Flight team, they were shut out of any of the big TCT tournaments and instead blew through lower-level competition at mostly local Northwest events. Their regional final matchup served as a microcosm of the division's existential crisis.
Despite the high stakes, both teams emphasized focusing on themselves and their own play instead of their opponents.
As the Mixtape's captains stated before the game, "we want to play the same way against every team, and the only thing that changes are the matchups." They did their best to stick to that philosophy. Their chemistry, built from years together as a team, meant that they knew who would play which roles and how to adjust against new opponents.
BFG did not have the same level of familiarity with one another, and was focused on their own development from game to game. "We've focused on process and positivity all season, and this tournament was no exception. We approached each game trying to get a little better, and having had under three months together as a team, that focus was key," said Lili Gu.
Gu emphasized that their gameplan was pretty simple. BFG wanted to play great offense together, and convert their break chances. Judging from how close the game was, both teams seemed able to execute their gameplan well, with tight matchups all over the field.
Both teams looked to establish their deep game right from the opening pull, with both Mixtape and BFG taking shots in a good thrower's wind. BFG earned the first break of the game on a huge layout grab by Tommy Li after some very patient handler work by their D-line offense. On offense, BFG looked to use their height advantage to great effect, with Brian Stout especially working hard to get open against a variety of Mixtape defenders, including Khalif El-Salaam. BFG would continually look to find height mismatches around the field, but Mixtape countered with some incredible athletic displays, keeping the game tight and earning the break back.
The teams would trade to 7-7, each side combining patient offense with opportunistic defense to keep the game close. The point for half was a back-and-forth affair, with Mixtape's offense being stymied by some very tough defense by BFG, and the point eventually came down to a high-stall hammer for a score by BFG.
At this stage, many of the key matchups to watch had established themselves, and each one continued to be important throughout the rest of the game. Stout and El-Salaam were continually matched up when BFG was on offense, with Stout's tall frame and aerial ability being effectively challenged by El-Salaam's quickness and athleticism.
Another defining matchup in this game was between Mixtape's Henry Phan and BFG's Adam Simon. Simon played the primary handler spot for BFG's offense, mixing big throws with quick movement to keep the disc in motion, but everywhere he went, he was shadowed by the relentless pressure of Phan. It was a fascinating chess match, with Phan notching multiple blocks on the mark to help slow down the BFG offense.
Mixtape's defense and D-line offense was steadied by the presence of Bert Abbott. She played excellent handler defense all over the field, and was the foundation of Mixtape's offense on the turn. She got open seemingly at will, working the field with great vision and throws to keep changing the angle of attack and create break chances for Mixtape.
Finally, BFG's Kate Kingery and Mixtape's Drew Johnson put on a clinic, with Johnson demonstrating how to create small advantages against a tenacious defender and Kingery exhibiting how to constantly adjust defensive positioning to take away the most threatening cut. This battle between former Riot players showed off incredible footwork, strong field awareness, and a familiarity with one another which created a chess match within the game.
Coming out of half, the game slowed down quite a bit, with a few more calls and more turns than what was seen in the first half. Fatigue certainly could have been a factor, with both teams working their way through the eighth game of the weekend.
Mixtape earned their break back on the first point out of half, and earned another break shortly thereafter on a great aerial grab by Jen Cogburn to make it 10-9, right before the cap went on. BFG converted a quick hold, and their defense created another break to go up 11-10 in a game to 12. Mixtape took care of business on offense, and we were presented with double-game point, with Mixtape pulling to keep their season alive.
BFG showed great patience in methodically working the disc down the field, pushing closer and closer to Mixtape's endzone, setting up a long goalline stand by Mixtape's defense. El-Salaam had a monster layout D called back on a contested foul on the throw, and strong handler defense from Phan and Cam Bailey ground the BFG offense to a standstill, eventually seeing BFG call timeout to try and reset their offense.
However, Mixtape's tenacious handler defense continued after the stoppage, pushing BFG backwards before pressuring Simon into an unfortunate drop. Mixtape worked the disc back down the field with some very patient under cuts, and after several stoppages for picks and marking fouls, El-Salaam broke free for a hammer into the endzone and sealed the win for Mixtape.
After the game, both teams praised the skill and spirit that the other played with, and it was impressive to see such a closely contested game be played with relatively few calls. The respect each team had for one another was on display for all to see, and as a fan, it would have been great to see both teams in Rockford.
Notes From Around The Division
Montana's Bozos had displayed strong play throughout the season, and they continued that with an impressive run through the Regional tournament. Their athleticism and clear chemistry helped them to a third place finish, topping a Seattle Birdfruit squad that seemed to always be in the hunt, but never could quite get past Mixtape or BFG. However, they both proved to be competitive around the country, and their play showcased how strong the Northwest Mixed region has become.
Surprise regional qualifier ROC'em played a relaxed, wide-open style that pushed them to a fifth place finish over another strong Big Sky team in BoyShe, a squad which used their speed and height to great effect, pushing Birdfruit to the brink in the quarterfinals.
The fields were some of the nicest we've seen for a Regionals tournament. While it would have been awesome to have all three divisions in the same place both days, the quality of play and the fields themselves were top notch. Great work by the Regional coordinators for putting together a great tournament!