A titanic clash between Revolver and Sockeye sets the stage for Pool B.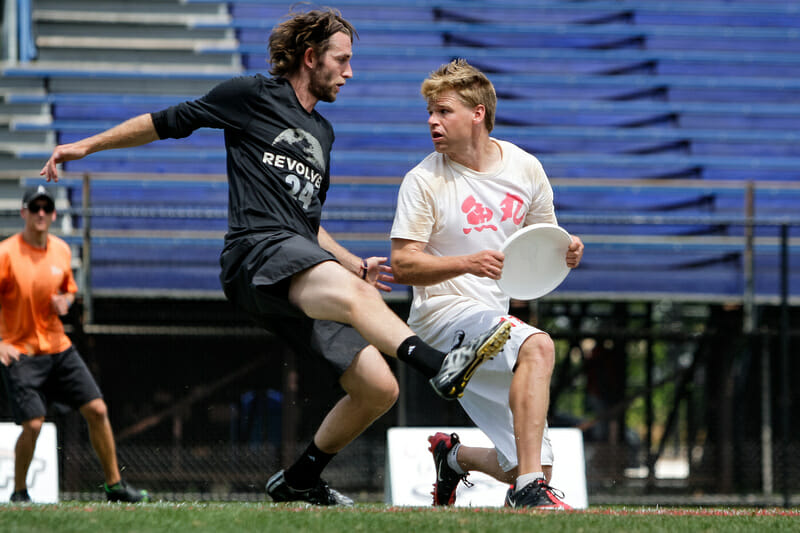 Ultiworld's coverage of the 2016 Club Championships is presented by Spin Ultimate; all opinions are those of the authors. Please support the brands that make Ultiworld possible and shop at Spin Ultimate!
There's usually some sort of historic performance from a recent champion that throws a pall over the rest of a Nationals pool: a recent club title, a super-team roster, complete dominance of the other teams in the pool during the rest of the season. Since rising to prominence in the earlier part of the decade, San Francisco Revolver has cast that shadow every year the way the aliens do on arrival in Independence Day, except in this story the invaders generally win.
Thanks to a wild year in which the AUDL was at its most competitive and visible and the World Championships in London took top players away from almost all of the top contenders for weeks at a time, typical division juggernauts got outperformed in key games, suffered injuries from the demands of a long season of elite play, and landed in Pool B with each other. If there is a threatening shadow slipping over Rockford, it's not clear who's casting it — Revolver shares their pool this year with Seattle Sockeye, Philadelphia Patrol, and Austin Doublewide.
Three of these teams have held one-seeds in their Nationals pool at least in the last five years, and those same three all have at least one championship since 2000.12  And while Patrol can't lay claim to hardware yet, they'll arrive on the back of two full seasons of steady improvement with a consistent roster.
All eyes will be on Thursday's marquee last-round livestreamed bout between Revolver and Sockeye — which admittedly does have the makings of an instant classic since the two don't often meet this early in the tournament — but neither west coast behemoth has the body of work this year to guarantee knockout blows against Doublewide and Patrol. In fact, since one team has to lose that game, they'll likely need solid wins in their other two matchups to avoid dangerous three-way tie territory.
With a bye to quarters awaiting those teams that finish atop their pools and some tricky crossovers with Pool C looming, surviving Pool B is well worth the effort.
San Francisco Revolver [Pool #1, Overall #2]
Despite some new faces in key places for the defending champions, the on-field display of Revolver from the Pro Flight Finale onward has featured the same kind of consistency and dominance that has helped them continue to fill the trophy case in the Bay. The isolation offense is healthy and stocked with talented athletes – they have the field awareness to sprint to the opposite field to create an open lane for the next guy up, and each cutter on deck knows how to get open when it's his turn to burn through space. On defense, Revolver maintains perhaps the soundest fundamental person defense in the division, although they continue to toss out a pace-changing three-person cup that moves big man Nathan White around the front line depending on the opponent and conditions.
Though their record this season is peppered with US Open losses to Sockeye and Ironside along with a gut-punch first round loss to Denver Johnny Bravo at the Pro Flight Finale, the last twelve wins have been business as usual. No opponent since Pro Flight has managed to come within one of a win.
The challenge for Revolver, as it almost always is in recent years, is to maintain focus and keep the tempo up. It's taken virtuoso performances, like Mark Lloyd's in 2014 quarterfinals and Truck Stop's nearly perfect teamplay last year, to make the defending champs blink at Nationals.
A path to a bye on Thursday for San Francisco this year: smothering the patient handler movement and savvy veteran backfield of Patrol, limiting the deep game from Doublewide, and channeling the same energy that led them to a five-point complete control victory over Sockeye in early August. Revolver's defense has the ability to smother the first two opponents, but they'll need their smart marking and defensive fundamentals clicking to do it. The team has been tuning up their marks since Regionals.
"One thing I've discerned in the last few years is that the AUDL 50-yard wide field really has a really meaningful impact on how people mark. Because it's 50 yards wide, it's kind of a fool's errand to try and mark tightly in the AUDL because you can get so wide that you can just swing it around even a tight, one way mark," said Revolver's head coach Mike Payne.
"Every year in the summer, Revolver guys come to practice and their marks are really soft – they're like four feet away from their guys and just standing there and we have to kind of re-anchor on what it means to mark in a Revolver fashion on a 40-yard wide field. That's been a big focus for the last few weeks," he said.
Will San Francisco be able to turn on their defensive intensity early? Will they even need to?
It's that last-round game, taking on Seattle, that is bound to have fans, other teams, and onlookers guessing and arming themselves with what this means for the rest of the tournament. According to Payne, however, it's a chance to turn on his team's effort early. From his head coach's perspective, jetlag, Nationals nerves, and perhaps previously some speculation on the format had his teams winning their pool play games, but not with any kind of authority. Getting Sockeye is both a high intensity wakeup call, but will also feel familiar.
"When Revolver plays Sockeye, there's no secret sauce. It's literally just…it's matchups. They tend to try and throw off our offense by doing junk for the first half of our field. We tend to be a bit more honest in how we play defense against them. This is very much a blue collar thing where I think we'll be feeling each other out in terms of who's playing well," Payne said.
Regardless of the outcome of that game, Revolver remains, as always, a huge threat at Nationals.
Likely Ceiling: 2016 Champions
Likely Floor: Semifinals
Seattle Sockeye [Pool #2, Overall #7]
If one had only watched Seattle Sockeye at Northwest Regionals with no previous knowledge of the team's story so far in 2016, there would be a strong case to list Sockeye among the only squads with a real shot at the title in Rockford. While Regionals doesn't have the same back-to-back high pressure matchups that make Club Championships an emotional and physical slog, it does have the dull, gnawing threat of elimination around nearly every game.
Add in the wacky ups and downs for Sockeye in 2016 – a huge chunk of the team away for Worlds, a finals appearance in the AUDL, a rough Pro Flight Finale – and the turnaround a few weeks ago is a promising sign. Seattle's top team has big time experience and the talent to win battles at every position on the field. Apparently, they needed a few bumps in the road to motivate them to coalesce around the new looks they can add to their now notable bag of defensive tricks and schemes.
The added firepower pushed Sockeye ever closer to matching up well against longtime rival San Francisco Revolver, although the latter has owned the matchup when it counts, like during the 2015 final and most recently at Pro Flight Finale. "The loss to Revolver at [Pro Flight Finale] just showed us that we still have a long way to go this season," said captain Reid Koss. "They beat us in all facets, and we are going to have to have a much cleaner, mentally strong game to stand a chance against them."
As much as it's likely impossible for Seattle to not throw the kitchen sink at their last round pool play rematch of last year's final, it's possible that the real test for the team will be putting together solid wins against Patrol and Doublewide. Neither opponent has the defensive talent to limit all three of Matt Rehder, Nick Stuart, and Zane Rankin downfield, while staying on top of the talented Seattle backfield. Everyone on the Sockeye O-line will attack marks that are even slightly loose with inside breaks to gain yards, and most of that top seven have the range to hit any cutter deep on the opposite side of the field.
Defensively, Sockeye's communication has improved measurably since their lackluster August. The D-line has both the height and speed to switch almost any matchup on the field which can slow down opposing cutters, but they're just as likely to come up with an explosive block on an under cut that will fire up the sidelines. If Seattle is communicating well and sticking to their gameplan and looks from the pull through the point, they should be able to overpower the cutting cores from both Philadelphia and Austin. Both opponents have dangerous deep games, and success for Seattle will be earned controlling what they can, and not letting a complete deep shot from Austin's Brandon "Muffin" Malecek or Philly's Nick Hirannet slow up the rest of their effort.
Earning two wins before facing Revolver late Thursday should get Sockeye close to locking up the second seed in the pool and getting the more favorable crossover with a weaker performer from Pool C, so they can take their best shot at their rivals, but maybe not gas themselves looking for a statement win on Thursday when the tournament is won on Sunday.
Likely Ceiling: 2016 Champions
Likely Floor: Quarterfinals
Philadelphia Patrol [Pool #3, Overall #11]
Each Pool B contender will have their hands full with matchups on Thursday, but for Philadelphia Patrol, the pressure is really on. In 2015, Patrol hit Club Championships with a solid performance. In particular, they went punch for punch with eventual semifinalists Boston Ironside in an exciting prequarters matchup where Philly earned their share of turnovers with grinding person defense, but had trouble converting them into breaks.
Roster consistency in 2016 has helped Patrol into a solid record, despite some frustrating losses at the Pro Elite Challenge in early August. Like in the previous season, a composed leadership has Patrol focused on growing in the long term, achieving more and more each year around their talented top players.
The big players from last year's run are all back and in form: David Brandolph and Nick Hirannet comprise one of the more veteran and deadly offensive backfields in the division. Though sometimes outmatched in height, the two have the full range of throws necessary to find their cutters anywhere on the field and are both lightning fast. That activates deep target Jake Rainwater, who's fast enough to outrun his matchups and big enough to play through double coverage. Rainwater teams up nicely with the acrobatic cutting of Billy Sickles.
Patrol also has the defensive speed and commitment to person defense that other teams should maintain in moments of pressure, but can sometimes abandon when games start to shift towards opponents. They'll need focus to limit the imposing height from all three opposing offenses –matchups will be key in cutting off deep looks to some of the most talented big men in the division.3 Philly's speed should come in handy in trying to flash into open lanes to shut down some of those first looks.
San Francisco and Austin both have wins over Philly so far this season, and the first meeting with Seattle is scheduled for the second round of pool play.
Though the draw into Pool B is rough for them, hanging onto a berth into prequarters is favorable for Patrol. Instead of getting saddled with a juggernaut like last year, they'll more likely crossover with Madison Club or Michigan High Five, both teams they have beaten this year. That puts an appearance in quarterfinals well within the reach of this team, which continues to represent the growth mindset apparent in Philly ultimate.
Likely Ceiling: Quarterfinals
Likely Floor: Done on Day One
Austin Doublewide [Pool #4, Overall #14]
The Triple Crown Tour has made progress year over year in solidifying many of the top teams in each division so that talent continues to flow towards those well-known programs to fill in behind retiring veterans. To that end, Austin Doublewide has slowly been turning over and reloading since their title run in 2012. The uniforms and many of the faces are new, but some of the same traits that make Austin successful every year continue into 2016.
Namely, height.
Towering over the competition doesn't always win big games4, but it does help against the lesser competition. With Chase Cunningham and Ethan Pollack, who are 6'3" and 6'6", respectively, acting as a multi-talented downfield and Brandon "Muffin" Malecek able to find them from anywhere, opponents must respect the deep look at all times. There's plenty of height across the roster and some lefty throwers to worry about, so anyone underestimating Doublewide's ability to score and control vertical space on the field will be in trouble. It was certainly problem for Patrol during the teams' only regular season meeting, a 13-8 win for Austin at the Pro-Elite Challenge.
What Doublewide is lacking this year –and what might cause problems in Rockford– isn't height. It's depth. While they've kept themselves in some tight games (like quarterfinals at the Pro Flight Finale), Austin nearly missed what's become an annual trip to Nationals. It took a bizarre turnover from Denver Inception to give Doublewide the point they needed to earn the last South Central bid, and overall it looked like a bumpy recent outing for the team in terms of both play and spirit.
While Revolver and Sockeye go at it on the livestream during Thursday's last round, Doublewide will have another shot against Patrol, a game that will likely have elimination implications and could send the loser into consolation rounds to fight for seeding. Given that Austin has had some recent trouble with high pressure games –and in fact has struggled in bracket play all season long– they'll need solid leadership and poise from their veterans to stick to gameplans and use more than just the long ball to earn a spot beyond Pool B on Friday.
Likely Ceiling: Quarterfinals
Likely Floor: Done on Day One
---